David Poitras, '85, and Rick Wholey, '83, Invest in Their Clients
By Eva Richards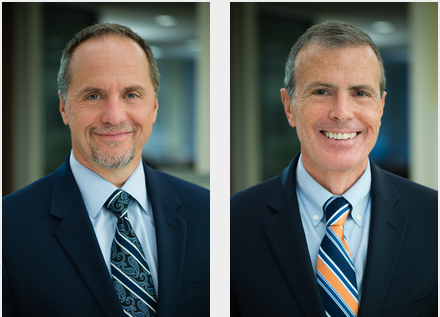 When David Poitras and Rick Wholey met more than 40 years ago, they were working at Frank's Finer Foods in Wheaton, Illinois, as high school stock boys and became fast friends and eventually college roommates.

"I was a mediocre student at best until I had an epiphany inspired by my mother," Poitras said. "I started college in communications, but didn't feel enthusiastic about that path. My mother said 'Why don't you study what you're interested in?' It sounds so simple, but when you're 19 years old, it doesn't seem so easy. Still, I changed my major to finance, and from then on I was an exceptional student."

Poitras and Wholey both studied finance at NIU, with both searching for the right path into the business world.

"We really had a non-traditional college experience because, several days a week and on the weekends, we were back in Wheaton, working to pay for things we needed," Wholey said. "We were students, and I guess our "internship" was really there at the store. We were ordering inventory for the store and even though it wasn't in finance exactly, it did teach us some really important lessons about how to run a business and how to work with people."

Initially, Poitras and Wholey thought the grocery store would be their way into the business world. They banked on becoming sales reps for a retail company and having to work their way up the chain, but another route unfolded.

"I thought that I'd go to work at Colgate or Procter and Gamble, but one night, an NIU alumnus came to talk to our finance club," Wholey said. "He was a stockbroker at Merrill Lynch, and when I heard him talking about what he did and what a typical day was, I was hooked."

More than three decades later, Wholey and Poitras have spent much of their careers side-by-side, both working their way up to be partners at Wayne Hummer Investments until it was sold to Wintrust Financial in 2002.

"I remember sitting down on my first day at Wayne Hummer and one of the partners' clients called in and needed quotes," Wholey reflected. "I had to handle the call, getting the client quotes and answering his questions, and I realized 'I can do this.' NIU prepared me. It prepared us. By the time we graduated, we understood the markets, the stock evaluations, all kinds of complicated but very important pieces of the work we still do. We were able to hit the ground running."
Poitras echoes that sentiment.

"When we were on campus, Dr. John Duran was an outstanding professor. His teaching and his insistence that we learn finance-issues is still so bright in my mind. Thirty-four years later, I can still remember him talking with such passion. No doubt in his mind, he believed in what he was saying."

Since 2006, Poitras and Wholey have worked at Robert W. Baird and Co.—ranked one of Fortune Magazine's Top 100 Best Places to Work for the past 16 years—as managing directors and financial advisors in its Chicago office. Wholey and Poitras help their clients by reviewing their financial situations and goals, then creating financial plans, investment portfolios and estate plans to help their clients meet those goals.

Under Baird's Private Investment Management (PIM) program, Poitras and Wholey's "Huskie Investment Partners" model portfolio products offer a series of "real money" options, not hypothetical models. These portfolios are managed directly by Wholey and Poitras, who have personal capital invested in each portfolio. Poitras manages the fixed income side of the portfolios, while Wholey manages the equities, or stock, side.

"We think the fact that we manage our money in the same way we manage our clients' money is very rare," Wholey says. "It's not common to find an advisory team that invests their personal capital in exactly the same way as they invest their clients' capital. Our needs are completely aligned with that of our clients."
The pair agrees that understanding people and developing trusting relationships—two skills they first began honing at Frank's Finer Foods—is at the core of their work.

"Just this morning," Wholey said, "a daughter of a client I've had since the 1980s came to see me. Her father passed away about a month ago, and she came to start the financial planning process for her own family. We talked about what investments they have, whether they have written wills, whether they have assigned healthcare power of attorney, and it's our job to make sure they have all those things in place. It's very rewarding that we have these second- and third-generation relationships with our clients."

Now, as veterans in the industry, Poitras and Wholey are excited about giving back to the next generation of financial advisors. Having built up the team to include an additional four younger advisors, they're looking to hand over their business to a vibrant new generation.

"Look, we have no plans to retire, and we'd like to work forever, but that's not feasible," Wholey said with a laugh. "So, instead, we'd like to transition our business and introduce our clients, and the children of our clients, to our young partners. Dave and I have been so grateful throughout our career for people who took an interest in us, who were so generous with time and advice as we came up through the ranks. We want to do that, too. We're committed to helping launch marvelous careers."

This will be another step these friends take together, as with so much of their shared careers.

"We're friends. Our wives are friends. For me, when you have a good partnership, it works very well for everyone involved," Poitras said. "I think it's somewhat special, and there are very few days when I don't look forward to walking through the door and getting to work."

Wholey agrees wholeheartedly, remembering how far the two stock boys have come.

"I have four sisters, and Dave's the little brother I never had," he said. "It's been fantastic coming to work every day because I get to work with my best friend."