Dr. Sherry Reynolds Whitaker, Ed. D. '16, Serves Community, Advocates for Education
By Eva Richards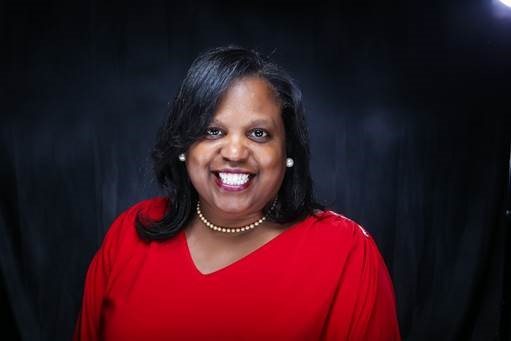 Each morning, Dr. Sherry Reynolds Whitaker wakes up with a purpose. As the Chief School Business Official (CSBO) for K-12 School District 189 in East St. Louis, Illinois, every day is filled with budgeting decisions that will affect the education of thousands of young students.

There are challenges, of course. In an education system where funds are finite and needs are plentiful and ever-changing, educators and education administrators are all-too-familiar with negotiation and compromise.

Whitaker sees it a little differently. Having spent two decades in Corporate America accounting roles, and having tirelessly worked toward her education business management role, she understands this work is a privilege.

"I'm absolutely proud of the work I've done to get to this level," she said. "I'm a first-generation college graduate that has been an advocate for my own, my siblings' and my peers' education."

She credits her success, at least in part, to the support of her sisters at Delta Sigma Theta Sorority, a predominantly African American women's community-service organization that focuses on Education Development and many more programmatic trusts.

"I couldn't have gotten to this place in my career without that mentorship and the support I received from those women, even before attending college," she said.

After receiving her B.S. in accounting from West Virginia State University, a Historically Black College and University, in 1992, Whitaker started her accounting career working for a small printing company and then for larger real estate companies. Next, she took an accounting management role at Sprint PCS before landing financial roles at IBM and OfficeMax. From there, Whitaker's career took a detour, as she decided to pursue her life's passion for education and serving others.

Whitaker came to Northern Illinois University because of its nationally ranked programs and demanding coursework, earning her M.B.A. in 2009, her M.S.Ed in 2013, and her Ed. D. in Adult and Higher Education in 2016.

"I wanted rigorous programs so that I could confidently share the knowledge I gained with my peers, colleagues or superiors," she said. "NIU made earning my degrees a smooth process for me, and it changed my earning potential for sure."

Whitaker noted that NIU professors Dr. LaVerne Gyant and Dr. Gene Roth in Adult and Higher Education both made huge impressions on her during her time on campus.

"I learned that, no matter your past, you can do the work now. You just have to apply yourself and believe," she said. I liked that the subject matter in education wasn't an exact science; I got a chance to explore my thoughts deeply and then defend them. Both professors were helpful and gave me the hard lessons I needed to finally write my dissertation."

Since 2012, Whitaker has been working in higher education. Prior to accepting her current position in East St. Louis, she worked as a CSBO for School District 103 in Lyons, Illinois, Assistant Director of Finance for School District 308 in Oswego, Illinois, and as an intern business manager and a regional consultant for the Illinois State Board of Education. Within all of these roles, Whitaker has enjoyed being able to finally do the work she prepared for.

Because of her strength in math, Whitaker grew up wanting to be an engineer, but worried it would be difficult on a family life someday. Instead, when she enrolled at West Virginia State University in the late 1980s, she majored in accounting. Now working in educational business, she is able to help schools understand their funding and assist with reporting. She has other responsibilities on her plate as well, including district finance, payroll, operations and maintenance, risk management and insurance, transportation and food service, which all report through her.

"I think my delegation skills help me impact others in a very positive way," she said. "In order to do this successfully, I have to assess needs and allocate the resources necessary to complete specific tasks. This includes trusting that others will complete the job with great satisfaction. In most cases, this empowers the staff to be more productive and provide better service to students. I have worked in many industries, both private and public, as an accountant and finance associate, and I understand the importance of time management and teamwork."

And even though Whitaker works hard to be a team player within her administration, it all comes back to the students in the end. Her education career is a natural off-shoot of work she's been doing in the community for decades, teaching the importance of higher education and affordable education opportunities. Oftentimes in her role, she is able to help students make decisions that will help them for years to come.

"I like directing young people to NIU because of its rich legacy and pride for school spirit," she noted. "But, if they can't go to NIU, I make it a point to always stress the importance of higher education or trade school so that young people can become productive citizens and make an honest living."

Whitaker's faith in NIU is evident in her three postgraduate degrees, but it is also apparent through her work as a member of the University's Alumni Association Board of Directors, where she's able to see first-hand how important scholarship and recruitment are for our students.

"I enjoy encouraging the next generation of students," she said. "The last eight years in education business have been the best. I love working in ways that serve kids. I made it to the career I've should have been doing all along, and I fell in love with this district (in East St. Louis). The people are kind and loving. The students get a bad rap, but what I see is that they need more mentor support and help to navigate the sometime difficult adolescent period. I am happy to be a part of that progress."