NIU Huskies Return "Home" to NIU every semester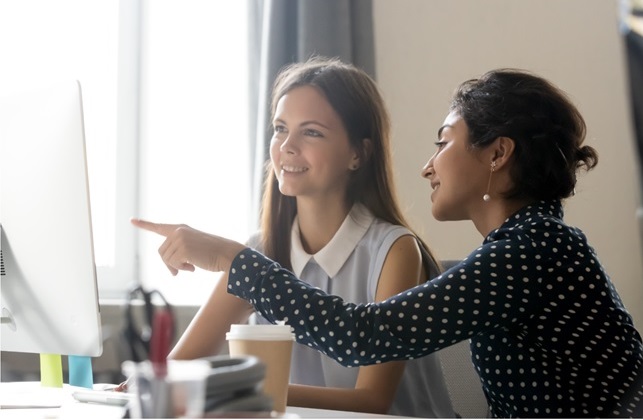 Homecoming is a fun weekend where NIU Huskies get to come back to campus, cheer on the NIU Football Team, and reconnect with their alma mater and their friends. But, there is a special group of Huskies that come back to campus virtually several times a year through their contribution the College of Business' state-of-the-art e-mentor program. In this program, NIU alumni share practical knowledge about business and managing people.

Through an e-mentoring program each semester, NIU alumni interact with approximately 70 students as part of a required management class. Each mentor is carefully matched with a current student and corresponds with his or her student throughout an academic semester. These structured interactions result in a meaningful connection between classroom learning and professional development.

This program is unique on several fronts. It is a required component of an undergraduate class required for graduation, and it provides students an opportunity to learn to communicate via email and network with business professionals.

"Research shows that an individual's career success and satisfaction are linked to the size of his or her developmental network and the level of career support that network provides," said Sarah Marsh, Chair of the Department of Management. "As an e-mentor, an alumnus could influence a student's network and provide important feedback about his or her skills that will serve as an advantage in the real world. Often, e-mentors proactively initiate connections between their students and other professionals in their network and help them to find internships, which is really a major win for the student."

Since the beginning of the program, the College of Business has seen more than 1,700 student-mentor relationships, and the results have been fantastic! Nearly 85 percent of students report that they have gained confidence in establishing mentor relationships as a result of the e-mentoring program. And 57 percent report that they are likely to stay in contact with their mentor even after the semester and assignment have ended. Mentors have provided important connections to their professional networks resulting in internships and job opportunities. Students also comment on the insights they gain from their mentors and their ability to coach them in ways that help them succeed at NIU and in the professional world. With the program in place for 11 years, students who benefited from the e-mentoring program during their time on campus are now e-mentors themselves, helping the next generation of Huskies succeed.

These types of successes would not be possible without the commitment and dedication of the nearly 300 NIU alumni and friends who actively contribute to our current students' success. A big thank you to all our alumni and friends who have participated in the program:
Kevin Adam
Al Adducci
Bob Adducci
Joe Agnew
Mardel Ahleong
Nabeel Aldrees
Zach Alesandrini
Peter Alfano
Marie Allen
Megan Amdahl
Anbu Anbarasu
Tim Anderson
Arun Anirudhan
Markus Annen
Dominick Archer
Curt Baker
Kannan Balakrishnan
Darrin Battaglia
Curtis Batterton
Alan Baxter
Jay Beaton
Matthew Belda
Corky Bellile
Kyle Bendt
Keith Bentley
Brandon Bice
Brian Bielawski
Mina Biggs
Bailee Billhymer
Jeff Bishop
Pamela Blackwell
Howard Blietz
Louisa Borosak
Alcira Borras
Alex Borring
Eric Brasher
Jordan Brodsky
Shannon Brooks
Scot Brown
John Bruce
Deb Brucker
Todd Bucciarelli
Ed Buckley
Brittany Buis
Jagan Bukkaraju
Jack Burback
Mike Bychowsky
David Byerly
Troy Campbell
Katherine Carbon
Mitch Carlander
Mark Carlinsky
Tim Carone
Janyll Cashman
Ryan Castle
Cary Chessick
Mario Cinardi
Laura Clark
Jon Cohen
Alaine Coleman
Ian Concidine
Sarah Condiff
Lacy Cortez
Liz Cory
Terry Creamer
Greg Crowley
Joe Cullinane
Ed Curtis
Vince DaCosta
Brian Dahlman
Dawn de los Santos
Josh Dean
Dean DeBiase
Brenda DeWeese
Joyce Dickerson
Emilia DiMenco
Barbara DiMonte
Mark Donile
John Doyle
Rita Dragonette
Eric Duesing
Brian Duffy
Grant Dungan
Juliann Dziubinski
Reginald Ervin
Kristi Falk
Dan Feely
Trae Ferguson
Marc Fervil
Joan Finley
Allison Fishman
Betty Flasch
Ryan Flynn
Kent Foster
Lisa Fox
Chad Frazell
Julie Fuerst
Doug Gaffney
Hari Ganapathy
Nicholas Garbis
Mike Garthwaite
Ron Garvey
Michael Gasior
Nick Gerovac
John Gibbons
Brian Gillet
Stephanie Given
Kelly Gjurkovic
Brian Glasgow
Mike Glassberg
Karen Goldner
Chris Goodacre
Will Gott
Kathy Gould-Taylor
Dan Grant
Justin Gress
Amy Guenette
David Haas
Laura Hall
Jeff Hampton
Chandler Harnish
Tim Harris
Will Harris
Jenny Hart
Lyle Heidemann
Jerry Higgins
Kim Hiller
Andrea Hoffman
Megan Holford
Stephan Hombaker
Keith Horak
Terry Horan
Doug Howell
Chuck Howlett
Don Hubbartt
Joe Hula
Joshua Huseman
Paul Ingraham
Jessica Jackley
Tom Jackowski
Mike Jaroch
Bob Jonas
Ann Jungers
Nick Kates
Matt Keeley
Chris Kelley
James Kemp
Steve Khant
Rich Kilcoyne
Brett Kinsfather
Kevin Kirby
Kevin Kirsten
Kimberly Kocur
Jonathan Koepke
Joseph Kohn
Mike Kolkay
Ken Koziol
Paul Krabbenhoft
Rahul Krishnan
Tony Kuehn
Michael Kukla
Matthew Kunz
Santhosh Kurup
Roger Laframboise
Andrew Lambros
Eric Langer
Joe Lapointe
Norm Larson
Brad Lauer
Catherine Law
Rod Leezer
Jeremy Leifel
Tony Leifert
Jeremy Leitizen
Jeremy Leitzen
Tim Lenahan
Bob Libby
Paul Lichter
Gary Lockett
Efrain Maldonado
Jim Malmassari
Justin Mamula
Alexander Marketos
Bill Marsden
Ryan Marshall
Joseph Martillaro
Benny Mathew
Kristina Mattson
Kevin McCormick
Brittany McDonough
Geoff McHale
Brian McHugh
Roberto Medina
Becky Meggesin
Terri Melton
Bob Meyer
Nate Meyers
Kimberly Miller
Shelley Miller
Jennifer Mitrenga
Corinne Montgomery
Scott Moore
Ryan Morris
Jeff Mowell
Laura Mueller
Pat Musselman
Wessam Mustafa
Mike Nardulli
Jaemie Neely
Julie Novalinski
Janel O'Connor
Mike O'Connor
Roy O'Kelly
Sara Obenchain
John Oller
Eric Orthey
Kevin Otte
Steve Ouellette
Kurt Paquin
Scott Parratore
Jasbir Patel
Liz Peters
Shawn Pfeiffer
Aris Placourakis
Daniel Potjeau
Sarah Quintanilla
Donna Ramadan
Robert Ratini
Don Reilly
Michael Reporto
Rick Ricca
Sean Richards
Lori Riley
Leonetta Rizzi
Masha Roberts
Barb Rosen
Marty Ross
Rob Rossi
Bob Rothkopf
Wesam Saber
Rhouel Salonga
Scott Salverson
Heber Sambucetti
Christy Sanders
Scott Sanders
Mike Saporito
Deb Schober
Roy Schultz
Mike Shepherd
Joe Simchak
Tom Simon
Clarke Sinclair
Adriana Singleton
Kathy Slowinski
Chandra Smith
Judi Smith
Wayne Smith
Audrey Southard
Scott Starkweather
Joe Stasiek
Bill Stauffer
Mandy Stepan
Justin Stewart
Christal Stinson
Cindy Stout
Drew Strauchen
Rajas Sukthankar
Tim Suter
Scott Termini
Hope Thomas
Keisha Thomas
Shawn Tyrrell
David Tzau
Joe Vanden Bos
Janet Viane
Joe Vicicondi
Heidi Voigt
Pamela von Leyden
Mary Vrancic
Dan Vuksanovich
Julie Walker
Monica Wallace
Jeff Wallem
Eric Wasowicz
David Watson
Chuck Wingard
Simon Wlodarski
Sheryl Wolf
John Wonak
Lexi Wozny
Avinash Yardi
Robert Ybarra
Emily Young
John Zaffer
Davorka Zeba
Angela Zentefis