NIU 'Flunkies' Organization Remembered At 65th Anniversary
By Eva Richards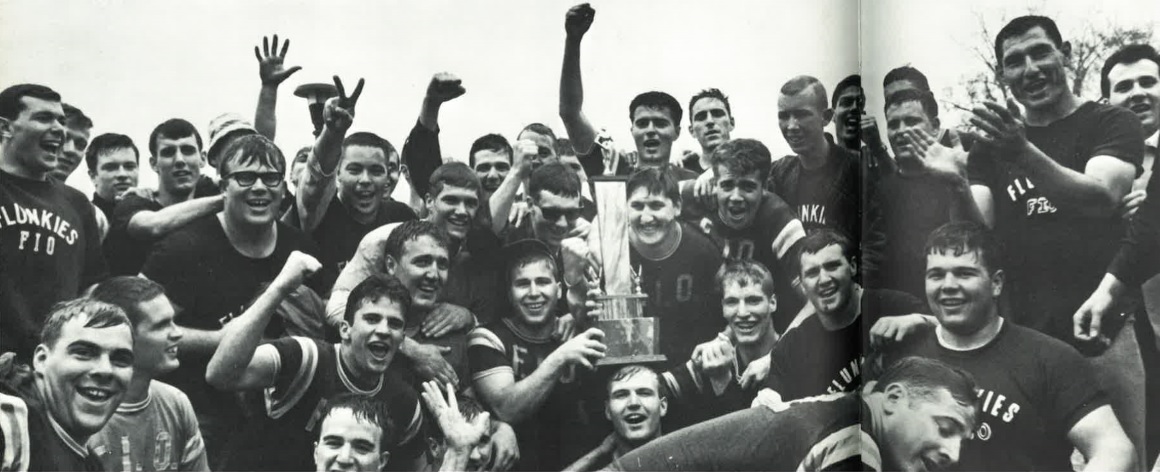 For a stretch of two decades on the Northern Illinois campus in the '50s, '60s, and '70s, the Flunkies' Independent Organization for male college students was known for its members' athleticism and goofy antics. The now-defunct organization is remembered 65 years after its founding by the classes of college men who were changed forever by the camaraderie and competition it provided.

The group was founded in 1954, namely by working-class male students who had to save up to attend college and Korean War veterans who had enrolled in college after returning to the United States. Most of its members were a few years older than the average college freshman, and they craved the fellowship of the social athletic clubs that were commonplace in Chicago neighborhoods at that time. Many saw themselves as too rough around the edges to join a traditional fraternity in the University's Greek system. While the early members were primarily Chicagoans, over time the group grew to include not only other Illinois NIU students, but also students from as far away as Massachusetts and California.

In the beginning, like the Chicago clubs, the Flunkies was established to bring men together for men's intramural sports, but through the years, it became much more. In the '60s and '70s, the group competed—and often won—Homecoming float contests, put on comedic talent shows and parody plays, and even hosted the annual Miss Northern competition.

"We would put on some of the funniest things you've ever seen," said Dick Moran, who was a member of the Flunkies from 1963-66. "We did our own version of "West Side Story." We did ballets with the guys in tutus, showing their big hairy legs. We put on our own Beatles concert. We were well-known on campus for all we did."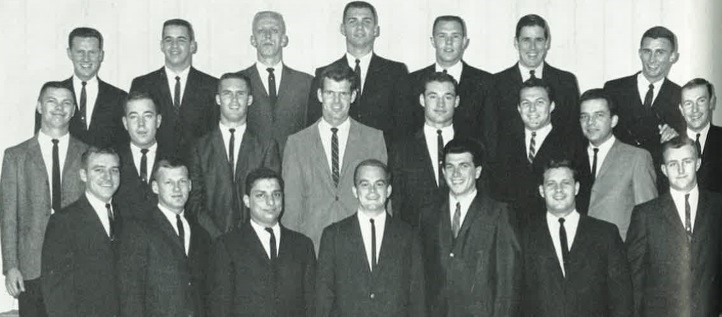 1965 Flunkies:
Front Row: J. McLaughlin, D. Cudden, A. Steiner, M. Marley, A. Siles, L. Burgess, O. Farrell.
Center Row: G. Swanson, E. Hosty, R. Murphy, W. Nelligan, D. Herstedt; J. Haar, T. Louise, C. DeZurik.
Back Row: J. O'Shea, F. Popolo, P. Hull, A. Modloff, B. Owens, C. Cleland, R. Moran.
Even though the group had a sense of humor, there was also a competitive streak amongst many of its members. Several young men were University team athletes, and the Flunkies took their intramural competitions just as seriously. In fact, Moran remembered that, during one year in the '60s, there were 11 competitions that the Flunkies were eligible to win, amongst volleyball, tug-of-war, basketball, Homecoming and May Fete float events, and more. The Flunkies brought home the win in every category.

"We were serious competitors. Nobody wanted to lose anything," Moran said. "The rest of my life that has stuck with me from the Flunkies. Don't lose."

Moran added that the Flunkies even had their own table at the Student Union, and each year, men would approach the group to become a part of the phenomenon.

"These were tough guys, but they were really nice guys," Moran noted. "Many of us had fought our way here to get an education. We had jobs to make ends meet. We were janitors, in food service jobs around campus and bartenders in downtown taverns. It was a real community."

The bonds forged were made stronger during Moran's time with the Flunkies, as the Vietnam War began, and many young men enlisted into service, with one even losing his life in service to his country. Many Flunkies went on to very successful and influential careers, with members eventually becoming Chicago policemen, heading up the Chicago FBI office, leading the Drug Enforcement Administration, and working as a county judge and an alderman, and as coaches, educators and superintendents in school systems all over the country.

Moran said that he still keeps in touch with several of his Flunkie friends, even after 50 years.

"The camaraderie was very, very special," he said. "Here's this very diverse group of guys, all trying to do the right thing—trying to get a degree—and we didn't have the wherewithal to do it alone. For me, it was about the friendships. Somebody had your back, and the bond we formed has lasted through the years."