Alpha Phi Omega Alumni Are a Bunch of Happy Campers
By Eva Richards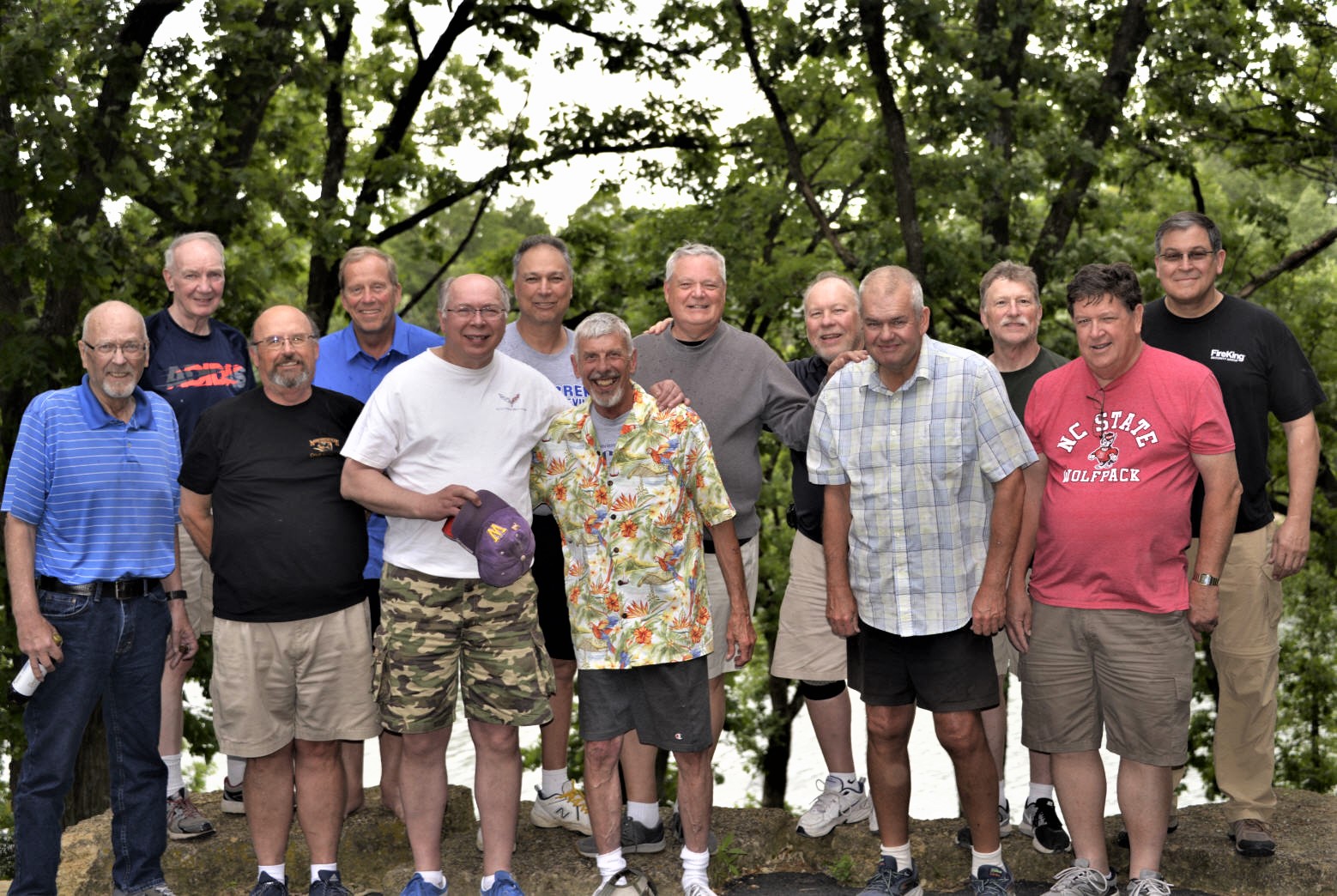 What started in 1975 as a simple weekend campout in Watersmeet, Michigan, for 14 NIU alumni, eventually turned into a meaningful 45-year tradition.

These men met through their affiliation with NIU's national service fraternity Alpha Phi Omega (APO). Through the years, attendance has shifted, as family and job responsibilities called away members from time to time, but there has been an annual camping trip each year, and it has become a planning priority for the friends.
Two members of the core group, John Kelly, '77, and Bruce Spiewak, '75, have proudly attended all 45 campouts. Each year, the friends routinely fly or drive from their locations across the country to meet at a campsite somewhere in Illinois, Wisconsin or Michigan.

"I even traveled in from Paris two years in a row to be able to attend," Kelly remembered. "I didn't want to miss it."

Early campouts were just that. The guys were happy to "rough it" in tents with mosquitoes and sometimes heavy rain in northern Wisconsin or Michigan's Upper Peninsula. In their younger years, the campers would gather for a large campfire, drink copious amounts of beer or Captain Morgan while listening to Dire Straits or the Rolling Stones on the boom box. Evening beach time was generally preceded with steak dinners cooked over charcoal grills.

Over the last 30 years, the group has moved to a more "civilized" setting at a lakefront house on Apple Canyon Lake in Galena, Illinois, and typically meet from Wednesday through early Sunday of each Father's Day weekend in June.

"We enjoy poker games, golf, fishing, and food and beer are always in abundant supply," said Dave Read, '74, who makes the trek each year from his home in Colorado. "We like to recount tall tales of NIU dorm and apartment life, which have seemed to grow taller over the years."

The campers agree that they feel lucky to be part of such a wonderful group of core friends, united over a common bond with NIU and APO. The fraternity is committed to serving others and generally does monthly service projects in northern Illinois area.

When the campers were on campus, they did lots of work with the regional Boy Scouts and their "Camporees." Other projects included putting on a Sesame Street play at Dixon Mental Hospital and taking orphans roller skating at a facility in Elgin.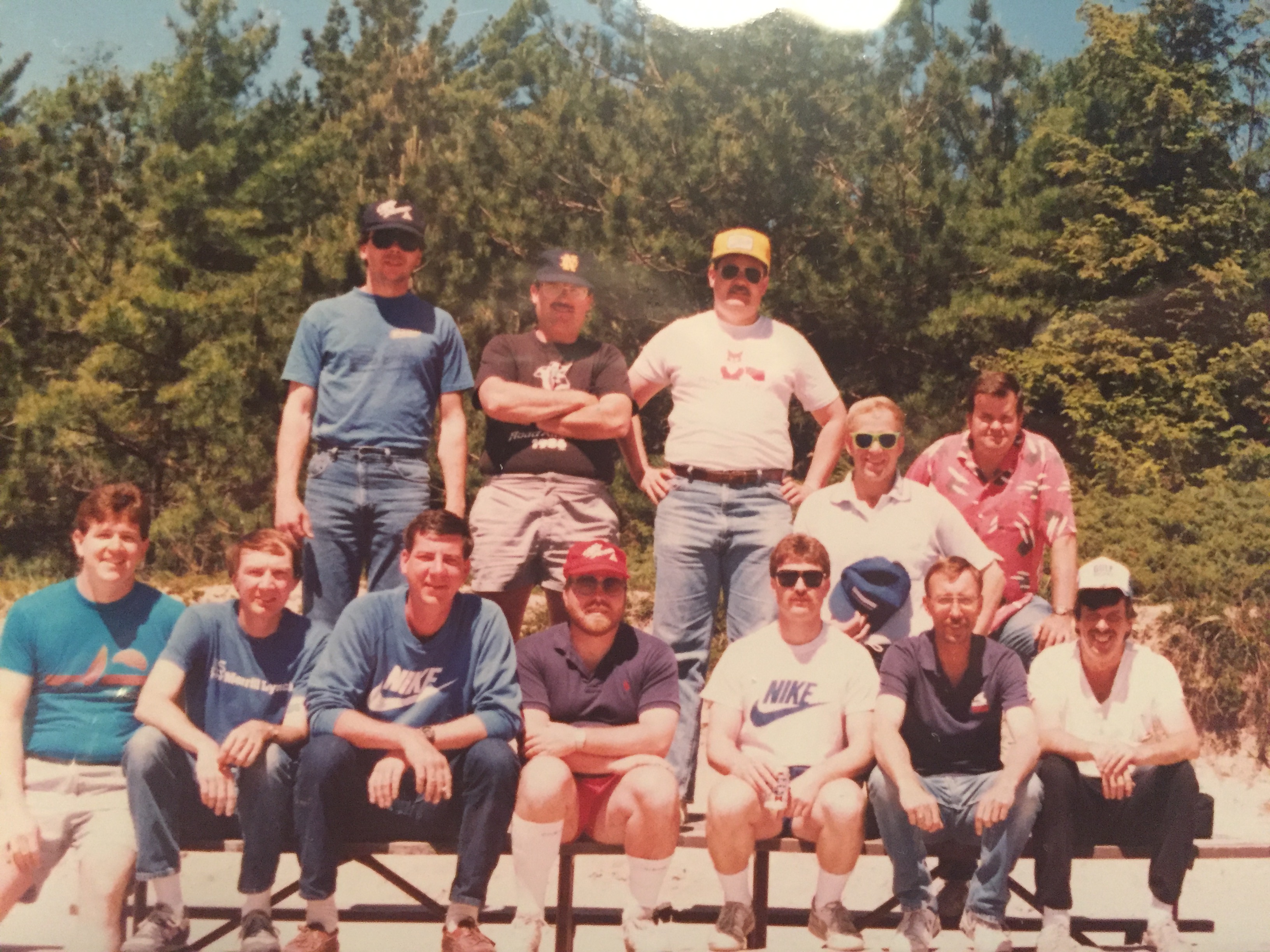 The fraternity charter also did not allow a frat house, but not sharing "house" did not stop the APO brothers from having great parties alongside the similar "Little Sisters" service sorority, where several of the brothers met their future wives.

"We wonder how 45 years could go by so quickly," Read said. "We are confident that the tradition will continue at least through a 50th campout in 2024 and much probably later. As long as we can make the drive, walk down the hill to the boat dock and safely handle a golf cart, I think we'll still be camping."

Sadly, in the last 10 years, three long-time attendees and friends—Peter Cerf, Richard "Fitz" Fitzgerald and Robert "Mick" Michalek—have passed away and are dearly missed. Missing these individuals only makes the campers feel more determined to meet up each year and spend precious time together.

"I am honored to have Mick's ashes, and he still comes along on the trips with us every year," Spiewak said. "We know the others are also there in spirit."

"These annual trips give all of us guys a chance to simply get out of town and have a good time with 'the boys,' away from daily concerns," Read said. "I have always kept in mind that the University had a very important influence on my life."

"We don't see each other just once a year. We are part of each other's lives," Kelly said. "We have fun together, and we have been there for each other during the tragedies in our lives. We laugh, joke, and argue all the time.

"We are friends and brothers."