Kateri Gullifor, M.S. '11, Named Teacher of the Year for Excellence in Braille Instruction​
By Eva Richards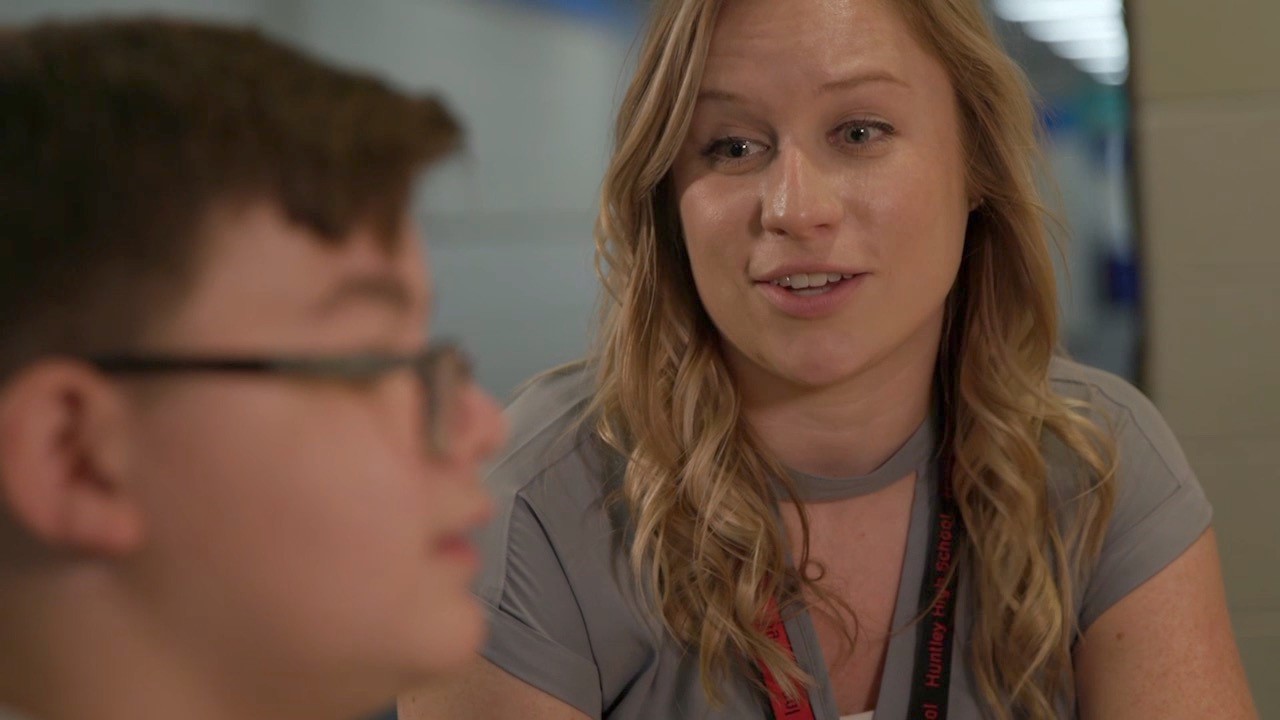 Once again, a Huskie leads the pack.

Illinois teacher Kateri Gullifor, M.S. '11, was named 2019 Teacher of the Year by Braille Institute for her work with the Huntley Community School District 158 in Algonquin, Illinois, since 2013.

Each year, the Braille Institute recognizes Teachers of the Visually Impaired for their hard work, dedication and innovation. The Teacher of the Year for Excellence in Braille Instruction award is an opportunity for all teachers of the visually impaired to be recognized on a national level for the amazing work they do with students who are blind or visually impaired.

Gullifor noted that receiving this award has been the most exciting moment of her career.

"It means the world to me to have been nominated by a student and his family," she said. "I've also really enjoyed getting to spread the word about this field that is in dire need of teachers nationwide. I am truly honored, humbled and thrilled to have been nominated and chosen."

"Kateri is very well deserving of this honor," said Peter A. Mindnich, president of the Braille Institute. "She takes the time to understand her students individually and customizes instruction to fit their specific needs. She works tirelessly, showing love and dedication to her students, who thrive under her guidance."

Gullifor was drawn to the teaching profession from an early age. While in middle school, she was paired with a blind preschooler as part of a student mentor program at her school. She became close with the student's family over the years, and the relationship had a tremendous impact on her. Years later, while attending a college fair, Gullifor realized her experience with her preschool buddy had laid the groundwork for her career.
"I knew I did not want a traditional classroom," she said. "I attended the college fair as a senior in high school, and walked right up to the table for special education. It was divided into three areas—learning and behavior disabilities, hearing impairments, and visual impairments. It was a total "ah-ha" moment where I connected the dots between my relationship with that student to wanting to be an educator."

From that point, Gullifor worked toward her goal, earning her B.S. in special education and a graduate certificate in early intervention from Illinois State University. She earned her M.S. in orientation and mobility from Northern Illinois University from NIU in 2011.

Gullifor added that she made a lot of close friends in the master's program at NIU, undergoing very specialized training.

"My fellow students and I were together for almost every class we took, and we spent a lot of time together under blindfold," she said. "The times under blindfold made the biggest impression on me because we had to learn orientation and mobility skills ourselves. We crossed lighted intersections, completed routes, and relied on our classmates as our teachers. We had to trust ourselves and trust our 'teachers' on a whole new level."

In her daily work, Gullifor works with students of all ages, from 1st grade to high school, with various levels of visual impairments. She works in multiple schools within the district and provides direct one-to-one instruction with the majority of her students, teaching vision-impaired students about orientation, mobility and safe and effective travel through their environment. She also teaches braille, technology and self-advocacy, working closely with teachers to ensure her students have equal access to the curriculum.

Gullifor noted that, like her first experience with mentoring a vision-impaired student, she is most fulfilled when she gets to know her students on a personal level.

"I work with students as long as they are in the school district," she said. "I get to be a part of their journey from a very young age. I get to watch them grow and learn, all while coping with vision loss and its implications. My students learn to work around their challenges and overcome adversity, and they can absolutely do anything they set their mind to."

While Gullifor is very satisfied with the career she handpicked years ago, she is interested in one day pursuing a doctorate degree so that she could teach others to become teachers of the visually impaired.

"My advice is for students who are looking for the right career is to work hard, collaborate with others, and don't be afraid to ask questions in order to make their dreams a reality," she said. "I have found peer relationships to be most beneficial in this small, low-incidence field.

"Connections are everything when working with such a unique and diverse population."