For Automation Expert James Mortell, '15, the Future is Now
By Eva Richards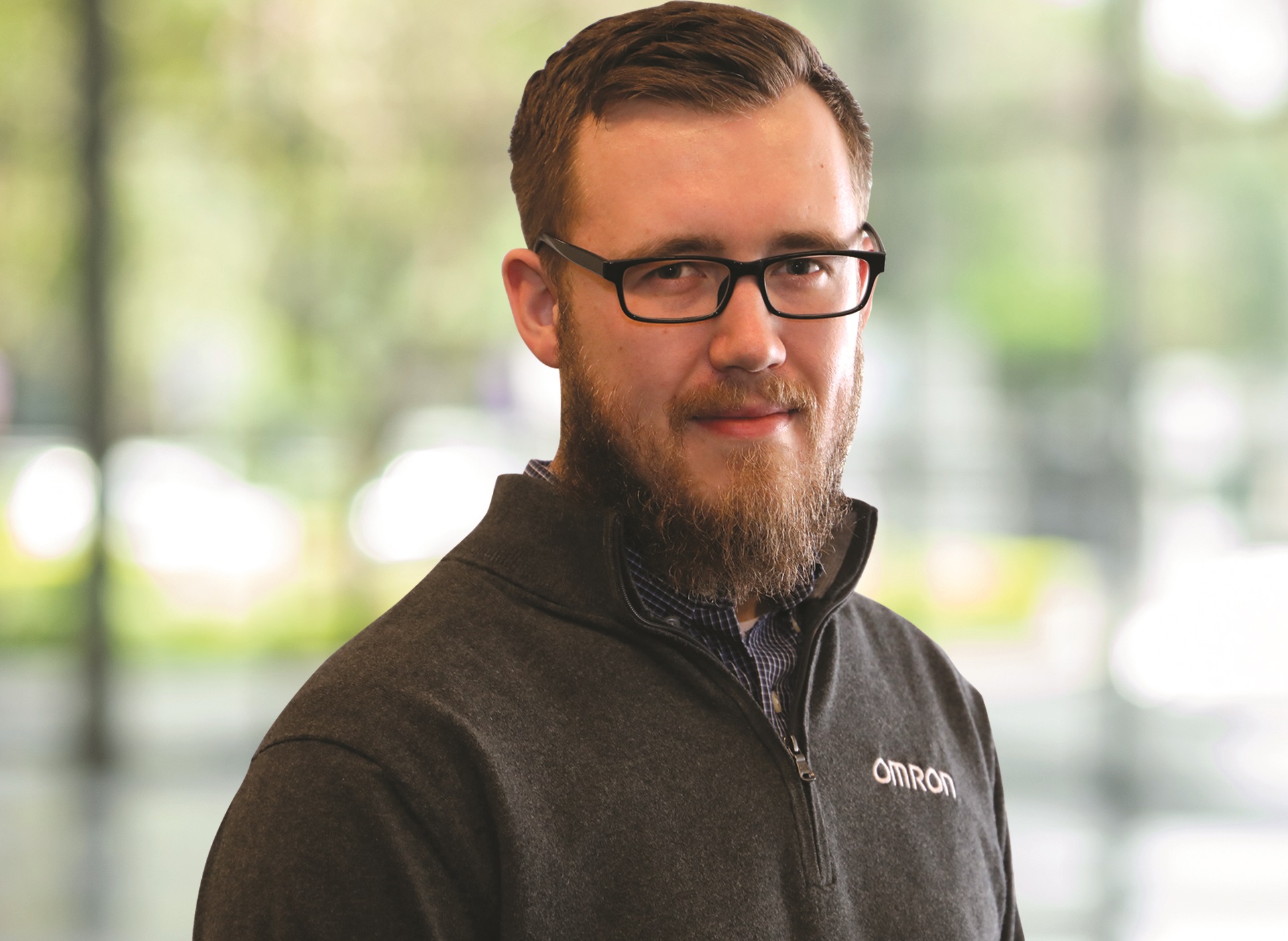 James Mortell, '15, works amongst robots, but it does not faze him. As a product engineer for Omron, an electronics company based in Kyoto, Japan, it is all in a day's work.

After three years of experience with Omron's Vision Inspection System product line, Mortell was promoted to his current role in 2018. It is his job to support application engineers for the products in Omron's Vision and Sensing portfolio, to build demos for various trade shows, and to keep the company's "Proof of Concept Centers" up to date with new equipment. This means that he gets to be at the forefront of the company's trailblazing innovations.

For instance, at a recent Consumer Electronics Show (CES), Mortell was asked to introduce and demo Omron's new TM Collaborative Robot, which offers solutions that bring harmony between humans and machines. Click here to watch a short video about what this robot can do.

Working alongside some of the brightest automation minds in the world, Mortell is constantly inspired by the colleagues and challenged to up his game.

"One of the coolest moments that I have had in my career was during the setup of our booth for CES this year," he said. "I was able to play with Omron's "Forpheus," the ping-pong-playing robot. It was such an amazing experience because there are so many different technologies coming together as one machine. It's the most interactive robot I have seen so far in my career." Click here to watch Forpheus in action.

Omron bills itself as a company that is advancing manufacturing worldwide, supporting healthcare for all people, creating safe mobility systems, and developing energy management for the future. Employees are committed to improving lives and contributing to a better society.

NIU students can see these priorities at work first-hand at the Omron Laboratory in the engineering building, which allows students to work with robotics and mechatronics machines paid for and equipped by the Omron Foundation. During his time on campus, Mortell landed a job as the student manager at the Omron Lab.

"I personally learn the most when I have hands-on time with the machines or equipment. Having space to set up hardware and program the devices to accomplish various tasks helped me get instant feedback on whether something worked, or if I needed to improve on something," Mortell said. "The classes that utilized the labs helped reinforce the theory that was being taught in the classroom."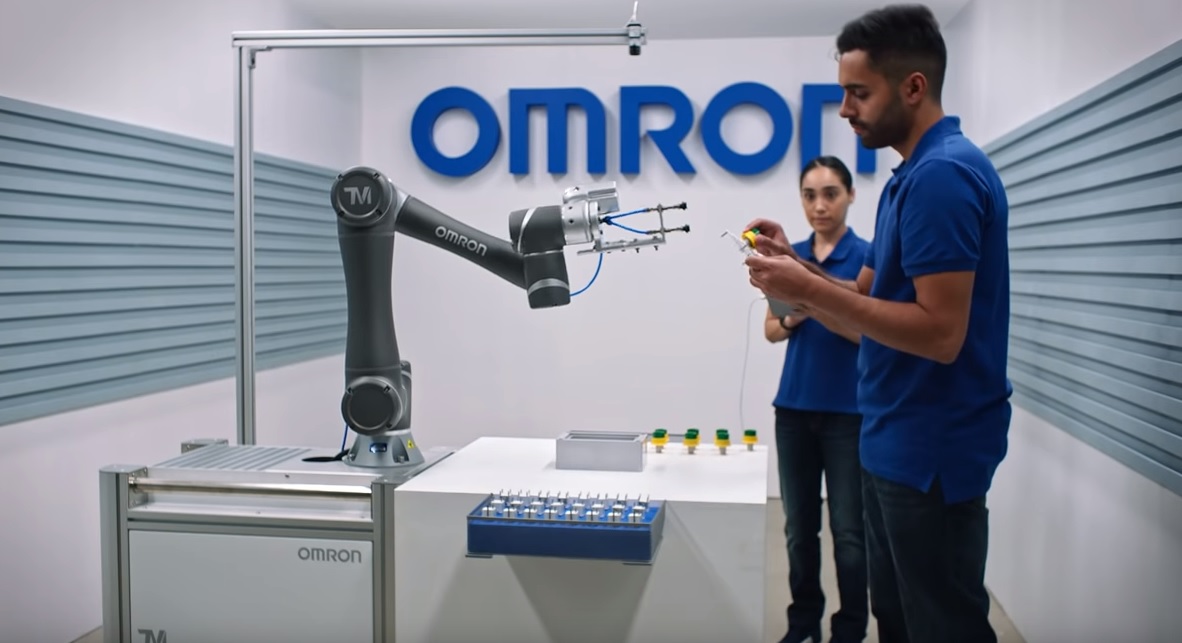 Working in this lab opened lines of communication between the global company and Mortell when he was still an undergraduate.

"I was the point of contact between NIU and Omron in coordinating upgrades for the lab, and I helped organize events that Omron wanted to use the lab for," Mortell recalled. "I worked on a lot of the equipment that was in that lab, and it was priceless experience for someone like me."

When Mortell landed a job with Omron just after earning his B.S. in mechanical engineering from Northern Illinois University in 2015, he was thrilled at the major opportunity. With 210 global locations, 11,000 patents issued and pending, and 200,000 products, the career opportunities for a young bright engineer are endless.

Today, Mortell's work has many real-world applications. The average person might see Mortell's automation at work on an assembly line. One example is what is known as a Programmable Logic Controller (PLC), which is a dedicated industrial computer that coordinates all of the actions of a machine or many machines at once. It is primarily used in manufacturing environments to coordinate complex processes.

And what about science fiction depictions of future robots taking over the world? Not to worry. Mortell believes robots provide far more benefits to humans than the apocalyptic scenarios some predict. They are able to complete repetitive, manual labor-type tasks with more consistent quality products. Once these robots are installed in a production facility, they usually do the same type of task for 10-15 years, and during that time the robot and machine would need to be maintained or reprogrammed to handle a different job, and there will be new kinds of roles for humans.

"I think robots are shifting the type of work that someone would be doing in a production facility from more manual labor to helping maintain the machine that does the labor and being able to adapt the machine to different jobs," he said. "I don't know if robots will ever take over the world, but a large focus of our company is to promote the harmony between humans and machines working together. I think that robots will be even more common in the future, and they will be much less complicated to use, which will help with their acceptance."

Cutting-edge innovation with practical implications for bettering society appeals to Mortell. He continues to be fulfilled by working with technology that he is very interested in. He learns new skills every day, enhances the skills he has already developed, and uses this knowledge to help our customers with their applications or projects.

"I think that the ultimate goal in my work is to be an expert in what I do, specifically with robot systems," he said. "I can't really predict what my role will look like in 20 years because a large part of that will depend on what is accomplished in this field in the next five or 10 years. The opportunities are endless."