From NIU to HBO, Matt Walsh, '87, Makes It Up as He Goes Along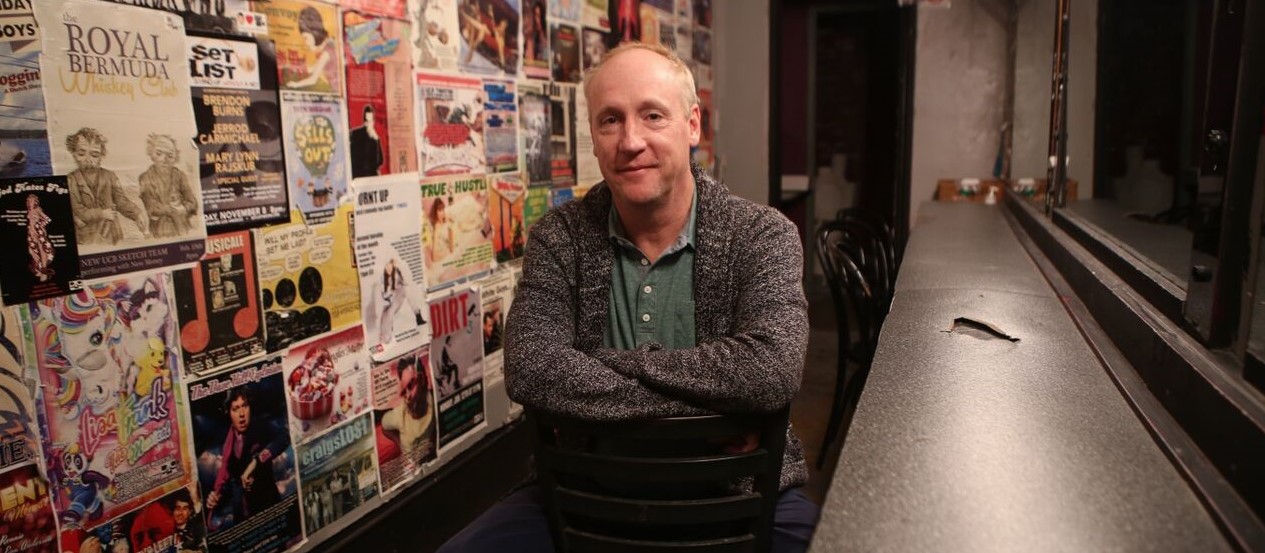 By Eva Richards
When comedic actor Matt Walsh, '87, and his six brothers and sisters were growing up in Chicago in the late 1960s and '70s, there were not a lot of scheduled playdates, movie outings or grand vacations.

"In our neighborhood, there were a lot of families with tons of kids running around, making fun with whatever they could find in the alley, much like a Charles Dickens novel," Walsh said. "I think a lot of my beginnings in the city were just simple, and we just scared up our own fun, which I think is great start for creative thinking."

Walsh said that his father, a salesman, liked to tell jokes and was a natural performer, even though he was never involved in the arts. It took Walsh a few years to realize that his mother—more of a straight man, per se—had the gift of comedic timing. Her quiet bluntness and harsh criticisms were constructed to be really funny, and Walsh learned a lot about what got a laugh from his parents.

He moved to the suburbs later in his childhood, and his first on-stage experience came when he acted in a variety show at Hinsdale South High School during his senior year. By the time he enrolled at Northern Illinois University as a freshman, he knew he was attracted to the acting world, but he was not ready to go after the dream on campus.

"When I started at NIU, I was interested in many different things," he said. "I didn't know what I wanted to do. I remember that I got my housing in late freshman year, and I was very disorganized. I tried a fraternity my sophomore year. I didn't know what I wanted to do, so I was trying everything."

Walsh struggled to find his direction for a while, until he was lucky enough to study abroad in Salzburg, Austria, his junior year.

"That's one of the greatest years of my life," he recalled. "I think traveling is the best education you can get. Just seeing pieces of art that you study in a book, and then you go to Munich or Amsterdam or Florence, and you see the actual artwork. It's almost like you've earned a reward or something. It's completely gratifying."
Walsh noted that, during that year, he realized he was starving for the centuries of history, art and culture that Europe could provide, and it changed his perspective in a big way.

"I took advantage of the lifestyle of a young man in Europe," he said. "I was just going on trains with friends to Barcelona over the weekend and then coming back for school on Monday, and meeting Australian backpackers and sharing a loaf of bread and a bottle of wine on a train… And then I lived with an Austrian family, and they were amazing. They treated me like a stepson, practically."

"(Studying abroad in Austria) was one
of the greatest years of my life.
I think traveling is the best
education you can get.
-- Matt Walsh

Walsh said he would encourage any student who is curious about trying a semester abroad or overseas to do it, even if it sets back their college timeline. His time in Austria brought him new focus, and upon his return, he decided to pursue a psychology degree while dipping his toe into improvisational acting.

During his senior year, in addition to the courses that satisfied his major, Walsh took one acting class at NIU, and frequented improv nights through NIU's theater department. At that same time, Walsh was discovering the world of improv in Chicago.

"My exploration of improv happened because a friend of mine went to a show at Second City," he said. "I started taking classes in Chicago once a week my senior year of college, and I was driving in (to Chicago from DeKalb) once a week to do improv. Through that experience, I met some friends, and when I graduated, we moved in together."

Walsh completed his B.A. in psychology in 1987. He immediately went on to start graduate school while working for Northwestern Hospital on a floor with adolescent psychiatric patients. This nurse-like role proved to be intense and emotionally taxing work.

"My roommates and I continued to do videos and write sketches at night, and then during the day, I was a psych major," he said. "At first, I was dabbling in performing but also pursuing my (graduate) degree. And then, at some point, I decided I just couldn't do psychology, and I tried comedy and theater more."

Walsh conceded that the decision mostly came down to what he could live without.

"I was willing to be poor. That was the decision to make," he said. "In my twenties, I was doing theater for no money and then stringing together moving jobs or painting jobs while all my friends were having families and getting married and buying houses and cars. That was the artist's path I chose. I knew what made me happy, which was writing and performing comedy."

He became a regular performer at the Annoyance Theater and ImprovOlympic, where he studied under legendary comedic teacher Del Close. It was in this Chicago improv artists' circle that Walsh struck friendships with up and coming actors like Amy Poehler, Matt Besser and Ian Roberts, who, along with Walsh, co-founded the Upright Citizens Brigade (UCB) improv comedy troupe.

"When we were starting out, I don't think I had any awareness of the size of what (UCB) would one day become. What we were doing was in keeping with Chicago. You know, 'do it yourself,' our comedy," Walsh said. "You're just working hard and trying to build good word of mouth and get better at your craft. But in the meantime, you're learning with all these really funny people, and then you're seeing some of the people who get hired out of Second City or you see people leaving for L.A. and getting work, so you realize, 'Okay, eventually, I'm probably going to have to go to New York or L.A."

In 1996, the UCB moved to New York and offered improv shows to paying audiences and improv training to actors. These shows and classes were so popular that the UCB was able to open its own theater in New York. After a three-year sketch comedy show on Comedy Central, today the group owns four UCB theaters, with two in New York and two in Los Angeles, and its founders have all capitalized on their own projects and comedy careers.
The Class Clown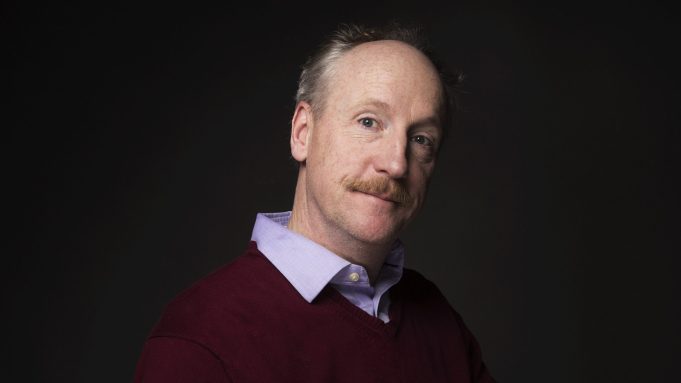 Most recently, Walsh has received critical acclaim because of his role as embattled press secretary Mike McLintock to Julia Louis-Dreyfus's vice president on HBO's "Veep," which ended its seventh and final season earlier this year. After years of acting in smaller roles in some of the most-loved comedy television and films of the last two decades—"Old School," "Role Models," "The Hangover"—Walsh had the opportunity to delve into a longer-term character with "Veep."

"I think it's a real privilege to revisit a character you helped create. It's a real actor's dream," Walsh said. "We all got to come back to these characters and understand them better. That would be what I'd like to do next, to be a part of another great ensemble comedy and to be able to return to a character."

In addition to comedic acting, Walsh has worked as a writer, producer and indie film director, and even had a blast acting in a tornado action film called "Into the Storm."

In 2016 and 2017, Walsh even found himself at the Emmy Awards, his name being read along with an impressive list of nominees in the supporting actor in a television comedy award category, which also included Alec Baldwin and Louie Anderson, among others.

"There's this big rush of media attention, and people want to talk to you. That's kind of exciting. You just get asked a lot of questions, and you occasionally get to go to a gifting suite, where they give you, like, a free piece of luggage, so it's completely unbelievable treatment," he said. "And then, the truth is, when you get into the awards ceremony, you're all dressed up and you go in a fancy car. It's really incredible! You get to sit next to, like, Bryan Cranston and Chris Rock. There are so many famous people running around."

Walsh added that, for whatever reason, he never thought he had a chance of winning—until they were calling his name.

"The minute they get to your category and there's a camera on your face, you instantly are alight with the possibility of 'My God, I could win!'" he remembered with a laugh. "'What if I won, I won't be able to speak!' But then you lose, and you try to not be disappointed at the party afterwards."

One fun part of the awards fuss was learning about other celebrities' admiration for his work. Recently, an unforgettable moment came at an awards show when veteran comedic actress Catherine O'Hara wanted to say hello and sought him out of the crowd.

"She said, 'I saw you in this movie and you were so great and interesting,' and she's amazing!" he said. "Those moments are unbelievable!"

Even though he is a sought-after actor now, Walsh still tries to get to a UCB Theater twice a month. He likes to perform in "ASSSSCAT," the theater's weekly Sunday night longform improv performance with frequent special guests from well-known TV shows and movies, such as Zach Woods from "The Office" and Lauren Lapkus from "Orange Is the New Black."

True to his midwestern work ethic, Walsh is always looking forward to the next project. In January, he will begin filming "Unplugging" which is a film about a couple putting away their iPads and smart phones for a weekend to help save their marriage. Starring opposite Olivia Munn, Walsh co-wrote the script with Chicago writing and acting buddy Brad Morris. Also in January, Walsh is excited to embark on a USO tour, performing for American troops overseas—something he has never done before.

Still, while he is eager to try new things, for Walsh it will always come back to his first love. Unlike most people, he finds comfort in spontaneously creating comedy in front of a crowd.

"I guess improvising inside a written role is probably my sweet spot," he reflected. "I like starting with something that's actually funny and being able to collaborate or pitch ideas and jokes and sort of bring it to my own voice. I can just jump up and get out of my car and, in a minute, I'll be on stage doing an improv show. The stage is the best because it's so easy."