Actress Joan Allen Reflects on Her Huskie Work Ethic
By Eva Richards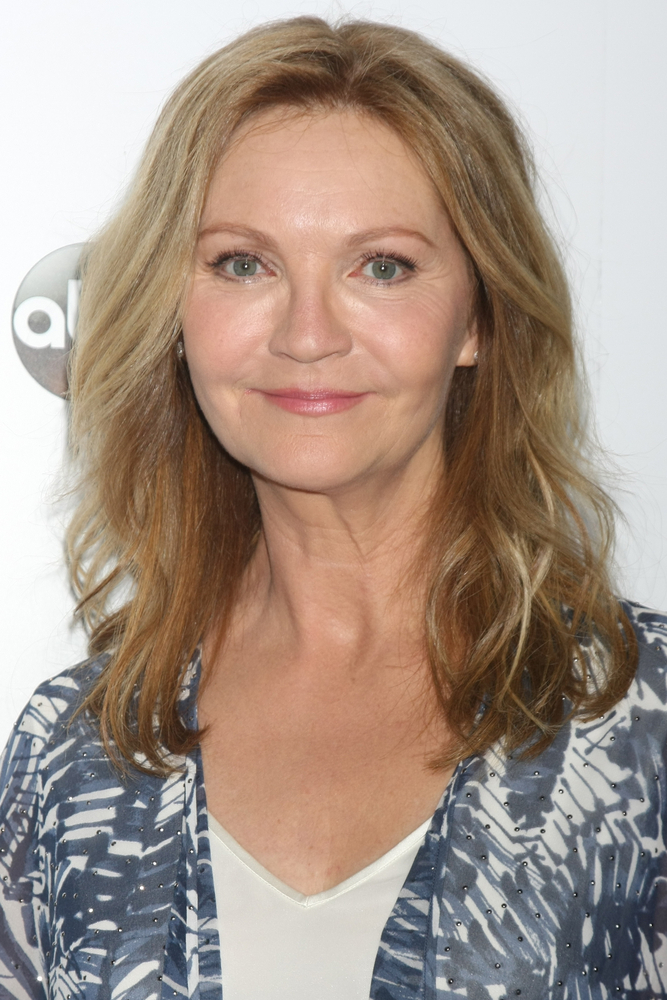 In case you cannot tell by looking at her pages-long resume of Broadway stage productions, television programs and award-winning films, actress Joan Allen has a thing about work ethic.

After four decades of stage and screen acting, she has not forgotten what she learned from NIU theater classes—to just keep at it and love the work. She is ever-mindful of where she came from—the small town of Rochelle, Illinois—and the fact that the Midwestern work ethic she witnessed all around her as a child helped to forge her own success.

"In any occupation, whenever I see a work ethic that is really devoted, I react very strongly to it. I was kind of raised that way. I think about the cornfields that surrounded the (NIU) campus, and all my friends whose families worked on farms," Allen said. "It provides a real grounding place that has served me well throughout my entire life. And I deeply, deeply appreciate that."

Of course, coming from a small, rural community had its challenges for someone like Allen, whose artistic aspirations superseded opportunities there. She searched for a way to express herself creatively as a child, trying music and dance lessons, as well as cheerleading. When she did not make the cheerleading squad in high school, she remembered walking past an open call to audition for what the school called 'contest plays,' where students acted in plays and competed against other schools each weekend.

"I thought 'I'm going to try that.' And once I auditioned, I thought, 'That's what I want to do!'" Allen remembered of her ah-ha moment. "I did a lot of plays in high school, and I was always involved in some play at any given time."

Allen began her college career at Eastern Illinois University, studying acting there for years and befriending then-student John Malkovich. Next, she transferred to NIU, where she focused in on the stage.

"I felt like (NIU) presented me with so much opportunity to actually do stuff," Allen, who attended NIU between 1975 and 1977, said. "There were plays on the main stage. There were plays at the more experimental, smaller theater. I was able to do a lot of work. The way the theater department was structured gave me the opportunity to work with different directors and different actors and try different kinds of plays. And the variety that it offered me was really invaluable."
When Allen was deciding on colleges, she did not want to be in a conservatory-like environment because, often, students could not get on the main stage until junior or senior year.

"I wanted to act. I wanted to learn by doing it," she said. "(NIU) gave me the opportunity to learn by doing, rather than sitting in the classroom talking about it. It's like being an apprentice. You're hands-on, you're taking swipes at things, and you're trying to learn as you go along. Some are better than others, some are really bad, but you learn from the bad stuff, too."

Between her junior and senior year at NIU, Allen received an invitation from Malkovich to be a part of a play in Chicago at the then-fledgling Steppenwolf Theater Company. The company would eventually introduce the world to the talents of actors like Laurie Metcalf, Jeff Perry and founder Gary Sinise, too. These phenomenal connections helped Allen to be able to work professionally as a student and to secure stage roles regularly in Chicago after college.

"Steppenwolf was a very egalitarian environment, and we all just wanted to do the best we could with the material. The star was the story, and it was a very 'all for one and one for all' environment," Allen said. "I just loved that aspect, and I think for me, it's been very grounding. Because it doesn't matter if you're doing a play in a tent out in the backyard of your parents' home in DeKalb, or if you're on a film set. It's people together telling a story."

For the next several years, Allen moonlighted as a serious Chicago stage actress, while paying the bills as secretary for an educational film company in Evanston, Illinois. Allen was content to be making her stage acting dreams a reality, even if she was burning the candle at both ends. Then, something happened that would change the trajectory of her career forever.

"I'd never even been to visit New York City personally until I did a play called 'And the Nightingale Sang,' and some producers wanted to bring it to New York," she remembered. "It was first remounted at the Hartford Stage Company and then it went into New York City. So that was the first time I'd ever been to New York, starring in a play there. I got agents at that point, and they started introducing me to film and television auditions."

And the rest is history. Allen has worked steadily in television shows and mini-series, on the stage, and in some of the biggest and best-loved movies of the last decades, having earned multiple Tony, Oscar, Golden Globe, and Emmy nominations. In 1989, she won a Tony Award for her Broadway debut performance in "Burn This," opposite Malkovich.

"I don't really think that I've had a career strategy," Allen reflected. "I feel that I got some gift from God or something. Every acting path is different, and I just got this wonderful path. Things just kept happening, one after another, and I just followed them."

Allen has played all kinds of characters to great acclaim—First Lady Pat Nixon in the film "Nixon"; a half-sister of King Arthur in the television miniseries "The Mists of Avalon," a Quaker woman accused of witchcraft, opposite Daniel Day-Lewis, in "The Crucible;" a repressed 1950s housewife in Pleasantville; and a fictional CIA deputy director in the Bourne film series, to name just a few. While very different at first glance, many of her characters are women who are coming into their own, fighting for independence, and searching for contentment while being confined by society's expectations and rules. They are often caretakers, selflessly giving to and fighting for others.

"At the time, I looked at every story individually," she said, "but in retrospect, I think I have seen some kind of connection among my roles. There's a woman coming into her own, in a traditional marriage but trying to figure out to navigate that and trying to be calm and take care of others. So, there must be something within me that resonates with these themes because of the roles I play."

In her latest project, though, Allen is trying a very different kind of role. In Apple TV's "Lisey's Story," which is based on Stephen King's 2006 novel, Allen will play a character who's lost control, gone catatonic and needs to be cared for.

"I'm having the best time because my character has gone crazy. People have to take care of me in this because my character has mental issues," Allen said. "Because it's Stephen King, the tone is also different than what I've done before. I have really enjoyed it, and they have to take care of me for once."

The show began filming in October and will be available as an eight-episode limited series, co-starring Julianne Moore, Clive Owen and Jennifer Jason Leigh. J.J. Abrams' Bad Robot and Warner Bros. are producing the series, Stephen King has written each episode, and director Pablo Larraín will take the helm for all episodes as well.

"Usually in television, they have a separate director for each episode, but we're shooting it like it's one big movie," Allen added. "Pablo has a great vision for the material, and he's just wonderful to work with."

Even though Allen has been at this for years, there's still a palpable excitement when she discusses her upcoming roles and the acting craft. At this point in her career, she's able to choose her roles carefully and discern what's meaningful to her.

"I think the bottom line in the most, most basic sense is, when I read a script, do I want to turn the page?" she said. "If I do, I've got to know, I've got to turn the page to see what happens next. There's that element, where you like the writing to be good."

Allen also noted that acting jobs are still about relationships and how she feels when working with people. This comes as no surprise, as Allen has been a team player since her time on NIU's stages.

Nothing illustrates this better than Allen's dedication to NIU. She starred in a Broadway play called "The Waverly Gallery" in 2019, and when a group of NIU alumni and NIU President Lisa Freeman came to see the production, she agreed to meet with them afterwards and have dinner—an experience that impressed all Huskies who attended. When asked why she made the evening a priority in a busy theater season, it came back to her strong work ethic.

"I think it's just important to remember where you come from, and I think NIU sort of espouses Midwestern values in its approach to education," she said. "It's incredibly valuable. It ties me to my roots, to where I came from."