Pat Gostele, '06, Is in a League of His Own
By Eva Richards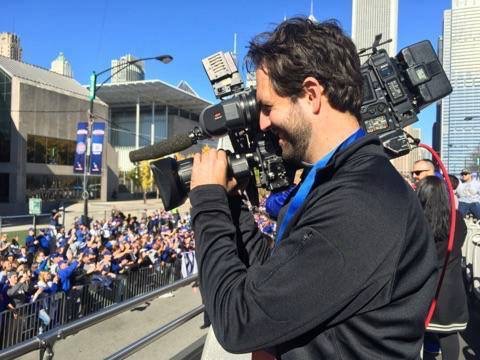 Pat Gostele may just have the coolest job you never knew you wanted.

As an editor and videographer for the Chicago Cubs video team, Cubs Productions, Gostele is an official documentarian for the famed ball club. He produces videos for the Cubs social media accounts, live-event production at Wrigley Field and for business and baseball operations. He is also been a part of the team that produced several long-form documentaries including "20: The History Behind Kerry Wood's 20 Strikeout Game" and an interactive documentary on the 1969 Cubs.

"My work fulfills me because I'm helping to promote a brand that I have been a fan of my entire life," Gostele said. "I look forward to marketing content that serves our existing fan base while creating a new generation of Cubs fans."

In his role, he was able to witness firsthand the Chicago Cubs 2016 World Series run—a remarkable experience that will forever stay with him.

"We made a lot of great memories that year, but the best moment was working Game 7 in Cleveland and being on one of the buses for the parade downtown," Gostele remembered.

As a kid, Gostele, who grew up in West Dundee, Illinois, loved playing sports, talking about sports and making home movies. So, it was a no-brainer that he might go on to do something creative in the sports world.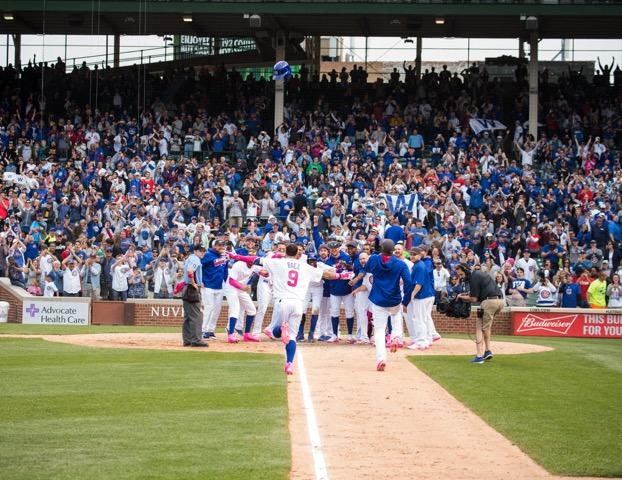 "All of those interests came together and helped form my career path," he said.

When it came time for college, Gostele said NIU was the perfect fit for him, based on campus size, location and class offerings.

"During my first couple of years on campus, I was still trying to figure out what I wanted to pursue. After taking several classes at the television center, I learned that TV was my passion," he said. "NIU taught me the building blocks of how to succeed in the television industry."

Gostele started spending a lot of his free time covering NIU sports and perfecting his video shooting, editing and reporting skills. He also worked for the NIU video production team known as NIU Media Services. Under the mentorship of retired instructor Brad Hoey, '84, and video coordinator Patrick Gorman, '98, he was able to become a stronger reporter, creating weekly news packages for the sports magazine show "Inside Huskie Sports." He also perfected his production skills through live-event production and broadcasting. All of this work helped Gostele land his first job in television as a sports anchor at WIFR in Rockford, Illinois.

"At NIU, a lot of people work together to make good television, and no one can do it alone. I'm grateful to have had classmates that were equally or more driven than I was, like Marcus LeShock ('03), Matt Knutson ('05), and Nate Poppen ('06), all of whom work in the television industry in Chicago."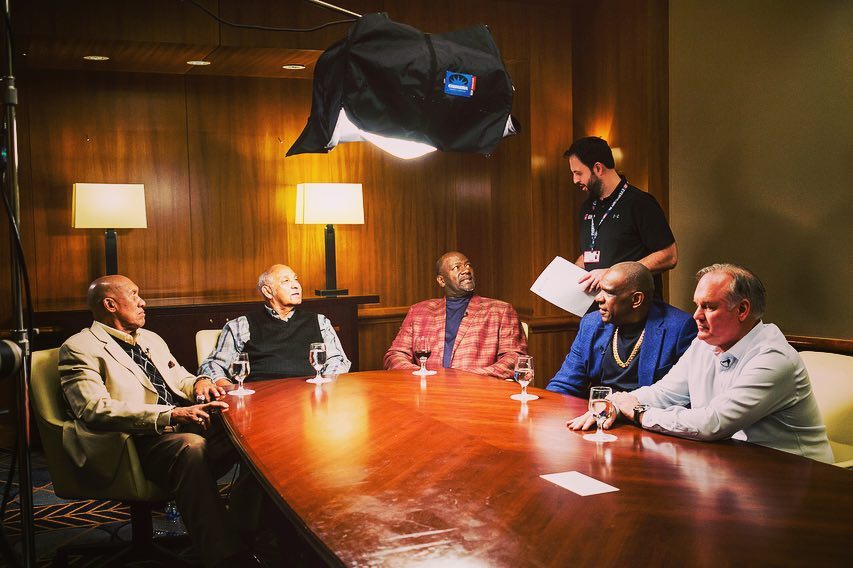 While his role with the Cubs is undoubtedly the dream job of lots of sports fans, Gostele noted that his biggest challenge is that professional baseball has a very long season. He has had to make sacrifices with his time over the years.

"The key is to surround yourself with people who support your lifestyle and who can understand the grind," Gostele said, adding that he hopes the "grind" will not have to end any time soon. Gostele is comfortable with the high-pace work environment, and his goal is to stay with the Cubs as long as he can.

"In 10 or 20 years, I hope to be continuing to produce content for the Chicago Cubs in whatever medium the landscape looks like at the time," he said. "If you find a job that fits your interests, the job won't feel like work. That's exactly what I've been able to do with the Cubs."