Foreign Language Residence Program Brings Language and Culture to Students
By Eva Richards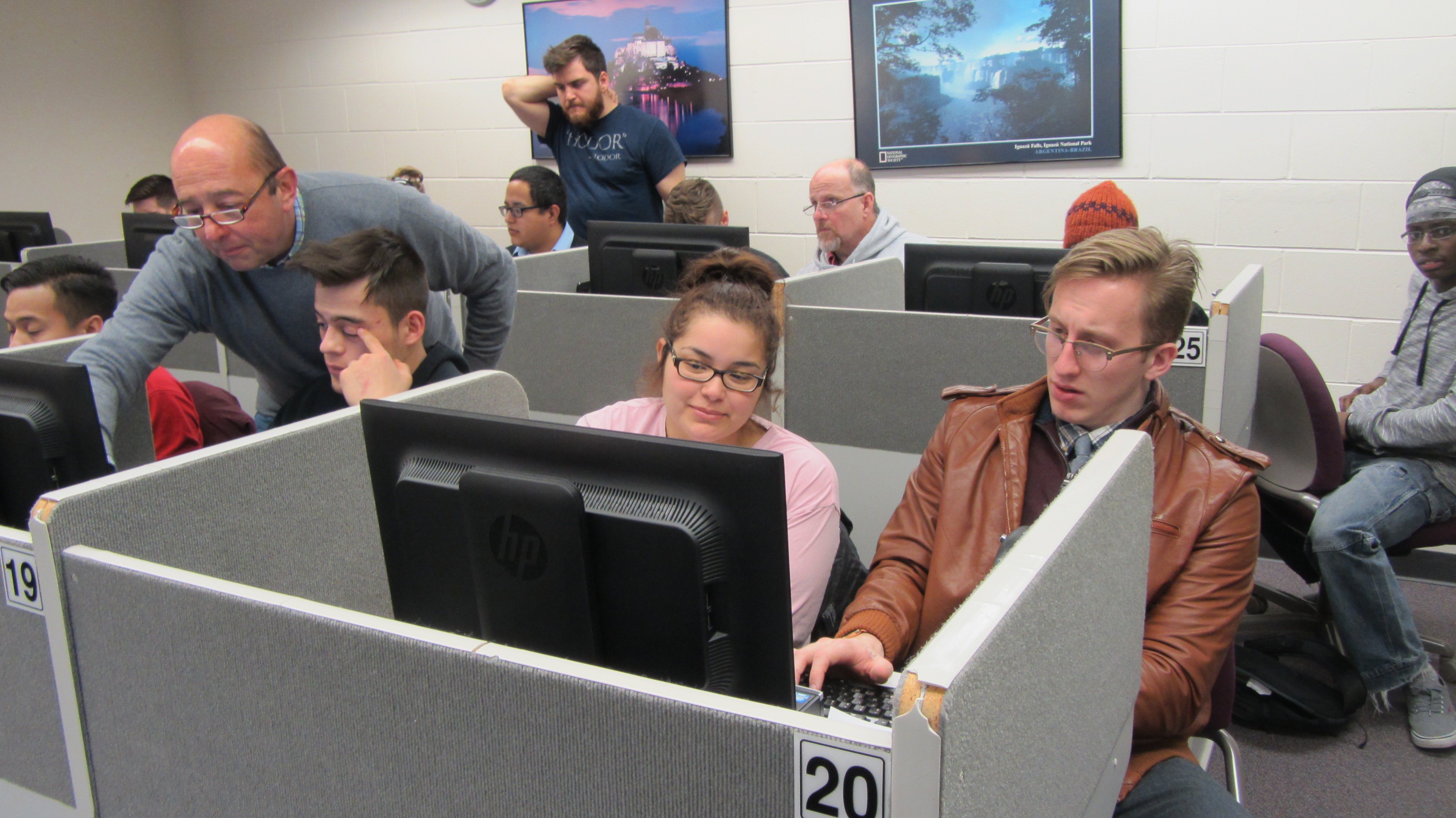 Many students dream of traveling to another country and studying abroad, but options might seem limited if they do not have financial means to pay for a trip.

NIU's Foreign Language Residence Program (FLRP) is a language-immersion special interest community for students who may not be able to afford the study abroad quite yet but want to experience immersion in a world language. The program is also a wonderful way for students who will be traveling soon to increase their language fluency and earn one-credit hour a semester for the experience.

Participants live with native speakers in Stevenson C Tower, eat dinners together, participate in a weekly language night, go on cultural excursions, spend a weekend at NIU's beautiful Loredo Taft Campus and much more.

"Often students come to FLRP with a lot of knowledge in grammar but not enough fluency," said Professor Concepcion Gliesman, who is the coordinator of the program. "FLRP's goal is to provide students with a community where they can practice and gain confidence speaking French, Spanish, German, Japanese or Chinese. They practice conversational skills with native speakers and interact with instructors and professors in a casual, relatively stress-free environment over dinner."

Participants—or "FLRPies," as they refer to themselves—accomplish this by using their target language in a more focused and sustained manner than in a regular classroom.

From time to time, there are other bonuses to being a part of the program. Last May, Gliesman took the FLRPies to China for two weeks, with almost no cost, aside from airfare.

"The purpose of this trip was to learn the Chinese culture and study Mandarin," Gliesman said. "Thanks to generous donor, Joyce De Winter, the students' travel insurance, food and some expenses were paid during the trip, and we will be doing this trip once more in May 2020."

It's opportunities like this that bind the FLRPies together. FLRP alumni are a tight band of friends with memories of the many ways the program impacted their lives for the better.

Alumna Susan (Kisiel) Pratt, '79, M.A. '81, relied on FLRP to supplement her classes as an undergraduate French Language and Literature major.

"FLRP gave me life-long friendships and an in-depth knowledge of other languages and cultures," she said, adding that she frequently used the skills she acquired in FLRP during her 35-year career with the U.S. Defense Department.

Alumnus Ralph Strozza, '81, joined FLRP in Fall 1978. He had been planning on studying in France in 1979, and he thought the program would help him become as immersed as possible in the French language before leaving.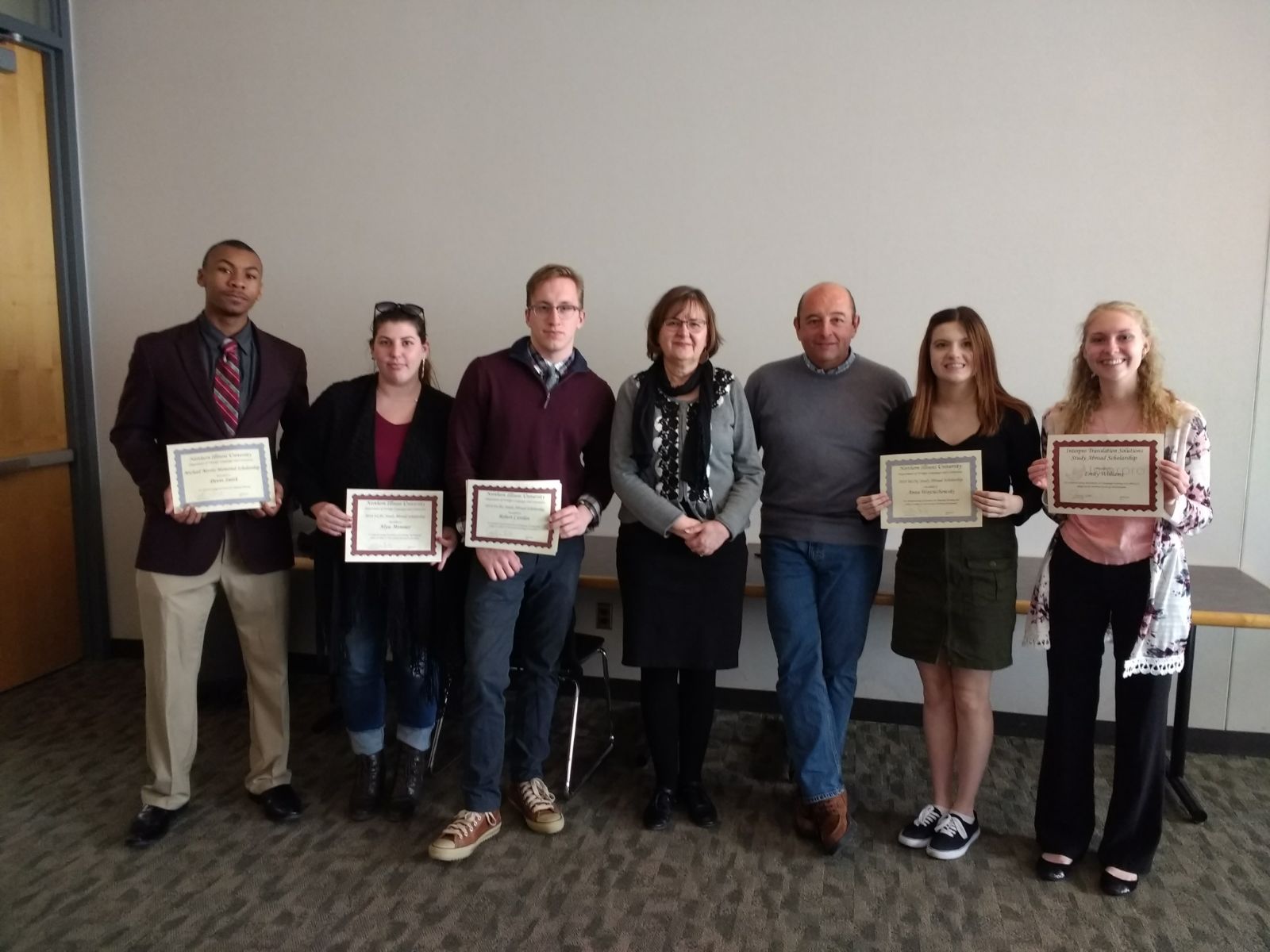 Ralph Strozza (third from right) hands out certificates to students who participated in FLRP.
"When I arrived in France, after having spent the previous semester in FLRP, I was well prepared to begin my coursework in French. The exposure to the French language that the program afforded gave me a head start on the road to becoming fluent in the language," he said.

After graduating from NIU, and after working for a year at Air Canada, Strozza was offered a French teaching assistant position at Northwestern University, where he taught French conversation and received his master's degree in 1983. Today, he serves as CEO of Interpro Translation Solutions, which delivers world-class language services, enabling clients to deliver multilingual content to a global audience.

"My participation in FLRP contributed immensely to this achievement by exposing me to French language and culture, and to perfecting my speaking and comprehension skills in the language," Strozza said. "My experience with FLRP reinforced my conviction that foreign languages were to be an integral part of my career."

Strozza insists that, beyond the practical advantages of speaking multiple languages, thanks to FLRP, he formed lifelong relationships that transcended mere friendship. It's this lasting impact that compels Strozza to come back to FLRP and volunteer as often as his schedule will allow.

Strozza also contributes to the Interpro Translation Solutions FLRP Scholarship fund, which he started in 2009. This scholarship provides $1,000 to assist with travel-related expenses for FLRP participants who are studying abroad with an NIU-accredited program.

"To ensure the program's survivability, I would urge alumni to consider donating to FLRP," Strozza said. "Donations of any size are welcome, and they allow the program to continue enriching the lives of NIU students studying world languages and cultures."

Last month, graduating senior Quinn Carolan finished interning with the U.S. embassy in Kyiv, Ukraine, as a Gilman Scholar and is currently interning at Embassy Tbilisi in Georgia. He has recently been in touch with the FLRP office to see how foreign diplomats might work with NIU's FLRP program.
"(I am) someone who was a FLRPie for a year and a half, and whose life was ultimately changed from that rewarding experience," Carolan said.

One key part of the program is Gliesman's reliance on alumni participation, and alumni who participated as students as well as those who are simply interested in the goals of FLRP are all invited to support the program now.

Alumni can help by coming to the dinners and interacting with the students, especially if they speak a language that is being practiced at the tables. Another way that alumni can be involved is to sponsor the native speakers of the program or to continue to help the participants of the program gain their fluency.

"It changes lives by opening other doors to a new world and culture," Gliesman said. "A person who knows two or more languages has a leg up on the competition in not relying on an interpreter and having insight into a target culture."

To find out more about FLRP or to donate to the program, click here.