Alumni Volunteerism is Music to Marty Johnstone's Ears
By Eva Richards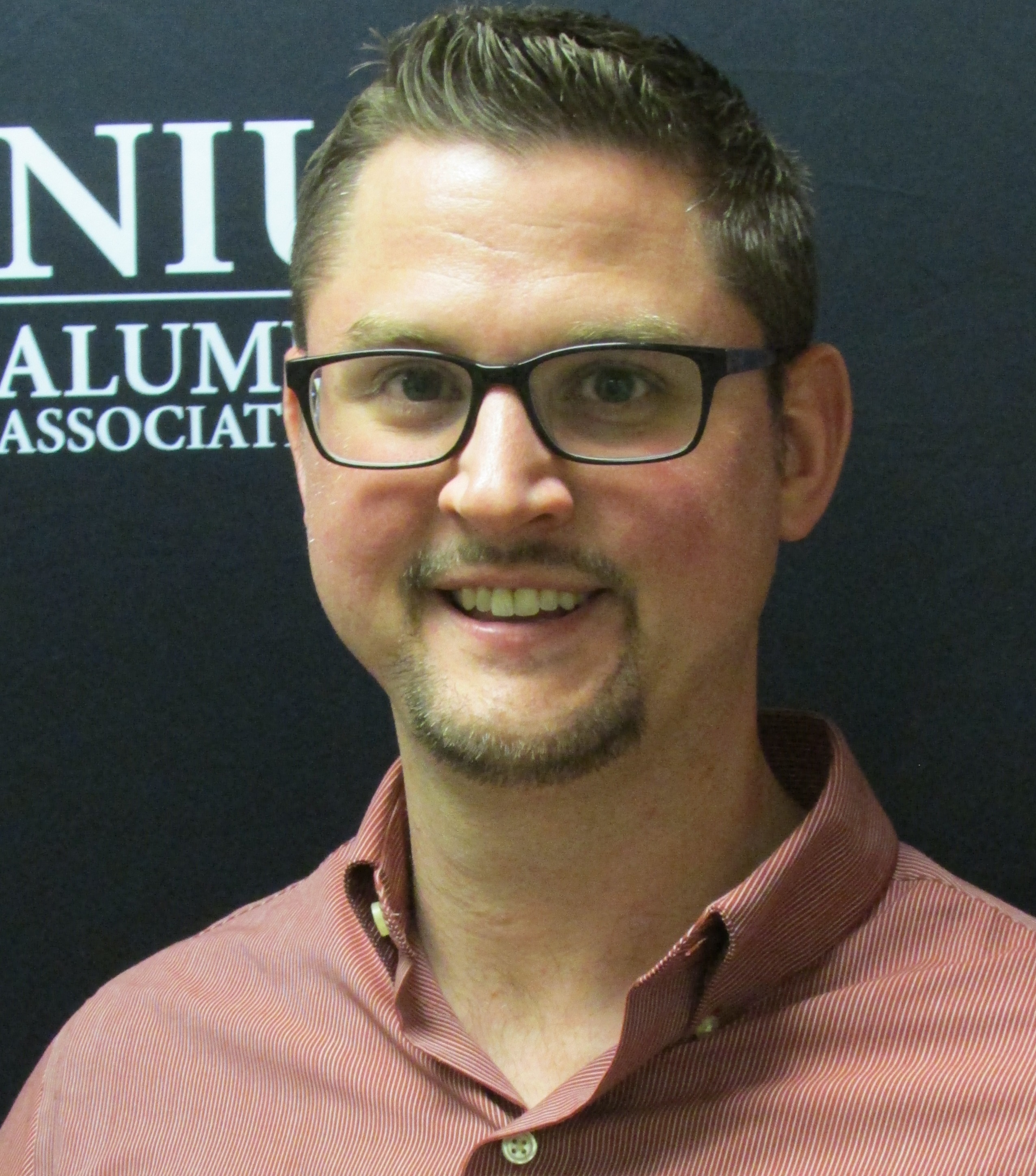 Like many of you, Marty Johnstone, '09, loves Northern Illinois University.

It is apparent in his attendance at alumni events, his volunteer role as president of the NIU Huskie Marching Band Alumni Council, and his stepping up as one of the youngest members of the Alumni Association's Board of Directors.

Johnstone, however, did not always think he would be where he is now. As a child on the southwest side of Chicago, he had plenty of interests, from playing hockey and mastering trombone in the school band, to starting his own lawn service in junior high. For a long while, he was sure he would follow in the footsteps of many of his family members and become a firefighter. That changed, however, when he began tinkering with computers and taking computer networking courses at Argo Community High School in Summit, Illinois.

By the time he was in high school, Johnstone was interested in finding a university that could prepare him for a career in IT and deliver a quality marching band experience to boot. Illinois State University was his front-runner, and he was not convinced NIU could compete until he visited the DeKalb campus.
"The summer before my senior year, my mom and I came to NIU. We toured the dorms and were impressed. At that time, a micro-fridge was a HUGE plus," he remembered with a laugh. "We scheduled time with admissions to just hear what NIU had to offer, and he mentioned that I might want to look into the College of Business' Operations Management and Information Systems (OMIS) major. I met with someone at the OMIS office and, after that day on campus, I was surprisingly excited about what NIU offered."

There were several factors that pushed Johnstone toward NIU, including the fact that an OMIS degree from the College of Business would potentially give him multiple career options after graduation. He was also drawn to performing in the marching band at a Division I school and the possibilities this brought for bowl games performances, ESPN games, and a larger football following.
He began his freshman year at NIU, living in Lincoln Hall, and quickly made lifelong friends with other marching band members. It was not long, though, before he suffered a setback that taught him a lot about perseverance and hard work.

"That first year was very character-building and really tested me," Johnstone said. "During the first week of marching band camp, I failed to make the cut for a spot on the field. This meant that I was able to practice with the group, but I couldn't perform on the field for the first game. And I had to try out again before the next show. I was off to a really upsetting start, but being "cut" from the band my first year was and still drives me to never give up. That fall, I spent lot of time in practice rooms, working with upperclassmen, and giving it my all to get better. Three weeks later, I got a chance to try the playing test again, and I had made it!"

Academics were not always easy for Johnstone either, as he was a self-declared "terrible test-taker" and struggled with then-undiagnosed ADHD. Still, the skills he garnered from the OMIS curriculum and hands-on experiential learning were life-changing.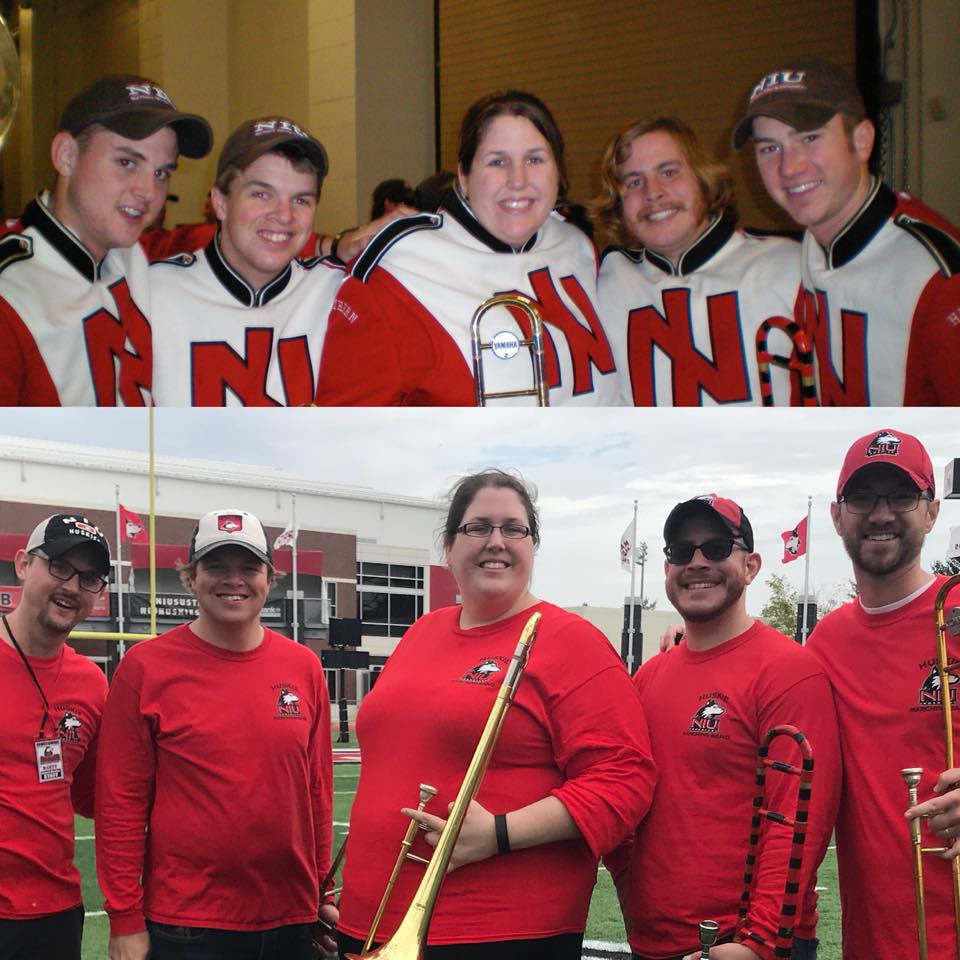 "The most memorable experience was my senior year capstone class," Johnstone recalled. "We were put into project teams of six, then assigned to a company that had a business problem that we had to solve. The experience I gained in that course tied everything all together, helping me apply to the real world what I had learned throughout my years of college. Our group had been so successful in building an IT solution for the problem they had, that they asked us to be hands on during the implementation."
During the summer, Johnstone interned at the Chicago Mercantile Exchange (CME) in their data center engineering team. Two days after graduation, he started as a full-time employee in the data center team as an engineer. Understanding the day-to-day grind required to operate and maintain massive stock exchange facilities helped lay the groundwork for the rest of his career. He quickly moved into a project management role, overseeing multimillion-dollar projects and leading the data center team through many process redesign projects, and then moved up as a team lead. Along the way, he was introduced to his current company, RF Code, as he helped the company improve its processes.

"In 2016, RF Code approached me about working for them as a technical sales engineer, and for me, it was a dream opportunity. I loved the product, already knew most of the team in some capacity, and was excited to take on a new challenge. As expected, I quickly fell in love with my role, and am still enjoying it today. I have now been a part of multiple large multimillion-dollar sales to Fortune 100 companies, and I have been able to make an impact on growing our company."

Even with his full schedule, Johnstone felt something was missing until he began giving back to the University in several important ways. He is still passionate about the marching band. As president of the NIU Huskie Marching Band Alumni Council, Johnstone helps alumni band members connect with one another and current student band members.
"The most rewarding part of working with the alumni marching band is the interaction with the current students," he said. "When I am on campus, I try to make a point to get to a rehearsal or stop in the music building. I have even worked with a few members outside of the marching band in mentoring them through projects or preparing for life after college, as they start their careers."

Johnstone is also motivated by the fact that his work helps students be able to participate in marching band, regardless of their financial capacity.

"When I was at NIU, there was one $500 scholarship for an upperclassman," he said. "Now, every student gets some sort of funding package for being a part of the organization. This makes the difference between needing a part-time job or having the time to commit to the fall marching schedule."

Marty enthusiastically encourages other alumni to get connected to NIU, adding that the rewards far outweigh any cost in terms of time and efforts.

"For someone who might be thinking about giving back to NIU, even in the smallest way, they should know that every little bit helps," he said. "There are always opportunities to help somewhere--through NIU Cares Day, which is coming up in April, through mentoring a student or taking part in an alumni affinity group. NIU is a very pivotal university in Illinois and the United States. There is a lot of pride behind being a Huskie and helping grow the success of the future Huskies. By giving back in any capacity, we continue to build on the 125 years of success."

Johnstone also mentioned that alumni can help spread the word about the number of scholarships provided by the alumni marching band and encourage others to give NIU and its marching band a shot.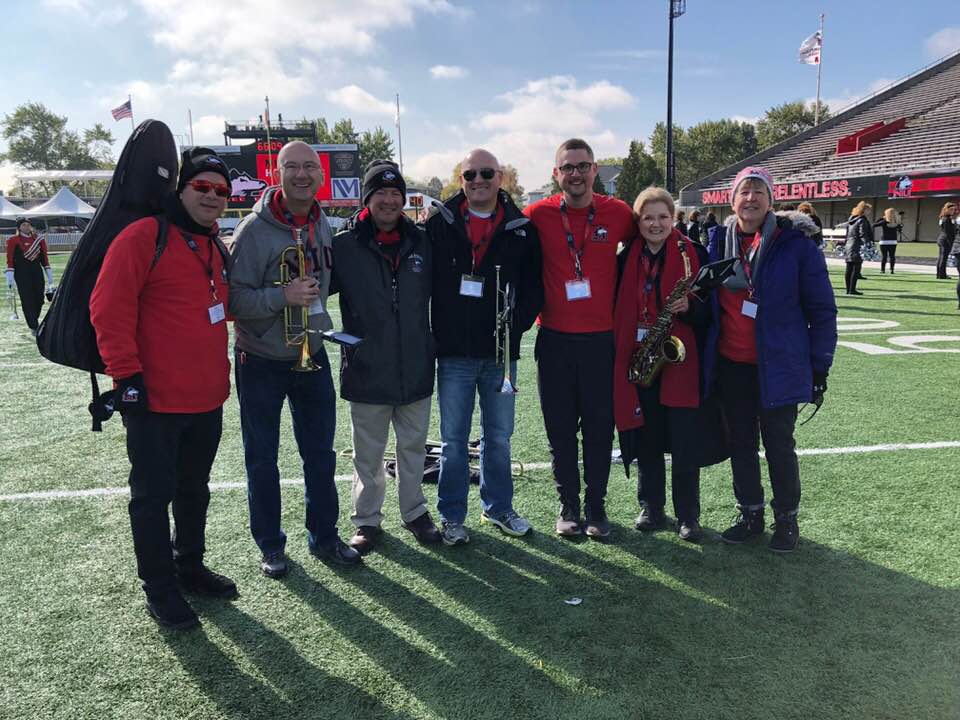 "Marty has a passion for getting more alumni involved with NIU, whether it is by pointing high school marching band students to NIU or coming back for our Fill the Field event each year," said Director of Alumni Volunteer Engagement, Liz McKee, '14. "Marty embodies a true Huskie with his strong volunteerism and sets the examples for others. He walks the talk and is constantly doing what he can to showcase NIU to those in his networks."

Another prime example of this is his work with the NIU Alumni Association Board of Directors. As one of its youngest members, Johnstone is able to serve former students.

"Since I began in July, it has been like drinking from a fire hose with the amount of information that I am learning," he said. "It's been exciting to understand and see where I can provide guidance. I have found many instances where it's been a benefit to be on the board and in my alumni marching band role, understanding and knowing both sides to help guide new initiatives for engagement with our alumni base."

Now, more than a decade after his graduation, Johnstone is more connected with NIU than ever.
"Attending NIU was such a pivotal time in my life," Johnstone said. "I grew in so many ways and the faculty gave me a lot of opportunities and helped me to build my confidence up. By the time I started my career I felt like I had a lot of experience to go into my first day and be successful. I want to help make that happen for students now."

The NIUAA is accepting Board of Directors nominees now. If you or someone you know are interested in becoming part of this governing body, please click here.

If you would like to learn more about how you can use our strengths and passions to benefit NIU, please contact Liz McKee, M.S.Ed. '14, at LmcKee1@niu.edu or 815-753-7400.