Musician Marquis Hill, '09, Recognized for Alumni Achievement in the Arts
By Eva Richards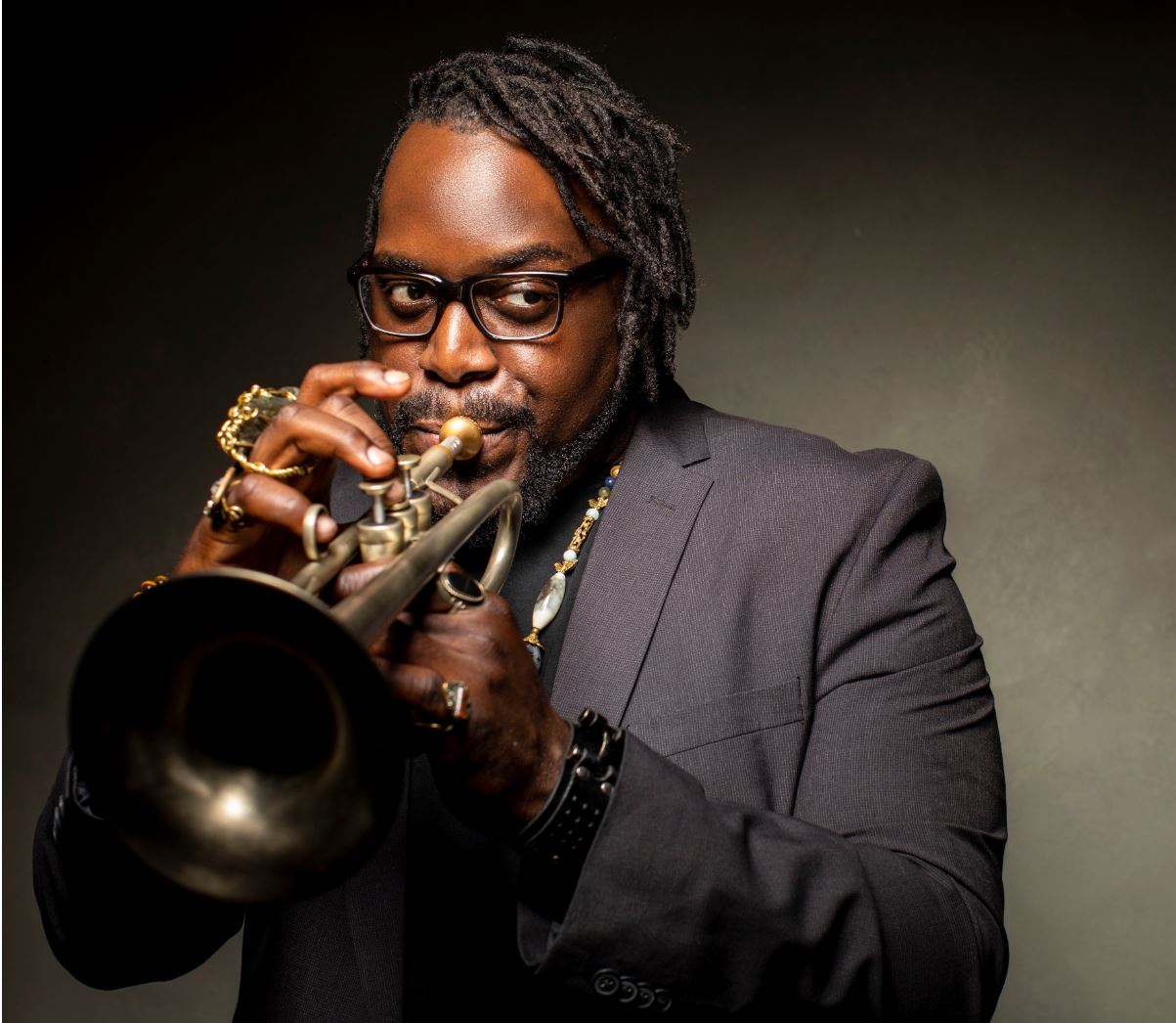 When it comes to music, Marquis Hill is the best of the proverbial best.

An experienced trumpeter and music teacher, he has performed alongside today's top artists in jazz festivals and competitions. He has been honored with many prestigious awards and scholarships, including the 2014 Thelonious Monk Trumpet Competition, which is among the most prestigious competitions for jazz musicians.

In March, Hill will be recognized with the NIUAA's Alumni Achievement in the Arts Award.

Hill keeps busy with a constant schedule of festivals and concerts all over the world, playing in a variety of styles and specialties, from big band to gospel. A prolific writer, he is always creating some new piece of music or twist on an old favorite, having published nine musical recordings since 2010. In 2019, he released his tenth album, "Love Tape."

"My primary goal is to soundly elevate the minds and spirits of people, through my participation in this art," Hill said. "I try to sincerely spread authentic love and strategic positivity as much as is possible —and, particularly, during times when it's most needed."

Hill noted that his music and work ethic are inspired and driven by the experiences of daily life.

"In a half-lovely, half-tragic world, genuine person-to-person connection is my life blood," he reflected. "As an artist, I have an obligation to serve and really lift people up. I take this responsibility very seriously. It's a call and a blessing to do so."

Hill earned his B.M. in Music Education from NIU in 2009 and has gone on to teach dozens of master classes nationally and internationally at institutions like Miami University, North Texas University, University of Chicago, University of Amsterdam, to name just a handful. A Huskie at heart, Hill frequently returns to NIU to teach young musicians, including leading "Combo Camp" for years.

Hill is eager to give back to NIU because his time on campus made such a tremendous impact on his growth as an artist and as a human being. While on campus, he received the Jerrold H. Zar Endowed Scholarship in Trumpet Studies, the Ronald J. Modell Scholarship Endowment in Jazz Studies and the Maude Nicholson Music Scholarship.

"Among many other things, the distinct relationships I created while attending NIU still significantly serve and inspire me today," he said. "I find myself describing NIU as a kind of soul incubator. As I compare notes with many others across the globe, I gratefully realize just how (NIU) sharpened my sensibility and the everyday tools of my 'trade.' It has prepared me well for the so-called 'real world.'"

Hill added that, in a number of ways, his experience at NIU continues to free him to embody "grace under pressure" for others.

"How thankful I am for the many disciplines and creativities I first practiced at NIU!" he said.