NIU College of Engineering and Engineering Technology Virtual Job and Internship Fair
Join us Tuesday
, Sept. 29, 2020,

for the NIU College of Engineering & Engineering Technology Fall Job & Internship Fair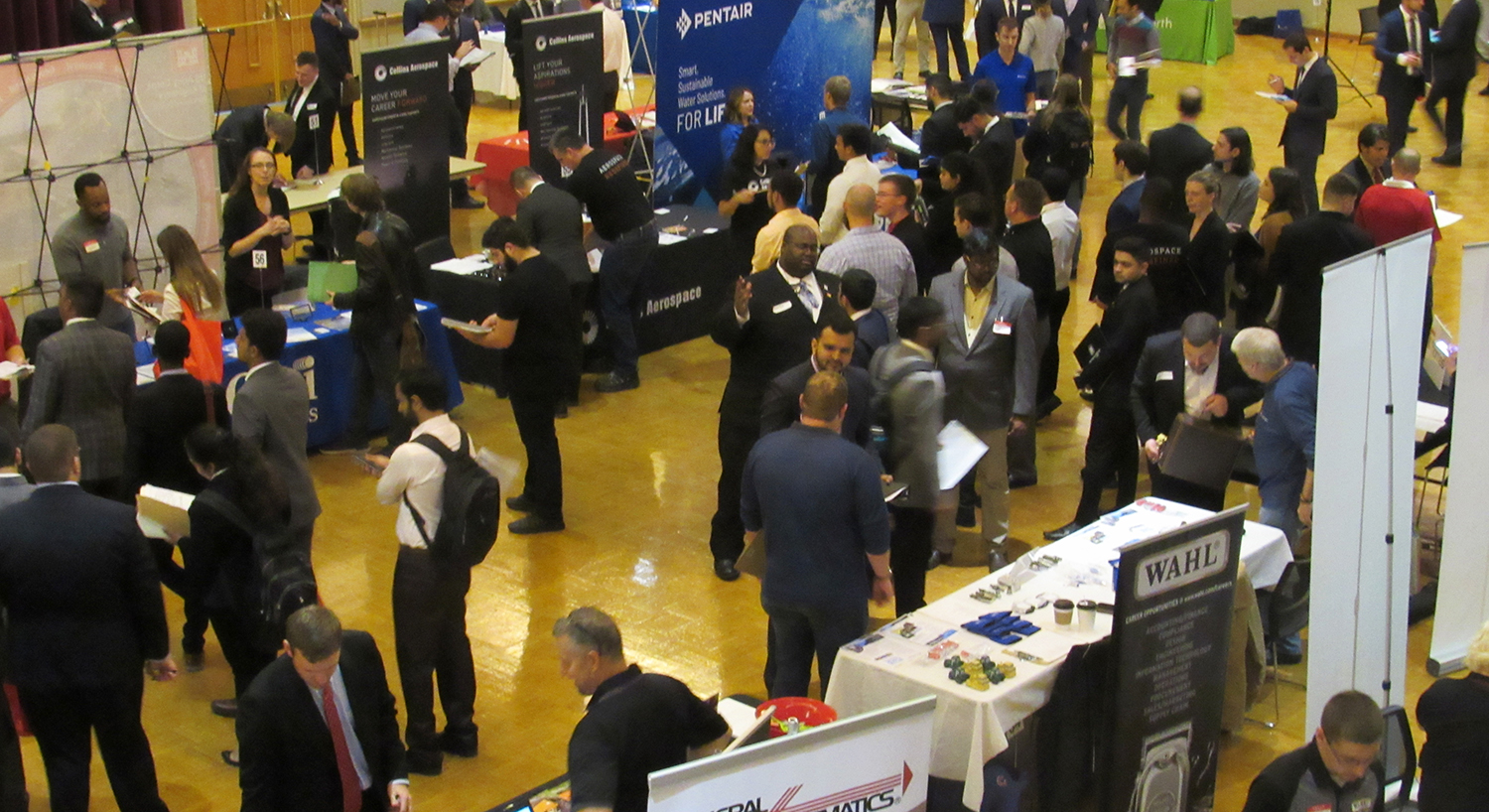 "NIU is a great pipeline for employees for Collins Aerospace. The quality of the students from NIU always continues to impress. As an alumnus of NIU, class of 1994, I have seen the investment in the CEET, which improves the quality of education of the students and prepares them for future success. NIU is a hidden gem in northern Illinois. I would encourage local industries to get involved with the CEET program at NIU. It provides a great pipeline of talented future employees."
- Chris Griffiths, Executive Director of Program Development for Collins Aerospace of Rockford
Our job fairs showcase only engineering and engineering technology students, so you won't waste time sifting through students with the wrong qualifications. Almost 400 students attended the Spring 2019 Job & Internship Fair. These events are perfect for finding co-ops, internships, and part-time and full-time professionals.
Event Details
The fair will be held on Tuesday, September 29, 2020 from 10:30 a.m. until 3 p.m.Virtually using the platform Symplicity.A link will be provided where companies will be able to virtually meet with current CEET students and be able to see the student, speak with the student, and discuss future endeavors.
Registration
Registration is $400. ($350 if you register before Sept. 15.) Nonprofit companies can register at a discounted rate of $200. Register for both Fall and Spring fairs to receive a discounted rate of $650 for both events.
Current NIU employer partners with a Symplicity/Huskies Get Hired: login to Huskies Get Hired (expedited registration).
Employers new to NIU without login to Huskies Get Hired: login to sign up and register.
If you are having trouble with registration, please email: careerservices@niu.edu or DLHart@niu.edu.
EVENT DETAILS
What:
NIU College of Engineering & Engineering Technology Job and Internship Fair

When:
Tuesday, Sept. 29, 2020
10:30 a.m. - 3 p.m.
Price:
$400 for companies ($350 for early registrations before Sept. 15)
$200 for nonprofit companies ($150 for early registrations before Sept. 15)
Contact Information:
Stephen Samuels
Engineering Building 331
Northern Illinois University
DeKalb, Illinois 60115
815-753-9961
ssamuels@niu.edu
When:
10:30AM - 3:00PM Tue 29 Sep 2020, Central timezone

Virtual Event Instructions: