NIUAA and Pollyanna Brewing Company
Announce the Return of Dawgma
The collaborative Kölsch beer will be
canned and sold in 14 locations.


When Dawgma was introduced in the summer of 2019, Pollyanna Brewing Company CFO and co-founder Ryan Weidner, '98, M.B.A. '12, had a vested interest in the beer's performance as both a Pollyanna employee and as an alumnus of Northern Illinois University.

He was not alone.

That interest turned into a demand, and both Pollyanna and the NIU Alumni Association heard the Huskie faithful loud and clear — "We want more Dawgma!"

Pollyanna and the NIUAA officially announced on Wednesday, April 29, that their collaborative Kölsch beer will return to stores and be canned in a four-pack, 16-oz. format. Dawgma will be sold locally in 14 different locations (see sidebar).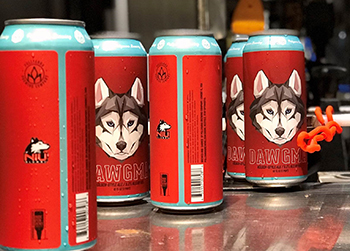 "It was exciting to see the overwhelming interest in Dawgma in cans last fall and, frankly, it far exceeded our expectations," Weidner said. "It typically takes a few seasonal sales cycles to establish a new beer brand and Dawgma was strong right out of the gate".

The decision to can Dawgma again was easy for Pollyanna, according to Weidner.

"Since the last release, the continuous inquiries from the NIU faithful about when and where they can pick Dawgma up made the re-release an easy decision," Weidner said. "Clearly there is pent-up demand for Dawgma."

To learn more about Dawgma and Pollyanna Brewing Company, register for the upcoming "Meet a Huskie" virtual event, featuring Weidner.
Where Can You Buy Dawgma?
Binny's Beverage Depot
844 S. Randall Rd.
Algonquin, IL 60102
Binny's Beverage Depot
790 Royal St. George Dr.
Naperville, IL 60563
Binny's Beverage Depot
1950 Lincoln Hwy.
St. Charles, IL 60174

Blue Goose Market
300 S. 2nd St.
St. Charles, IL 60174

Huskies Discount Liquor
1030 Arcadia Dr.
DeKalb, IL 60115

Hy-Vee
2700 DeKalb Ave.
Sycamore, IL 60178
460 N Independence Blvd.
Romeoville, IL 60446

Kenwood Liquors
12037 W. 159th St.
Homer Glen, IL 60491

Lundeen's Liquors
1760 DeKalb Ave.
Sycamore, IL 60178
The Open Bottle
7101 W. 183rd St. #105
Tinley Park, IL 60477
Orange & Brew Bottle Shop and Tap Room
1027 Burlington Ave.
Downers Grove, IL 60515

Prestige Wine & Spirits
6249 S. Cass Ave.
Westmont, IL 60559

Woodman's
1550 Deerfield Pkwy.
Buffalo Grove, IL 60089

Woodman's
27555 IL Route 120
Lakemoor, IL 60051