Amy Fahey, '84, Promotes Gender Equality on First Women's Bank Board
By Eva Richards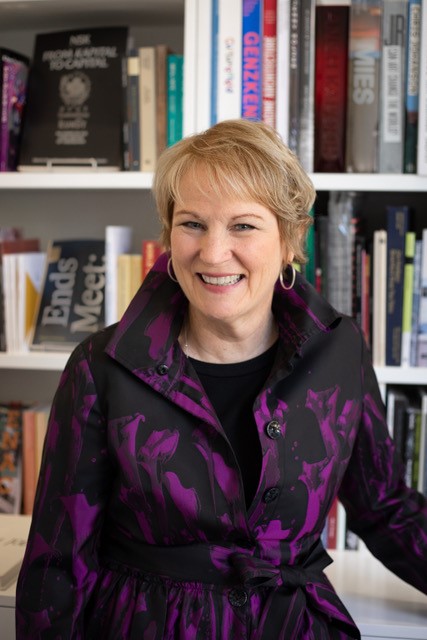 Fahey's 29 years of banking experience, across a variety of functions at JPMorgan Chase and its predecessor organizations, made her a good fit to help organize the bank and, ultimately, serve as chair of the board.
NIU alumna Amy Fahey was recently named to the board of directors for the first bank start-up in the Chicago area since Golden Eagle Community Bank was founded in suburban Woodstock in 2007. First Women's Bank will focus on its mission of supporting women in business when it opens its doors. Operating from a single flagship location in Chicago, First Women's Bank will be an innovative commercial bank that will serve small and mid-sized businesses and individual deposit clients.

Fahey earned her applied data computer science degree from NIU in 1984 and moved on to work in a role for Chevron in San Francisco after college. From there, Fahey went on to a long career at JPMorgan Chase, and its predecessor organizations, before starting a consulting firm in 2015.

"I truly believe that the education I received in technology helped launch my career and set me on a path that allowed me to be where I am today," Fahey said. "I was hired by Chevron after graduation because of the renowned program that NIU offered. While I'm not currently in a technology role, everything we do in today's world has a technology focus to it. The basic problem-solving skills that I learned at NIU have proven useful throughout my entire career. For that, I am truly grateful."

Fahey became an integral part of First Women's Bank after meeting one of the bank's founders, Lisa Kornick, in 2017. Kornick is an entrepreneur with more than 30 years of experience running successful restaurant group DMK Restaurants. She saw an opportunity for a women-led bank that could focus on a large, and growing, part of the economy, and she set out to find people who had banking experience to make it a reality.

Fahey's 29 years of banking experience, across sales, finance, risk management and technology functions at JPMorgan Chase, made her a unique fit to help organize the bank and, ultimately, serve as chair of the board. The rest, as they say, is history.

First Women's Bank is on a mission to grow the economy and advance the role of women within it. "Our purpose makes us bigger than a bank. We are a platform consolidating support for women-owned and women-led businesses, at a unique moment in time. I knew I could bring the skills and experiences from my career together with my passion for promoting gender equality," she said.

According to the last American Express State of Women Owned Business Report, women-owned firms were generating nearly $1.9 trillion in annual revenue. In Chicago, there are more than 400,000 women-owned small businesses, and Chicago has the highest percentage of women-led startups of any city in the world. "Women-owned businesses are growing two times faster than the national average, yet they receive only 16% of all conventional business loans," Fahey said. "That is a significant but addressable lending gap."

First Women's Bank will launch with a focused SBA loan program and a leading-edge, technology platform that focuses on client engagement. "Our mission resonated before this crisis, and when we launch, we'll have fresh capital and a purpose-driven strategy utilizing SBA lending, a program that was successfully used to support and fund small businesses during the 2008-2009 crisis," Fahey said.

Once the bank launches, Fahey will assume the role as chair of the board. During this pre-launch period, which is extended a bit due to the current economic environment, she is wearing many hats and every day is different.

"Some days, I'm the interim controller, managing the financial tracking and reporting for the current corporation," she said. "Other days, I'm working with our leadership team to recruit the staff, select a technology platform, develop key processes, hold monthly board meetings, and work on anything else that comes up. It's a team effort."

When it comes to finding the wherewithal to see this new bank succeed, Fahey credits her days at NIU for teaching her grit and determination.

"As someone that has done a lot of hiring over the years and is still engaged in that today, I always look for people who are hungry and don't shy away from tough situations," she said. "Our bank project is moving forward because of the team we've assembled, people that are all willing to roll up their sleeves and get things done."