NIU Esports Provides Team Opportunities in Times of Social Distancing
By Eva Richards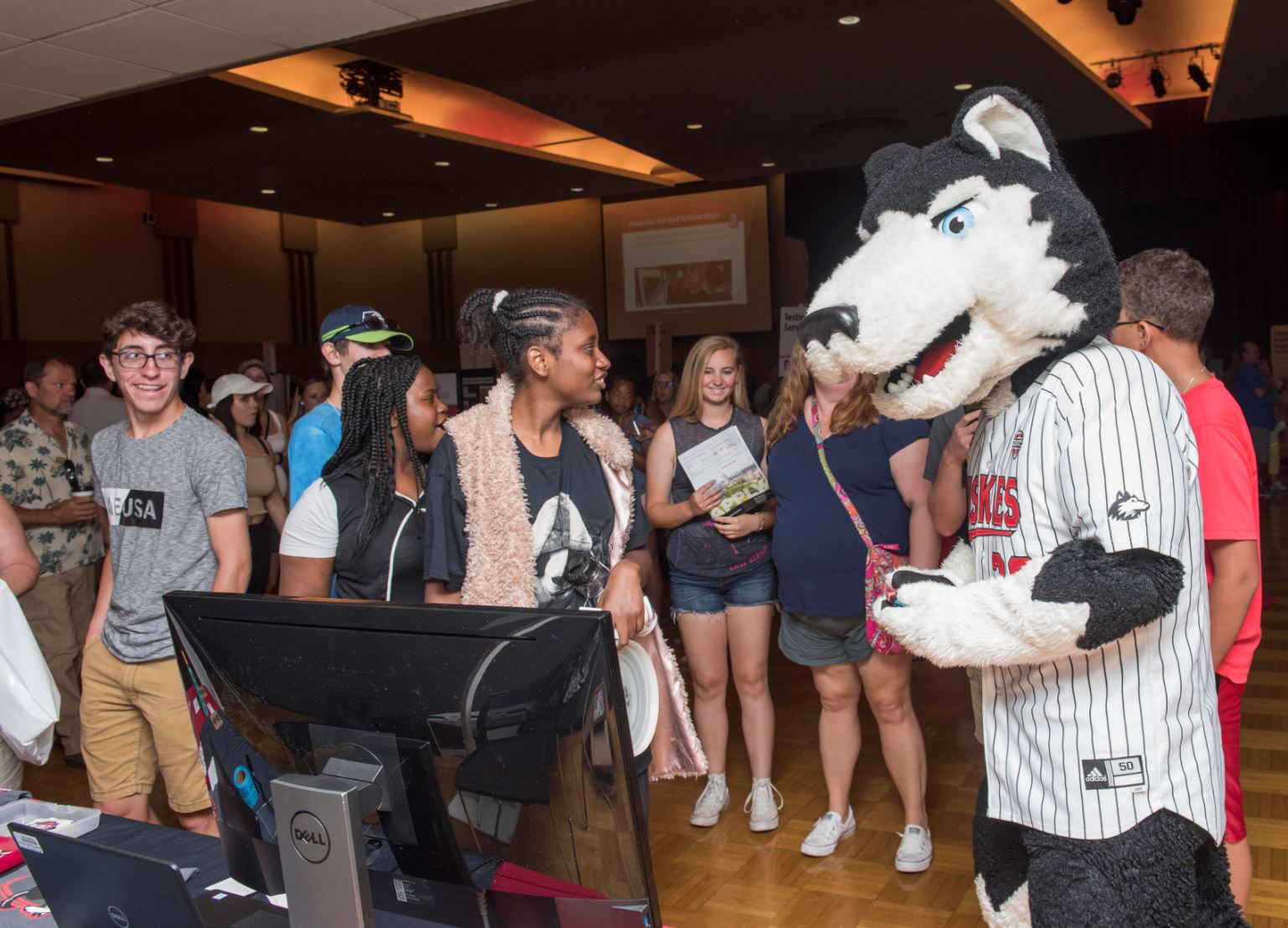 Victor E. Huskie plays Mario Kart at the Academic Excellence Ceremony in 2019.
There is a lesser known sport club on campus, and it is still going strong in times of social distancing. NIU Esports' Discord platform allows its more than 120 active club members and the greater community (including 20 alumni) to remain in close contact even as we try to remain physically distant for health purposes.

While Esports is focused on online gaming now, in the past it has allowed students, community members and alumni to get together for in-person game tournaments as well.

"These days, we offer multiple open-play sessions daily where alumni can interact with one another while they play, whether they're playing the suggested daily game or not," said Conner Vagle, '19, general manager of Esports on campus.

Some of the club's most active alumni play a variety of games, including card games like Magic the Gathering: Arena, Hearthstone or Legends of Runeterra; sports games like FIFA, Madden, and NBA 2K; and a variety of online competitive titles like League of Legends, Overwatch, and Fortnite. The club is willing to branch out and try any genre players are interested in playing.

The community comes together through a platform called Discord, which works very similarly to Microsoft Teams or Slack. When alumni go to https://discord.gg/niuesports, they will be automatically invited to join the server and create an account.

Once on the server, alumni can gain access to an alumni-only text channel. Similarly, they may choose the games they like to play and access text channels that house discussions about the various game titles. Additionally, they may use various voice channels to speak to others while they play, which are provided for each game to help drive in-game communication, but are not locked to the title, so players may continue conversations while playing various games.

The community has been an important way for some alumni to stay connected to the University. Nathaniel Abbott, '19, who was involved with the club during his time on campus, has benefitted from staying involved.

"Continued involvement in the program helped me remain connected with some friends who were graduating later than I was, and it allows me to watch the continuing growth of the Esports program," he said. "The collegiate Rocket League scene also remains a passion of mine, so it's fun to still be involved in some capacity."

Abe Baker, '17, is now in medical school at UIC College of Medicine in Rockford, but he's found that NIU Esports has been a great outlet for him.


"During my time as an NIU undergraduate student, I wasn't aware of the Esports club," Baker said. "I found out about the group a few months ago, just before the start of the COVID-19 pandemic. While I didn't know very many of the members personally, I got along with them well and quickly became a frequent contributor to the group."

Baker noted that he thinks anyone with a connection to NIU who also enjoys gameplay as a hobby should consider joining the Esports community.

"We have discussion channels for most genres of games, as well as places to discuss NIU news and events," Baker said. "Our leadership is responsive and open to new ideas, so if you have an idea for a new event or game group you can do that as part of our group."

Vagle came to the community as an alumnus as well. He earned his B.A. in Communication Studies last year and joined Jeannine East working in the University's Division of Outreach and managing NIU Esports.

"In my role, I manage our student workers, oversee the growth of our varsity Esports program, and help guide community engagement and retention through our various efforts," Vagle said. "Our Discord server has become one of the focal points of our program during this time of social distancing. Discord has become a personal passion of mine because it helps drive connection to alumni, students and community members, even when we cannot physically meet."

Vagle noted that there has recently been an increased emphasis on online tournaments for partnerships with various park districts and other groups, and Esports now has a heavier focus on open-play sessions than before.

While Esports lends itself to our current social distancing culture, it has been a popular group at NIU for years. The NIU Esports Club was founded in 2013 as a student group, which eventually made its way into the fold of NIU sports clubs as managed by Recreation and Wellness. As the club grew, it went from hosting meetings off-campus, to renting out the Stevenson multipurpose room, to eventually having a dedicated space in the lower level of Neptune North.


"In 2017, President Freeman attended a meeting of campus presidents where Esports was discussed, and she brought back the belief that Esports was a necessary step for the University to take moving forward," Vagle said.
Ever since, the club has only grown.

To get involved, alumni can join the club's social media channels—NIU Esports on Facebook, @esportsNIU on Twitter, @NIUEsportsOfficial on Instagram, and video channels of NIU Esports on YouTube and twitch.tv/NIU_Esports for live gameplay. They can also join Discord to keep up-to-date or participate in open-play sessions by going to discord.gg/niuesports. More information is also available on the club's website, www.niu.edu/esports.

Vagle said the Esports community will welcome new alumni, should they want to try the club out.

"While the Esports Initiative helps recruitment and retention at NIU, we also value our partnerships with alumni and the community. We're working to be seen as a leader in collegiate esports in our region," he said.