NIUAA and Pollyanna Brewing Company
Announce Expansion of Dawgma Beer
Production of the collaborative Kölsch cans has increased exponentially and will be sold in 36 locations across Illinois.



Numbers don't lie, and the truth is Dawgma is not only popular with Huskie alumni, but throughout the state of Illinois.

Pollyanna Brewing Company and the NIU Alumni Association officially announced on Wednesday, July 1, that their collaborative Kölsch beer will return to stores and be canned in a four-pack, 16-oz. format.

Driven by popular demand,
Pollyanna increased its overall production of Dawgma by 66.3%, its canning production by 862% and is now available in 125% more stores than the previous release in May.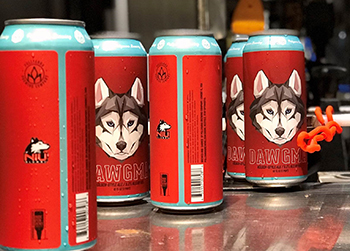 Dawgma will be sold locally in 36 different locations (see sidebar) as early as Friday, July 3. Earlier this spring, Dawgma was sold in 16 locations.
Where Can You Buy Dawgma?
Pollyanna Lemont


431 Talcott Ave.
Lemont, IL 60439



Pollyanna Roselare


245 E. Main St.
Roselle, IL 60172



Pollyanna St. Charles


106 S. Riverside Ave.
St. Charles, IL 60174



Armanetti's Wine and Spirits


9714 IL-47
Huntley, IL 60548



Armanetti's Wine and Spirits


1550 S. Eastwood Dr.
Woodstock, IL 60098



Bacaba Liquors


304 W. Church St.
Sandwich, IL 60548



Binny's Beverage Depot


844 S. Randall Rd.
Algonquin, IL 60102



Binny's Beverage Depot


353 W. Army Trail Rd.
Bloomingdale, IL 60108



Binny's Beverage Depot


639 E. Boughton Rd.
Bolingbrook, IL 60440



Binny's Beverage Depot


1132 S. Jefferson St.
Chicago, IL 60607



Binny's Beverage Depot


5380 US-14
Crystal Lake, IL 60014



Binny's Beverage Depot


21410 Wolf Rd.
Mokena, IL 60448



Binny's Beverage Depot


790 Royal St. George Dr.
Naperville, IL 60563



Binny's Beverage Depot


103A Orland Park Pl.
Orland Park, IL 60462



Binny's Beverage Depot


1950 Lincoln Hwy.
St. Charles, IL 60174



Blue Goose Market


300 S. 2nd St.
St. Charles, IL 60174



Captain Jack's Beverages


7030-54 W. 111th St.
Worth, IL 60482



Crafted 1979


19200 S. LaGrange Rd. Suite E
Mokena, IL 60448



Flight Tasting Room & Bottle Shoppe


508 Center Pkwy. Suite C
Yorkville, IL 60560



Garfield's Beverage Warehouse


320 W. Virginia St.
Crystal Lake, IL 60114

Huskies Discount Liquor
1030 Arcadia Dr.
DeKalb, IL 60115



Hy-Vee


2700 DeKalb Ave.
Sycamore, IL 60178



Lundeen's Liquors


1760 DeKalb Ave.
Sycamore, IL 60178



The Open Bottle


7101 W. 183rd St. #105
Tinley Park, IL 60477



Orange & Brew Bottle Shop and Tap Room


1027 Burlington Ave.
Downers Grove, IL 60515



Prestige Wine & Spirits


6249 S. Cass Ave.
Westmont, IL 60559



Printers Row Wine Bar and Shop


719 S. Dearborn St.
Chicago, IL 60605



Riverside Foods


48 E. Burlington St.
Riverside, IL 60546



Sal's Beverage World


434 W. Lake St.
Addison, IL 60101



Sal's Beverage World


695 W. St. Charles Rd.
Elmhurst, IL 60126



Sal's Beverage World


298A W. Roosevelt Rd.
Villa Park, IL 60181



Santori's Liquors


3529 Ridge Rd.
Lansing, IL 60438



Sugar Beet Food Co-Op


812 W. Madison
Oak Park, IL 60302



Thirsty Liquors


1039 W. Hillcrest Dr.
DeKalb, IL 60115

Twin Tavern
1028 S. 4th St.
DeKalb, IL 60115



Vineyard Liquor Store


115 E. South St.
Plano, IL 60545