Fred Vinciguerra
'88, Biological Sciences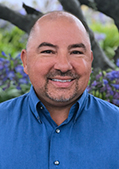 Fred Vinciguerra is a Partner and the CEO at Forensic Analytical Consulting Services (FACS) headquartered in Hayward, California. FACS is a nationally recognized environmental health consulting company. In his role as CEO, he has grown FACS from a small one-office firm to one with a national presence with more than 160 employees.

Fred has taught asbestos and lead paint courses at the UC Berkeley Extension and continues to teach for Hazard Management Services Training. He is also a member of Vistage, the world's largest CEO organization.

Fred understands the importance of giving back to the community and has served on the Board of Directors for the Hayward Education Foundation, a group providing funding to local schools. He has volunteered with Choices, promoting the importance of a high school education to under-privileged students. He also helped create and is a board member for The Mike Thompson Foundation, helping raise money for children who have lost the main bread winner of the family.