Karla Vílchez-Neal
'17 Ed.D.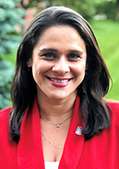 Dr. Karla Vílchez-Neal first came to the United States from Costa Rica after being awarded a scholarship to attend Interlochen Arts Camp. She was then the recipient of a Talent Grant to study Music Performance at Western Illinois University, and was selected as a Graduate Teaching Assistant in the School of Music at University of Louisville.

Inspired by a College Student Development Theory course she took during college, Karla decided to complete a doctoral degree in Adult and Higher Education at Northern Illinois University. Dr. Vílchez-Neal has over 10 years of experience working in Higher Education in the areas of Student Leadership Development, Programming and Activities, Student Academic Success, International Affairs, and Academic Advising.

Karla currently serves as an Academic Advisor for the College of Liberal Arts and Sciences at NIU and often engages in service activities that benefit the academic success of Latinx students.

Prior to her time at NIU, Karla was the assistant director in the Office of International Affairs at West Virginia State University.