Joe Sosnowski
'99, English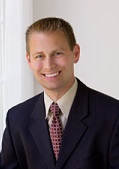 Joe Sosnowski is the Illinois state representative for the 69th District, which covers Boone and Winnebago counties, and was first elected state representative in 2010.

Sosnowski serves in the 100th General Assembly on the following committees: Appropriations-Elementary and Secondary Education; Cities and Villages; Elementary Secondary Education: Charter School Policy; Executive (Republican spokesperson); Revenue and Finance; Income Tax Subcommittee; Growth, Reform and Fairness Subcommittee; and Audit Commission.

He is an Illinois licensed real estate salesperson and is director of Institutional Advancement at Rockford Christian Schools.

Shortly after graduation from Northern Illinois University, he was elected to the DeKalb City Council and served from 1999 to 2003. In 2004, he moved and was elected to a city council again, this time for the city of Rockford and served from 2005 to 2010.

He is a member of Stateline Community Church and Next Rockford (young professionals) and is a recipient of the Rockford Chamber of Commerce's 40 Under 40 Award.