Joseph Sener: Alumni President
'93, Technology; '10, M.S. Industrial & Systems Engineering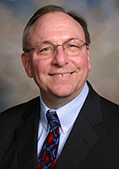 Joseph Sener is a newly retired Professional Engineer who spent a career in Engineering Design, Engineering Management and Quality Management. As Vice President of Quality, Device Engineering and Customer Advocacy for ICU Medical Joe was responsible for the development and execution of quality strategy related to the design of medical devices to support emerging and existing product portfolios. He was also responsible for product cybersecurity for ICU Medical.

Joe spent a career designing products for such diverse industries as nuclear power plant design, aerospace manufacturing, hydraulic and pneumatic pressure vessels and cylinders, and medical devices.

Now, as a consultant, Joe works with clients to resolve design, product risk management, and regulatory issues in the medical device field.

Joe has served on the Board of Directors and as President for the NIU Engineering Technology Alumni Society (ETAS) and was recognized as Distinguished Alumni from the College of Engineering and Engineering Technology in 2007. He served two terms as Vice President on the Board of Directors, NIUAA.

He earned his B.S. in Engineering Technology in 1993 and his M.S. in Industrial and Systems Engineering in 2010 both from NIU.