Valerie L. Salmons
'74, Journalism; '77, M.P.A.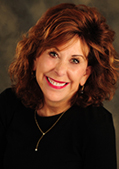 Valerie Salmons is the longest serving Village Administrator in the State of Illinois, with 35 years served in Bartlett, Illinois, and 42 years served overall.

Valerie was appointed to the Law Enforcement and Standards Board by six governors She serves as regional vice president for the International City Managers Association.

She received the Outstanding Leadership Award from the Board of Trustees of Community College District 509. She also received the Master of Public Administration program's Outstanding Service Award in 2014, as well as the Illinois City Managers Association Lifetime Achievement Award.

Valerie earned her B.S. in journalism in 1974 and her M.P.A. in 1977 from NIU.