Sherry Reynolds-Whitaker
'09, M.B.A.; '13, M.S. Ed.; '16, Ed.D.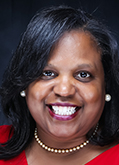 Dr. Sherry Reynolds-Whitaker is a Chief Financial Officer (CFO)/Chief School Business Official (CSBO) for East St. Louis School District 189, with more than two decades of experience.

Prior to accepting her current position, she worked as a CSBO for other school districts and served as a consultant for the Illinois State Board of Education.

She has also held various accounting/leadership positions for corporations such as OfficeMax, Sprint Corp., CB Richard Ellis, CNA and IBM.

Reynolds-Whitaker has enjoyed sharing the knowledge gained through her professional experiences with her students as an Adjunct Professor for Olivet Nazarene University and National Louis University.