Jacqueline Marcus
'72, Textiles and Clothing; '79, M.S. Nutrition and Dietetics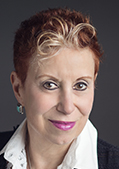 Jacqueline Marcus is president and owner of Jacqueline B. Marcus & Associates, an international food and nutrition consulting firm.

Marcus is an award-winning, internationally recognized Registered Dietitian and Nutritionist who mixes culinary, food, fitness, nutrition and wellness into recipes for success. She also holds a certificate in gerontology from the University of Illinois and is a certified nutrition specialist through the American College of Nutrition.

She is a food and nutrition publisher, editor, author, spokesperson, program and product developer, and marketing strategist whose clients have included such names as Ajinomoto North America, Inc., Aldi, Barilla Group, Kellogg's, Lean Cuisine, Lettuce Entertain You Enterprises, McDonald's, and Quaker Oats Company/Pepsico. Jacqueline is the author of 40 food and nutrition books, including two award-winning texts.

In keeping with her dedication to educate others about food and nutrition, Marcus was an associate professor and department chair of human and culinary nutrition at Kendall College School of Culinary Arts and an assistant professor of human and culinary nutrition at the Cooking and Hospitality Institute of Chicago. She has lectured widely throughout the US and internationally and has developed food and nutrition programs for such high-profile clients as the U.S. Navy's Great Lakes Naval Base, the United States Olympic Committee and Rush North Shore Medical Center for their first community hospital-based wellness program in the nation.

Marcus is a leader in her industry and has served as an active member or board member emeritus of several professional organizations: the Chicago Academy of Nutrition and Dietetics, the Illinois Academy of Nutrition and Dietetics, the Academy of Nutrition and Dietetics, and the Dietitians in Business and Communications, Food & Culinary Professionals, Nutrition Entrepreneurs, and Sports, Cardiovascular and Wellness Nutrition Dietetic Practice Groups.

Her many honors and awards include recognition by Kappa Omicron Phi (the national honor society for human sciences); the Medallion Award (for outstanding professional leadership) from the Academy of Nutrition and Dietetics; the Outstanding Dietitian Award from the Chicago Dietetic Association, and the Outstanding Alumni Award (representing the College of Health and Human Sciences) from the NIUAA.

Jacqueline graduated with a B.S. in family, consumer and nutrition science in 1972 and earned her M.S. in nutrition and dietetics in 1979 from NIU.