Thomas Libert
'74, Management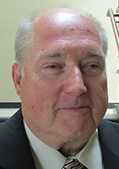 Tom Libert was a member of the Chicago Police Department, where he rose through the ranks from police officer to captain. He is semi-retired from the department.

His jobs included patrol officer, field training officer, patrol supervisor, commanding officer at the training academy and patrol watch commander. During his career, Libert was part of a nationwide conference that developed an educational program for diversity and the police and served on a committee that developed the CPD's response to a school violence incident.

Since 2004, Libert has worked as an adjunct professor at Purdue University Global and teaches criminal justice courses.

He earned a B.S. in management from NIU in 1974 and also holds an associate degree in law enforcement and a master's degree in public administration.