Donald Hubbartt
'96, Management; '01, M.B.A.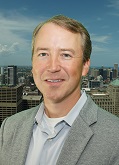 Don Hubbartt is senior director of compensation for Siemens USA. He has years of progressive human resources (HR) and compensation experience across various industries and an extensive background in base compensation, variable incentive programs, recognition programs and sales compensation.

In addition, Don serves WorldatWork as a volunteer member of the Sales Compensation Advisory Council and is former president of the Chicago Compensation Association.

Don frequently returns to NIU to speak to the undergraduate HR/compensation class.