Peter Garrity: Immediate Past President
'71, Marketing; '76, M.B.A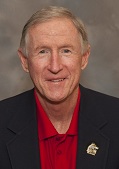 Peter Garrity retired from Snap-on, Inc. in 2012 after 19 years as director of field service for North America in the Equipment Division. Previously, he held various leadership positions at Westvaco Corp., IMC, Fort Howard Paper Co., SPX Corp., and Proctor & Gamble Co., always supporting customer relations.

From 2013-2017, Peter served as a Village Trustee in Libertyville, Illinois. He also served as a past president for the Waukegan-North Chicago Jaycees and a Jaycee State Senator, where he oversaw projects on a local, state, and regional level. He also served as Illinois State Chairman for the Hugh O'Brien Youth (HOBY) Leadership Foundation, promoting leadership among high school sophomores and coordinating the Annual Summit in Chicago for students throughout Illinois. Garrity has also been involved in Libertyville's Youth Sports Program, MainStreet Libertyville, Brainerd Community Center Board, and Holy Family Church Food Pantry and Soup Kitchen in Waukegan, Illinois.

Pete has served on NIU's Alumni Association Board of Directors since 2013 and currently serves as immediate past-president. In 2018, Pete served on the Presidential Search Preparation Committee for NIU. He was also involved with the Bold Futures initiative in 2014-15. He's been active with NIU's Greek Alumni Council since 2010.

Pete earned his bachelor's degree in marketing in 1971 and his M.B.A. in 1976 from NIU.