Richard Escalante: Alumni Vice President
'74, Political Science; '78, M.A.P.A.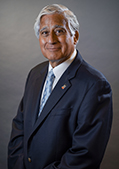 Richard Escalante retired as vice chancellor of administrative services for the University of North Texas System, where he was responsible for campus master planning, construction and land acquisition for the 37,000-student multi-campus system. Prior to that, he was a city manager for 25 years.

He has received numerous awards, including the Distinguished Alumni Award from the NIU College of Liberal Arts and Sciences.

Escalante served as a member of the Board of Advisors to the NIU Department of Public Administration including a term as Chair of the Board. He also served on the NIU College of Liberal Arts and Sciences Advisory Council including serving as its Chair. In 2019-20 Escalante served on the College of Liberal Arts and Sciences Dean Search Committee.

His service on the NIU Alumni Board began in 2017. He now serves as Vice President of the Alumni Association.

The St. Charles resident earned a B.A. in political science in 1974 from NIU and an M.A.P.A.in in 1978 from his alma mater.