Lane Coleman
'86, Technology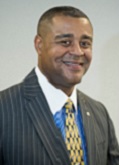 Lane Coleman is the founder and Chief Executive Officer of Strike Group L.L.C. Strike Group is a sustainment logistics, and material supply-sourcing venture with expertise in distribution, logistics, and warehousing services.

As CEO of Strike Group, Lane brings a wealth of knowledge and expertise to the company. He began his sales career as an Account Manager with Amoco Oil Company. In this position, he handled major accounts throughout the United States. He later transitioned to Mays Chemical where he held a variety of escalating positions ranging from Sales Representative, Account Manager to Regional Manager.

A native Chicagoan, Lane is a graduate of Northern Illinois University in DeKalb, IL (B.S. Design Engineering). He has also completed certificate programs at Tuck Business School at Dartmouth College. In addition to his civilian career Lane has completed a very successful military career as a United States Naval Officer where he excelled in Naval Aviation and Naval Intelligence. Lane served his country in support of Operation's Desert Shield, Desert Storm and, Iraqi Freedom. After the tragedy of 9/11, he was recalled to active duty to serve as an Intelligence Officer at the Pentagon. Upon completion of 20 years of dedicated service, he retired from the Naval Reserves in 2009.

In addition to his business ventures, Lane is active in the community and sits on the following Boards: Board of Water Commission for the City of Detroit, Detroit Manufacturing Systems, Henry Ford Hospital and Health Network Board of Trustees, Detroit Golf Club Caddie Foundation, Detroit Regional Chamber, Defense Logistics Board of Managers, and the Northern Illinois Alumni Board of Directors. In his free time, he enjoys golf, wine tasting, and spending time with his wife and two daughters at home in Detroit, Michigan.