Michael Cahill
'12, Accountancy; '13, M.A.S.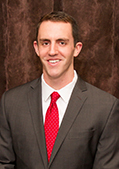 Michael Cahill is a manager at Ernst & Young US LLP (EY) and is a member of the Derivatives and Financial Instruments group within the firm's Financial Accounting Advisory Services (FAAS) practice. In this role, Cahill advises clients on the accounting for transactions involving complex financial instruments, including debt or equity financing and derivatives.

Prior to joining FAAS, Michael was selected as one of six from a pool of elite candidates nationwide for a one-year assistantship at the Financial Accounting Standards Board (FASB), where he participated in all aspects of accounting standards-setting as a technical staff member on Accounting for Financial Instruments projects. Before joining FASB, Cahill gained experience executing valuations of business enterprises as both a staffer and intern in EY's Transaction Advisory Services practice.

Michael graduated summa cum laude from the Northern Illinois University College of Business with a Bachelor of Science and Master of Accounting Science degrees. He is a certified public accountant and a member of the Illinois CPA Society.