Louis Apostol
'74, M.B.A.; '78, J.D.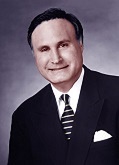 Louis Apostol formerly served as executive director, general counsel and legislative liaison for the Illinois Property Tax Appeal Board (2008-2017). As executive director, he was responsible for the management and adjudication of all residential, commercial, industrial and farm property tax appeals in Illinois.

He has been a practicing lawyer in Illinois for over 30 years and was a partner in several large law firms in Chicago, specializing in civil and criminal litigation, tax, finance, property, administrative and government law. He is a certified executive, having served as general counsel and chief operating officer for multiple corporations and associations.

He served as a commissioner/trial judge on the Illinois Court of Claims (2003-2008), hearing complaints against the state of Illinois. He served as public administrator of Cook County, managing the litigation and administration of more than 2,500 cases (1991-2003). He was appointed a special counsel for the city of Chicago and is a member of Chicago Sister Cities International, appointed by the mayor (1992-present). He also served as chair of the Attorney's Advisory Committee for the clerk of the circuit court in Cook County.

Lou is an active member and contributor to many charitable organizations, such as the Diversity Scholarship Foundation and Leadership 100, and served as president of the Hellenic Foundation in Chicago. He was elected to the NIU Alumni Association Board of Directors in 2015. In 2016, he was elected to the Associated Colleges of Illinois Board of Directors.

He received his B.A. from Elmhurst College, M.B.A. from the NIU College of Business and J.D. from the NIU College of Law. Elected to the NIU College of Law Board of Visitors in 2000, he served as vice chair and elected chair in 2014.

In 1997, Lou received the Hellene of the Year Award from the HBA in Chicago. In 1998, he received the Distinguished Service Award from the NIU College of Law. In 2003, he received the Community Service Award from the Association Forum of Chicago. In 2012, he received the Outstanding Government Service Award from the United Hellenic Voters of America, was elected to its National Supreme Board, and was inducted into its Hall of Fame in 2013. In 2004 and 2005, he was featured on Sky News's "Best Lawyers in America."