Marlo Barnett
'12, M.S. Ed. Instructional Technology; '17, Ph.D. Instructional Technology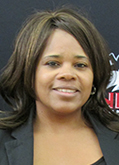 Marlo Barnett is a graduate of Northern Illinois University with a Ph.D. in educational technology. Barnett has more than10 years of experience in education, a proven record of accomplishments and success in planning, decision-making, consulting, professional development and administration.

She serves on the NIU Alumni Association Board of Directors, is an advocate for equity and diversity, and is vice president of Computer Science for Illinois and vice president of the Association for the Study of African American Life and History, Chicago chapter.

As a first-generation college graduate, Marlo has overcome and defeated many challenges in her life. As an African American woman who grew up in an under-represented community on the South Side of Chicago, she knows firsthand about the struggles that plague inner city youth.

In addition to her Ph.D., Marlo has a bachelor's degree in elementary education from Chicago State University, a master's degree in educational leadership from the American College of Education and a second master's degree in educational technology from Northern Illinois University.