NextWaveSTEM's Udit Agarwal, '13, Brings Hands-On Learning to Children
By Eva Richards
Udit Agarwal, '13, founded NextWaveSTEM in 2017. The company provides STEM curricula, software, hardware, training and support to teachers and K-12 schools.
When Udit Agarwal discusses his company, NextWaveSTEM, it is obvious he has found his passion.

"The ideas behind NextWaveSTEM keep me going and keep me excited about the possibilities," he said. "I think about how much it can change the future of the students we work with and how we can help advance American education."

The company, which allows K-12 students to discover scientific principles with their own hands, is a much-needed gift for today's teachers, and Agarwal is happy to be able to fill the niche.

Still, Agarwal's success is no surprise. Some would say entrepreneurship is in his blood.

His father owned a clothing business when he was growing up in India, and from an early age, Agarwal would go to the shop and be put to work on different projects. This involvement allowed him to begin to understand the business world as a child.

"When I was 15, we came to America," Agarwal remembered, adding that his family settled in Chicago's western suburbs. "I began 10th grade over here. We came for better opportunities and education, for the American Dream. Still, starting over at that time was a struggle for me."

After high school, Agarwal applied to a few universities as an ESL student, as he was still getting acclimated to the new culture.

"I wanted to go somewhere nearby, and at that time, I was most focused on surviving this new environment," he said. "I was working 2-3 jobs after high school and college. I almost decided to go to community college, but my brother stopped me from doing that. He suggested NIU and had me apply, and I got in. That was one of the biggest turning points for me and for my life."

During Agarwal's first year, he pursued nursing, but found that the classes were not a good fit. He moved on to operations management and information systems (OMIS) within the College of Business. It proved to be another pivotal decision.

"I would say business and OMIS was a much more natural fit because of my experience in the business world from an early age," he said. "Things made more sense to me because, since I was young, I had seen my dad's business and had grown to understand how it worked.

"That's when it all started to click for me."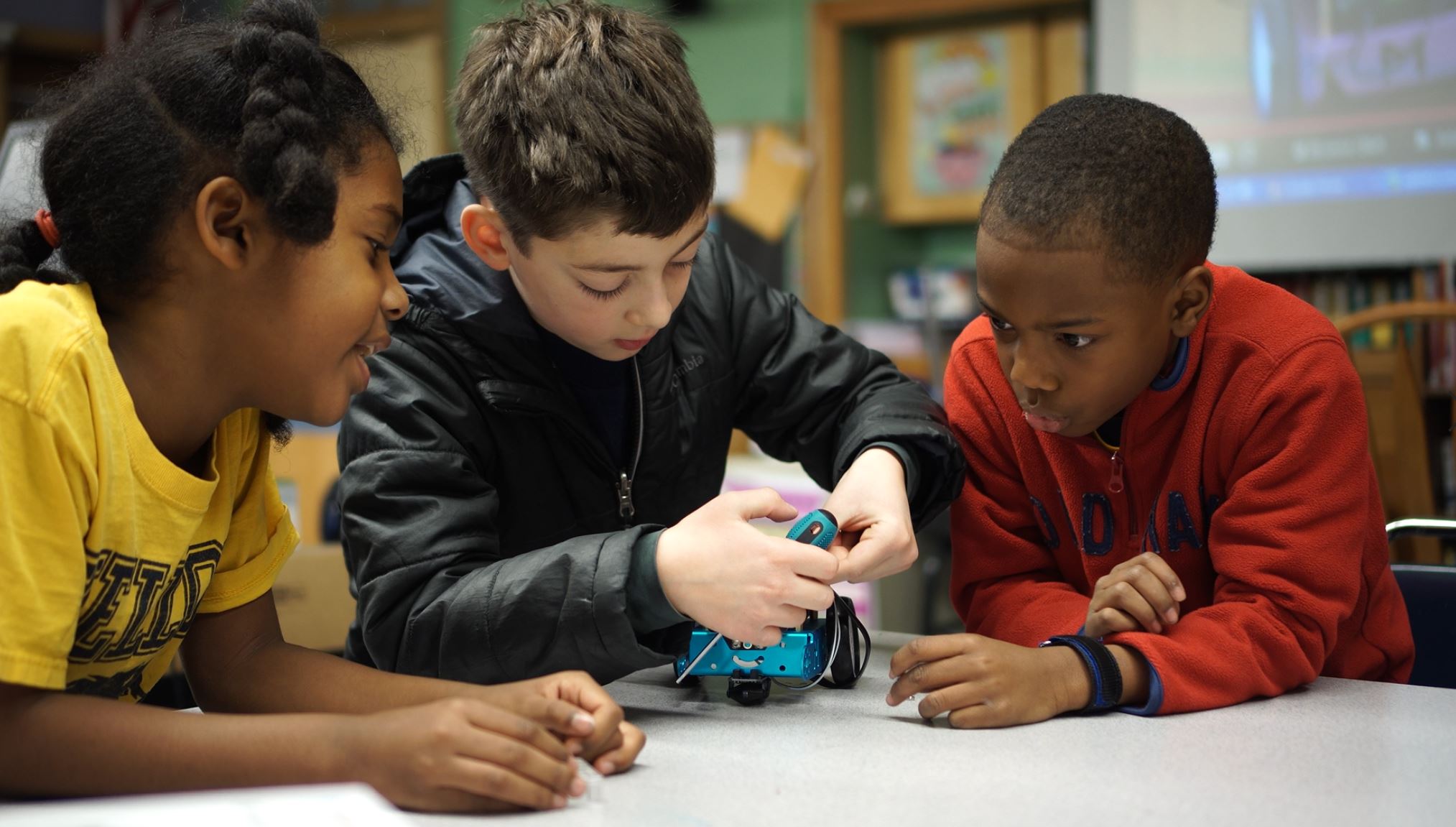 Students at Chicago Public Schools works on a NextWaveSTEM project together.

At NIU, Agarwal's courses provided practical, real-world learning, as he and his classmates worked to solve problems for companies like Target and Knaack, and he interned with Sears during his junior year.

After earning his bachelor's degree in OMIS in 2013, Agarwal went to work for Chicago Public Schools (CPS) as an IT analyst. It was here that he got his first glimpse of the students' STEM needs, and the idea of a STEM education company began to percolate.

Agarwal eventually moved on, working for Groupon, but he kept in touch with his colleagues from CPS.

"I was always talking to my old friends there, learning about STEM education and what it does to our economy and education system," he said. "I began learning more about robotics, and I started researching how to bring robotics classes to our schools. I was putting the pieces together to start my company, NextWaveSTEM."

Founded in 2017, the company has found success and has grown quickly. Where it began as an after-school offering, the company now offers full curricula to teachers, which includes software, hardware, training, support—everything they will need from start to finish.

NextWaveSTEM now offers in-person and virtual courses for schools in robotics, drone coding, artificial intelligence and 3-D printing at K-12 schools throughout Illinois. CPS is one of the company's biggest clients, and it will soon be expanding to California and other areas of the country as well.

"We have put in a lot of great work to make our programs hybrid, so that during COVID-19, we can pivot at a moment's notice and help schools where they are at," Agarwal said. "Teachers and parents like our programs because they actually reduce screen time. They are hands-on learning in the purest form. We want to keep kids learning. When everything else seems to be so uncertain in the world, education will always prevail."

When asked whether he ever thought he would be doing something so impactful, Agarwal does not hesitate with his response.

"I can't imagine I am doing it," he said. "It's beyond a dream at this point. It feels great, and the impact is so huge. I am excited to see how far we can go."