NIUAA and Pollyanna Brewing Company
Announce Dawgma Merchandise
Get your new Dawgma gear online now or beginning Aug. 30 at the Pollyanna Brewing Company in St. Charles.



Pollyanna Brewing Company and the NIU Alumni Association's co-branded Kölsch beer Dawgma is indisputably popular among Huskie fans and beyond. In fact, the tasty beverage is currently being brewed for the fifth time since its inception nearly a year ago.

In conjunction with the latest batch, Pollyanna and the NIUAA have announced that Dawgma beer AND merchandise (t-shirts, pint glasses and tin signs) will be available for purchase, beginning at the Pollyanna St. Charles location on Sunday, Aug. 30 and sold online here.

"We were overwhelmed with the reception that Dawgma received when we released it last year," NIU Alumni Association Executive Director Reggie Bustinza said. "Not only does it taste great, but the brand image creates a lot of pride for Huskies everywhere.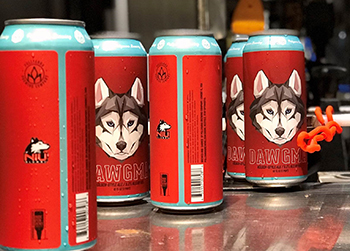 "It only made sense to offer the chance to sport that striking image on merchandise as well."

Pollyanna CFO and co-founder Ryan Weidner, '98, M.B.A. '12, echoed Bustinza's sentiments.
"We continue to respond to the overwhelming demand of the Dawgma brand, because it has exceeded our expectations" Weidner said. "Merch was the next step to quench the thirst of the NIU faithful"
The newest batch of Dawgma has been canned and distributed to 12 different locations that exhausted their inventory from earlier this summer. See sidebar for all locations where Dawgma is sold.
Where Can You Buy Dawgma?
Pollyanna Lemont
431 Talcott Ave.
Lemont, IL

Pollyanna Roselare
245 E. Main St.
Roselle, IL

Pollyanna St. Charles
106 S. Riverside Ave.
St. Charles, IL

Bacaba Liquors
304 W. Church St.
Sandwich, IL

Binny's Beverage Depot
710 Commons Dr.
Geneva, IL
1132 S. Jefferson St.
Chicago, IL
790 Royal St. George
Naperville
1500 16th St.
Oak Brook, IL
6920 S. Route 83
Willowbrook, IL

Blue Goose Market
300 S. 2nd St.
St. Charles, IL

DeKalb Liquor
444 E. Lincoln Hwy.
DeKalb, IL

Huskies Discount Liquor
1030 Arcadia Dr.
DeKalb, IL

Hy-Vee
2700 DeKalb Ave.
Sycamore, IL

Lundeen's Liquors
614 E. Main St.
St. Charles, IL

Otter Creek Wine and Spirits
250 S. Randall Rd.
Elgin, IL

Twin Tavern
1028 S. 4th St.
DeKalb, IL

Woodman's
1550 Deerfield Pkwy
Buffalo Grove, IL

The Open Bottle
7101 W 183rd St #105
Tinley Park, IL

Sal's Beverage World
434 W. Lake St.
Addison, IL
695 W St. Charles Road
Elmhurst, IL
298A W Roosevelt Road
Villa Park, IL

Prestige Wine & Spirits
6249 S. Cass Avenue
Westmont, IL

Garfield's Beverage Warehouse
320 West Virginia Street (Rt. 14)
Crystal Lake, IL

Chicago Culinary Kitchen
773 N. Quentin Road
Palatine, IL

Riverside Foods
48 East Burlington St.
Riverside, IL