Beau Wangtrakuldee, M.S. '13, Ph.D. '15, Creates Line of Women's PPE
By Eva Richards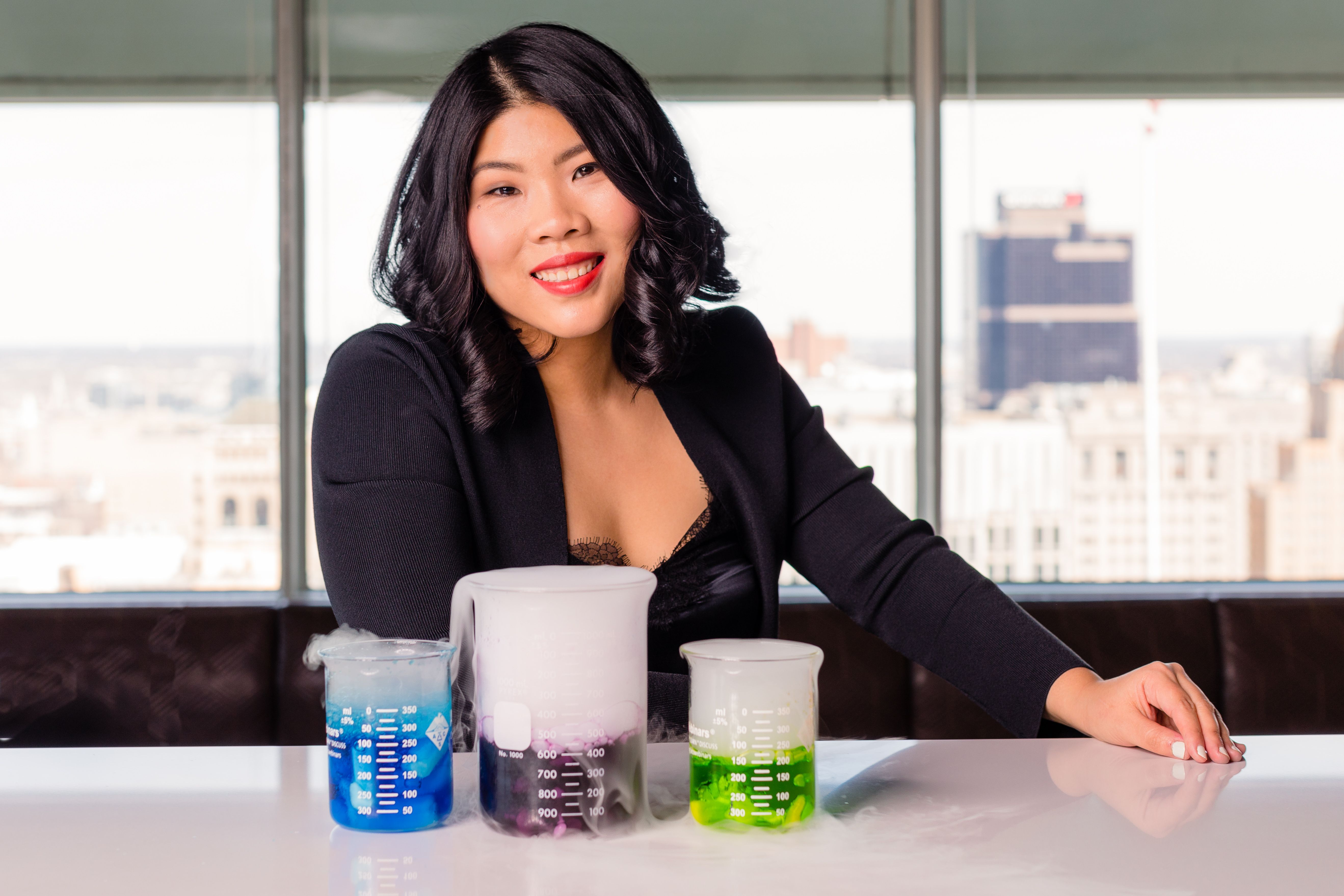 Wangtrakuldee was raised in a family of entrepreneurs and always felt called to lead her own business.
In 2018, chemist-turned-entrepreneur Beau Wangtrakuldee, M.S. '13, Ph.D. '15, launched a company to provide personal protective clothing for women in STEM fields that properly fit, are chemical-resistant, fire-resistant, and antimicrobial.

This important work—and the company she founded, AmorSui, which means "love yourself" in Latin—is more than a job for Wangtrakuldee. It is personal.

While experimenting in the lab, she had an accident that changed her life.

"I was burned in a chemical spill accident in the lab where my lab coat failed to protect me," Wangtrakuldee said. "This experience led me to discover the lack of PPE (personal protective equipment) options for women, and I thought that someone should offer products that fill this gap in the market."

Wangtrakuldee brainstormed the idea for many years until she actually acquired the business skills needed to identify how she could make these products a reality.

"It started as a conversation with over 100 women in STEM that identified the need for safe workwear that fits well and allows us to perform our best at work," Wangtrakuldee said. "I set out to make the physical products from this collective feedback and raised funds through a crowdfunding campaign to produce the line."

Our company wants to make safety available to all
without sacrificing the environment.
-- Beau Wangtrakuldee, M.S. '13, Ph.D. '15

AmorSui is offering a product that is a more effective and more environmentally friendly alternative for organizations, allowing them to save on costs in the process.


Today, Wangtrakuldee leads all aspects of the company's operations, business development, leadership management, and fundraising. She has worked with a team of designers to create a properly fitting blouse, pant and dress that could be worn on their own or under a lab coat and ensure full protection.

Later this month, AmorSui is adding a hijab, developed in collaboration with the UCLA safety officer and a chemistry professor at the Sultan Qaboos University in Oman, to the collection. The "Rufaida Al-Aslamia" hijab is made from an environmentally sustainable lyocell fabric blend and is both fire-resistant and antimicrobial, with moisture-wicking capabilities that keep the wearer cool but protected. The garment is named after the first female Muslim nurse and surgeon, who worked in Saudi Arabia more than 1,400 years ago, and is set to launch in safety pilot programs with several universities in the Middle East.

Raised by entrepreneurs, Wangtrakuldee grew up with dreams of owning her own business.

"I was brought up in a family of entrepreneurs. My grandfather built a business from the ground up that became the biggest exporter of Vespa motorcycles in northern Thailand, where I grew up," she said. "My parents run a successful real estate development company that they started together.

"It was engrained in me at a young age that hard work pays off if you make good business decisions," Wangtrakuldee continued. "I knew that I wanted to start my own venture one day, I just didn't know in what area my business would be."

Wangtrakuldee fell in love with chemistry in high school and decided to pursue a career in academic research and development. But it was not until she discovered the gap in personal protective equipment (PPE) for women in STEM that her business dream came into clearer focus.

While these uncertain times have been difficult for so many businesses, AmorSui has found new opportunities. The company recently leveraged its textile innovation and resources to invent a reusable medical line that can be washed up to 150 times, made of antimicrobial eco-friendly fabrics and sustainable processes.

In the age of COVID-19, there has been a surge in cost of disposable PPE products, and 240 tons of global medical waste being generated daily. AmorSui is offering a product that is a more effective and more environmentally friendly alternative for organizations, allowing them to save on costs in the process.

"We are proud that AmorSui will provide gender-inclusive PPE to frontline workers as well as for society at large, with the first reusable surgical gown that comes with a PPE management wash tracking app," she said. "Available in a variety of sizes, the gown will help solve the current issue of hospitals and PPE shortages as well as reduce waste."

As early as October, a 60,000-gown pilot program will take place with Overlook Hospital in New Jersey, and there are plans to expand to all six hospitals in its parent Atlantic Health System next year. AmorSui is also finalizing similar pilots with other hospital systems.

AmorSui is approaching $1 million in sales by the end of 2020. Wangtrakuldee credits NIU for many of the skills that allowed her to reach this milestone.

"What I learned most from my Ph.D. training experience at NIU is how to use a combination of knowledge, methods and perspective to consider solutions outside the box," she said. "I apply this mindset on a daily basis as an entrepreneur, pushing the envelope of what this PPE solution should be by building on my chemistry technical knowledge, market research and industry data."

To learn more about AmorSui, visit www.amorsuiclothing.com.