Tim Sleep, M.S.Ed., '89, Chimes in on His Lifelong Music Career
By Eva Richards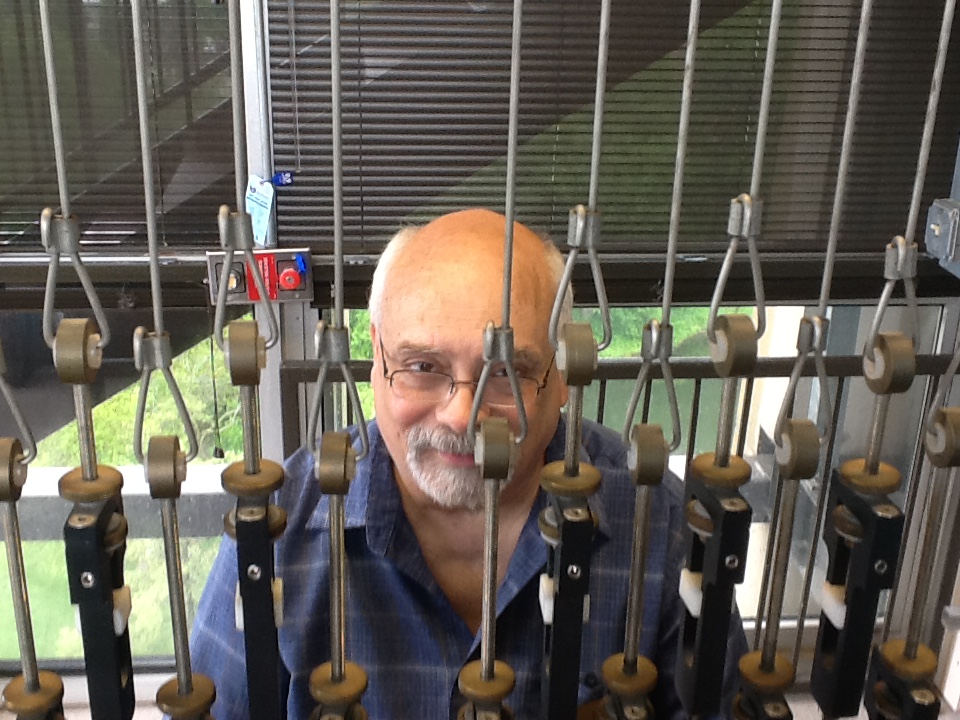 Tim Sleep, M.S.Ed. '89, was drawn to music as a child. After a 30-year career in education, he has dedicated his talents to being Naperville's City Carilloneur.
Tim Sleep, M.S.Ed. '89, does not remember deciding to be a musician, per se. But, then again, he cannot remember a time when he did not play an instrument. The music was always a part of him.

"I was very into music as a child and took up playing the clarinet, piano and organ in 4th grade," Sleep remembered. "I began playing for Sunday school services at age 10 and have continued to this day. I was not a virtuoso, just determined."

Growing up in Warrenville, Illinois, Sleep found his voice through playing music. He attended North Central College in Naperville, earning a bachelor's in music education and went on to be a middle school band director for 21 years. He earned his M.S.Ed. at NIU, and moved into administration, finishing his public education career as the principal of Crone Middle School in Naperville, Illinois. Throughout all this time, Sleep also held church music positions, serving mostly as organist and choir director, even during his time as principal.

When he retired in 2003, he had to decide what to do next. Many of his colleagues had stayed in education, but Sleep knew he wanted to return to music full-time.

"I looked around and saw that Naperville was building a carillon," he said, which is only a few miles from his home in Warrenville. "A close friend of mine oversaw the project and suggested that I learn to play. I started lessons in 2001 and passed my Guild of Carillonneurs in North America advancement exam in 2004. In 2007, I was named Naperville City Carillonneur, the position I hold to this day."

For those unfamiliar with carillons, the musical instrument is typically housed in a bell tower or belfry of a church or municipal building. The set of bells is played using a keyboard or by an automatic mechanism controlled by a computer.

Naperville's Millennium Carillon in Moser Tower and the Visitor Center is a special attraction to the city. Visitors can climb the 253 steps to the top of the tower on the guided tour and enjoy the spectacular view, where on a clear day the Chicago skyline can be seen.

"I perform regularly on the 72 bells of the Naperville Millennium Carillon," Sleep said. "I schedule other local and guest carillonneurs throughout the year and also oversee the maintenance of the instrument, news releases, and the teaching of prospective carillon students."


In addition to playing in Naperville he often tours during the summer months giving concerts on carillons throughout the country.

Although retired now, Sleep has also been a member of and has held positions with the Guild of Carillonneurs in North America for 18 years. He served as corresponding secretary, board member, vice president and served four years in the role of president.

"Where NIU really helped me was as I sought leadership positions within the Guild of Carillonneurs in North America," Sleep said. "The educational leadership training was invaluable in managing an international organization of highly independent members."

Sleep remembers his time at NIU fondly, although it was a busy time in his life. While earning his master's in educational leadership, he attended night and summer classes while working full-time as a band director.

"For me, I was so appreciative of the networking that my instructors encouraged during my classes at NIU," he said. "School administrators don't get a lot of chance to talk to others. I found NIU's commitment to make my degree relevant and practical, in addition to the philosophical underpinnings, to be priceless. They seemed to try to make the evening classes as robust as those during the day."

As a second career, Sleep could not be happier with his choice to become a carillonneur. His role in Naperville continues to bring him joy each day.

"I enjoy being able to bring music from the bells in the tower as well as giving tours, playing special concerts, and generally being the spokesperson for the instrument," he said. "I really enjoy seeing the looks on people's faces as they see how the instrument is played and get to see the bells on the instrument up close."