Cameron Barnes, '14, 'Helps the Helpers' Through Taproot Foundation Work
By Eva Richards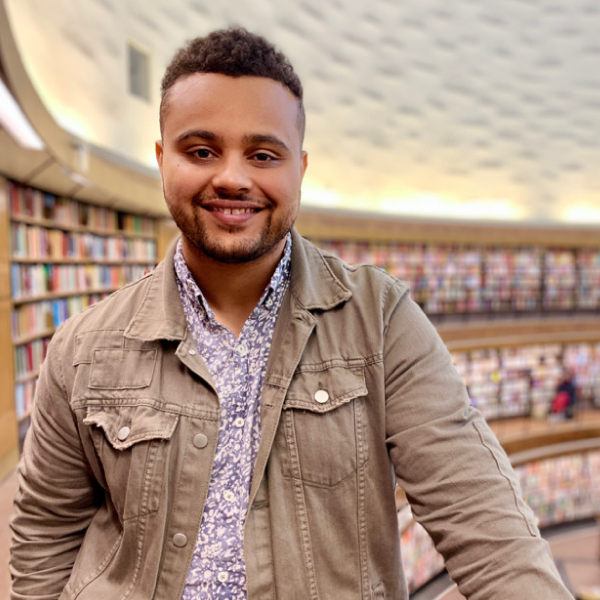 Cameron Barnes, '14, defied negative predictions for his success and went on to serve the very nonprofit organizations that helped transform his life.
When first-generation college student Cameron Barnes, '14, came to campus in 2009, he had not yet discovered his passion for nonprofit work.

Still, the groundwork had been laid for his future career throughout his whole childhood in the northwest suburbs of Chicago.

"I was born to 18- and 19-year-old parents who, to no fault of their own, didn't yet have the tools necessary to thrive," Barnes said. "This led to an unfortunate amount of instability caused by alcohol abuse, domestic violence and financial insecurity."

As a result, Barnes' care and development was supported by the incredible women and men in his extended family.

"They watched over me when things got out of control at home. They read me books, fostered my eventual love for jazz music and exposed me to a wide range of perspectives at an early age," he said. "Above all, they instilled in me the importance of respecting the agency of others, regardless of race, creed or religion."

This continued in Barnes' life outside of family, where he became the consistent beneficiary of youth programs designed for "at-risk" kids. The practitioners were wholly decent people—folks who devoted their lives to ensuring that kids felt like they could be themselves, even if only for a few hours per day during their programs.

"On one hand, I so appreciated the opportunity to get outside of the dysfunction at home," he said. "On the other hand, I always took issue with the notion that I would be a 'failure' because my dad was an alcoholic, my family lived below the poverty line, and neither of my parents had advanced degrees. One part pride, another part ignorance, I navigated these spaces with a sincere desire to 'soak everything up', taking advantage of every program, every trip, and every chance to learn about what made folks 'better' than me and the people I loved."

Initially a psychology major, Barnes learned of the nonprofit sector during his third year at NIU.

"I was blown away by the notion of serving our communities with the intention and focus of professionalism," he said. "Before this moment, doing good and doing well weren't on my radar."

It was not until his studies with the Center for Nonprofit and NGO studies that Barnes began to understand how and why "at-risk" programming worked for him.

"At the time, I was driven by a desire to amplify or improve the types of programming I experienced as an "at risk" youth," he reflected. "My studies showed me that it was the very experiences I aimed to exploit as a child that proved to be the difference in my outcomes to-date. It wasn't drive, intellect or pedigree that pushed me past the dreary outcomes predicted for me. It was the experiences."

Barnes worked toward a double major—bachelor of arts degrees from both The Center for Nonprofit and NGO studies and another in public administration from the Department of Political Science—wanting to support the nonprofit sector. Through skills like 990 analysis and nonprofit management case studies, the center provided Barnes with the base necessary to understand and find success in the nonprofit sector.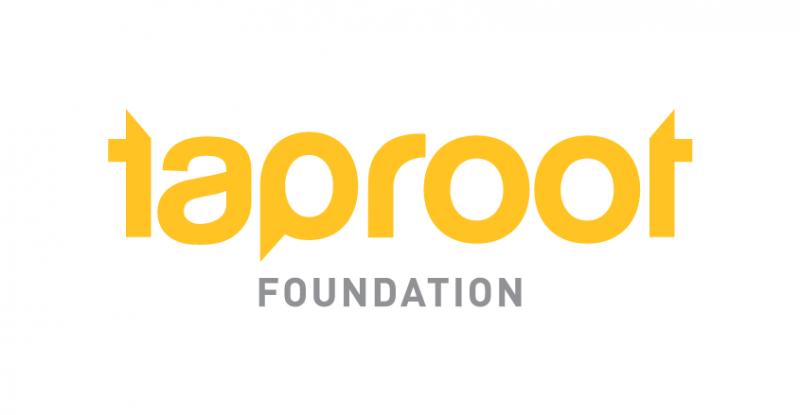 The day he earned his degrees was a very important one for both Barnes and his family.

"My best memory from NIU is graduation," he said. "The sacrifices my mother, grandmothers, and extended family made have been immense, and it felt good to give them a single moment in time where they could unequivocally know it made a difference in my life. It was all I could have asked for."

After working for AmeriCorps VISTA and the United Way of Metro Chicago, Barnes moved into his current role at Taproot Foundation, a national nonprofit that connects nonprofits and social change organizations with passionate, business professionals who share their expertise pro bono. In Barnes' role as senior manager of strategic partnerships, he engages foundations in increasing awareness of and access to pro bono services among their grantees.
"My work means that I have a sincere opportunity to pay it forward," Barnes said. "I have an opportunity to help the helpers... at scale."

He is referring, of course, to the now-famous quote from Mr. Rogers: "When I was a boy and I would see scary things in the news, my mother would say to me, 'Look for the helpers. You will always find people who are helping.'"

"That quote about seeing the helpers embodies the motivations behind my current role," he said. "I adore Fred Rogers, but I think this quote is too often framed in a way that allows folks to passively watch "do-gooders" without a sense of connection to the humans doing the work. These helpers need appreciation and for us to support them financially, but they also need the tools to "do good" as best they can."

As for his favorite part of his work, Barnes loves hearing how pro bono services allow for compounding impact. Whether it is through a marketing material refresh or a business strategy project, there are countless examples of nonprofits who are now able to realize their potential because of pro bono work in years past.

Unfortunately, the pandemic has definitely increased nonprofits' need for support.

"One way or another, all communities have suffered this year. Far more often than not, it's the nonprofit sector that meets our needs, in spite of its own circumstances," Barnes said, citing the Independent Sector's "Health of the U.S. Nonprofit Sector" report, which showed that roughly 7% of the nonprofits are estimated to closeand nearly 1 million nonprofit jobs have been lost.

"This means education, arts and human service organizations, to name a few, are meeting greater need with less resources and fewer people," he said. "The good news is that it's as easy as ever to serve as a pro bono consultant!"

Taproot Plus, the organization's online matching platform, saw a spike in volunteer activity in March and has seen record activity in 2020. This increase in usage could easily be seen as a success in a vacuum, but the challenges to serve those who need the support remain.

Still, Barnes keeps going, empowered by his own transformative experiences and the goal to make a positive impact where he can—something he learned about while studying at NIU.

"Huskies have grit. Without the prestige of an Ivy League degree or, many times, the network of a family deeply rooted in the power structures of society, Huskies realize quickly what it takes to get things done," Barnes said. "They become immensely proficient in being the changemakers through work and influence. This hard-nosed attitude towards work and career continues to inspire me among my own cohort and in just about every alumnus I meet."