Tom Pomatto, '76, Finally Earns a World Series Ring
By Eva Richards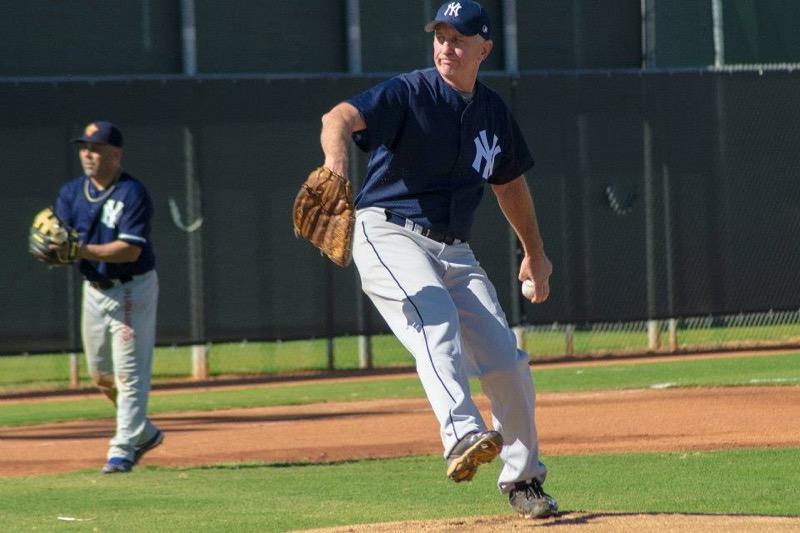 Tom Pomatto, cut his NIU baseball career short in 1973, due to shoulder injuries. He has now found pitching success in the Men's Senior Baseball League.
Growing up in Granville, Illinois, Tom Pomatto's school was so small, it did not have a football team. But that did not bother him very much. It only meant there was more time for baseball.

Pomatto had been playing since little league, and Putnam County High School played baseball in the spring, summer and fall.

"We played over 100 games a year," he said. "When I was a senior in high school, we made it to the baseball state finals when there was still only one class of baseball in Illinois."

College scouts recognized Pomatto's left-handed pitching talent, and he was courted with an athletic scholarship from NIU. He began his freshman year in DeKalb in 1972, but his baseball career was cut short when he was plagued with arm and shoulder pain after his freshman year.

Sadly, abandoning his dreams of collegiate and major league baseball, Pomatto persisted in academics, earning his bachelor's degree in marketing in 1976. He has spent his entire career in for the office products industry, and is currently the vice president of commercial sales for Advantus Corporation.

Pomatto and his wife Susie lived in Arlington Heights, Illinois, for many years, but they gradually transitioned to full-time living in Phoenix, Arizona, in the 2000s to escape the harsh Illinois winters.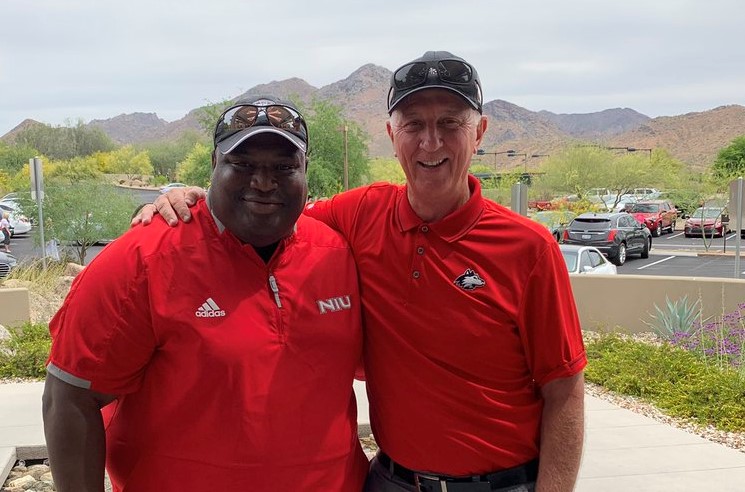 In 2009, a close family friend, Bunny Landis, was diagnosed with pancreatic cancer. In the course of her treatment, she was invited to attend the MLB Fantasy Camp, which was a part of the 2011 MLB all-star game held in Phoenix. Landis insisted that Pomatto join her at the fantasy camp.

"At the fantasy camp in 2011, I took the mound, found my old form, and pitched without pain for seven innings," he said.

Pomatto has been playing in the Men's Senior Baseball League ever since, participating in Arizona's winter, spring and summer leagues.

"Bunny passed away three weeks after the fantasy camp. I will be forever thankful for the last and greatest gift she could have ever given me… getting me back on the field," Pomatto said.

However, that is not where the story ends. Each year, the Men's Senior Baseball League hosts a World Series tournament by age group. Pomatto has played in many playoff games, but this year's series was especially remarkable.

In the opening game of the 65 World Series, Pomatto tossed a four-hitter, which was only outdone by the opposite team's pitcher, retired professional Mike Denevi, who pitched a one-hitter, and led his team to a 2-0 win.

"That's a really fun part of our league," Pomatto said. "Especially when it gets to the World Series, you never know who you're going to see on the field. After the game, you say 'who was that guy?' With Denevi, I googled him and found out about his career. Then, I ran into him, introduced myself, and we became friends. Mike's a guy who I will be competing against in the future. It's friendly competition, and I have made tons of friends along the way in the league."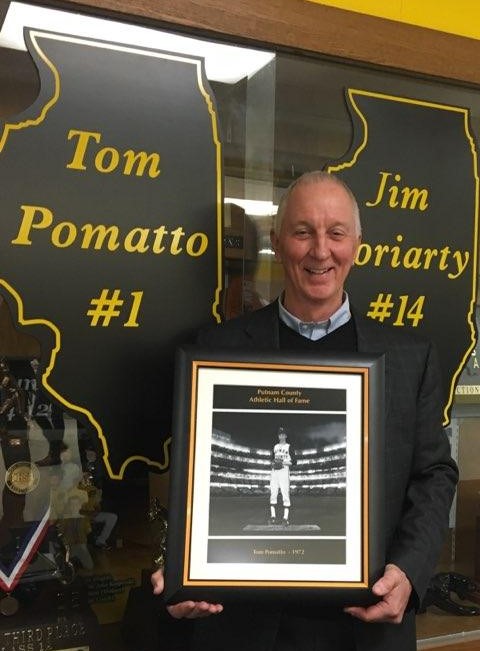 Tom was the starting and winning pitcher in the championship game, earning a 17-6 win over a perennial power—the San Antonio Lonestars.

"It will be my first World Series ring," Pomatto said, "We didn't do much celebrating here because of the COVID-19 restrictions, but when the rings are delivered in February, my Arizona teammates and I plan to have a small get-together to mark the occasion."

Reflecting on his short NIU baseball career and the many lessons he learned, Pomatto still "bleeds red and black."

"I think the old adage is true—once a Huskie, always a Huskie," he said. "Even though my baseball career at NIU was not what I dreamed it would have been, I have followed the teams closely over the years. I am close with the coaches and want to help however I can.

"You know, at Northern, you are an underdog. You have to work harder and do things better to be considered great, but we have a bunch of people who want to do their best to make NIU the best, and I am really proud of that," he said.