JobsPLUS Connections Benefit Students and Alumni Volunteers
By Eva Richards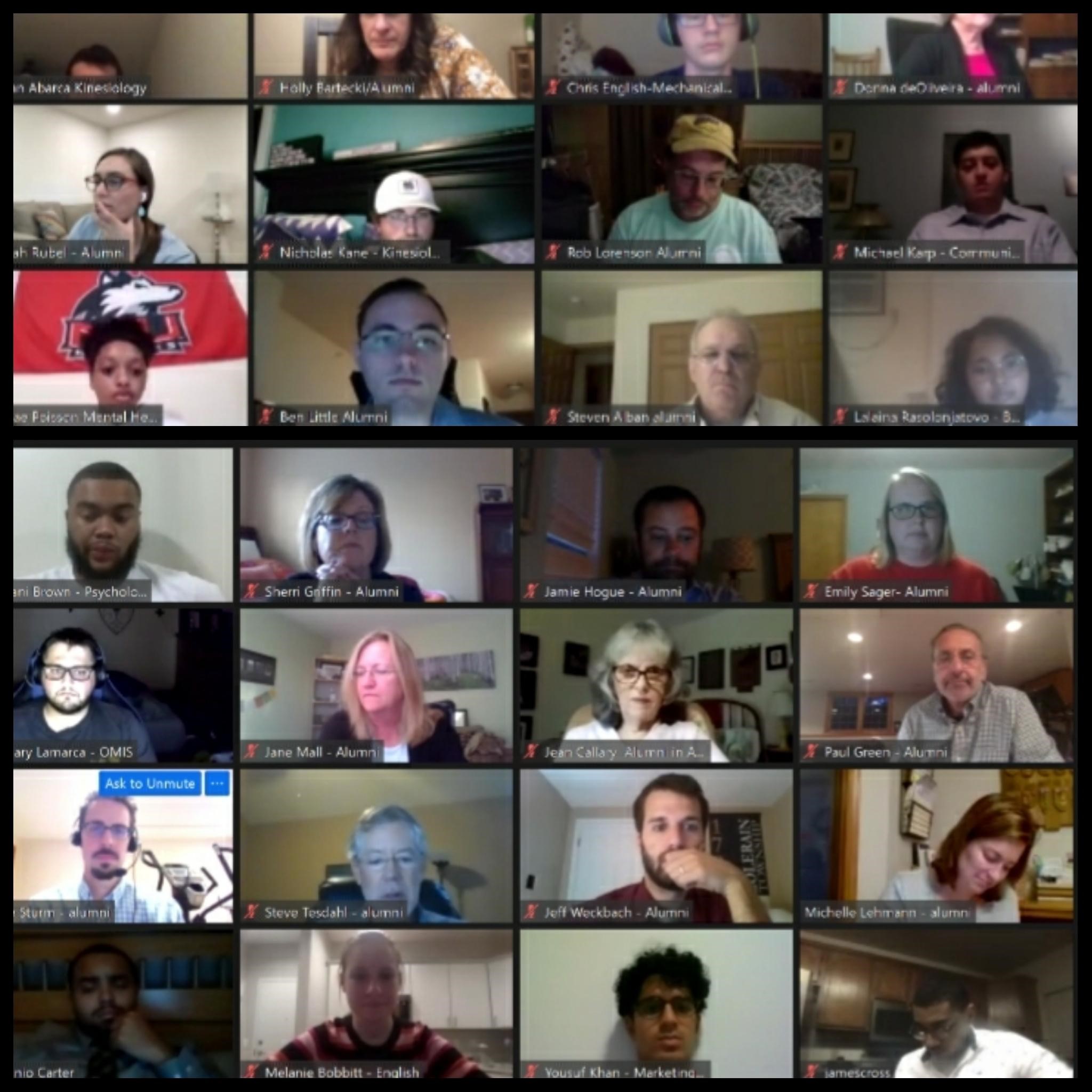 Virtual JobsPLUS opportunities have provided students with needed feedback and direction during the COVID-19 pandemic.
Since its inception in 2016, the JobsPLUS program has become synonymous on campus with meaningful connection.

The program aims to create a new network designed to expand access to opportunity for NIU students by increasing what they know and expanding who they know. Students participate in special events and mentorship opportunities to help them develop skills in high demand by employers and alumni have played an important role in providing these opportunities.

"NIU has a wonderful community of alumni in the northern Illinois region, across the country, and around the world," said JobsPLUS Director Chad Glover. "With the tremendous support our program has received from the Alumni Association and our internal and external partners, we are working hard to continue to expand and strengthen the in-person and online opportunities for students to meet, connect, and learn from NIU alumni."


Since this past summer, there have been three large, synchronous events and multiple asynchronous cohorts that resulted in 1,159 videos created, 36,946 views of those videos, and over 1,180 hours of engagement between NIU students and alumni and community volunteers. Close to 200 unique alumni volunteers have supported the JobsPlus program since the NIUAA started partnering with it in 2018.

Often, students who participate in JobsPLUS through their campus employment can attend the program's events on their paid work time. Many students also attend through academic programs and courses as well as extracurricular activities. Participating in JobsPLUS means they will meet other students, alumni, faculty, staff, community members and employer partners that can help build their network and increase their options for employment after graduation.

Perhaps the most meaningful connections made within the program are between campus partners and alumni through the "First Impressions Count" and the "Meet the Alumni" opportunities. Since 2018, students have joined eight different "First Impressions Count" workshops to learn more about professional networking from over 120 alumni volunteers. Because that aspect of the program has been so successful, this year, these events will be rebranded as "Meet the Alumni: Making Connection through Conversations," and will emphasize that one-on-one time with alumni who want to share their best practices, either virtually or in-person, once in-person events are able to resume.


Nonprofit and NGO Studies Assistant Director Julie Ann O'Connell has made both the "live" First Impressions networking events and the newer asynchronous Meet the Alumni Flipgrid week events part of the curriculum for ILAS 440 (Student Professional Development Seminar), offered by the College of Liberal Arts and Sciences. While she noted that these networking events are always more fun in person because personal interaction just feels more genuine, there have been benefits to online networking, such as students meeting alumni from all over the country and the world.

"We hear from the alumni all the time how much they enjoy connecting with our students, and as an NIU alumna myself I know that to be true," O'Connell said. "The alumni I know are very proud of their NIU education, and even those who are the most extraordinarily successful in their careers point back to the faculty and staff who invested in them and who taught them to think critically and pursue their talents."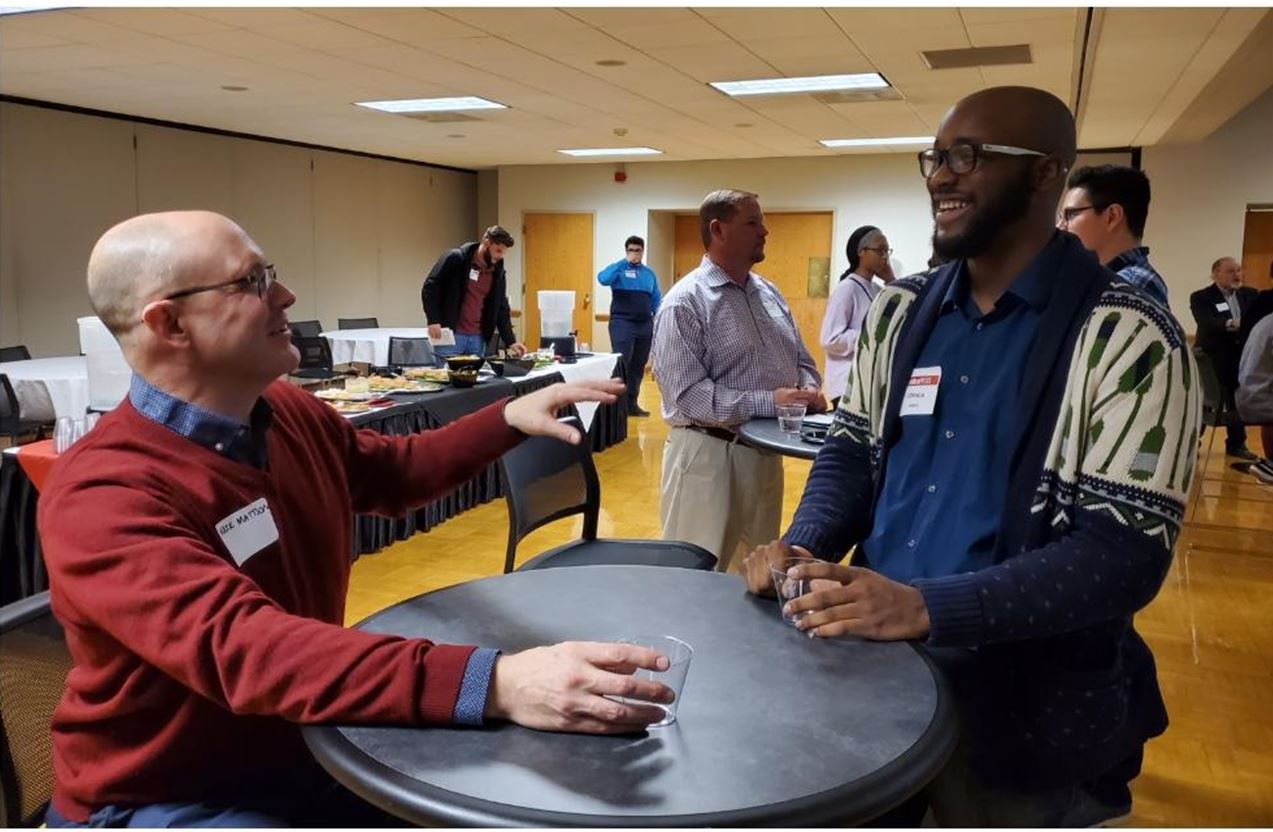 Undergraduate student Daniele Leonard attended the First Impressions Count networking event through the ILAS 440 class this fall, and O'Connell has encouraged her to participate again in Spring 2021 offerings.

"Matching students with alumni, one-on-one in Zoom breakout rooms, was the perfect way to practice networking, confidence and communication skills," Leonard said. "I would say the virtual format was an excellent transition into the largely virtual world employers now find themselves in. Meeting in this way was both relaxing and informative, taking the pressure off an experience that may be intimidating to traditional students. I gained invaluable experience practicing my elevator pitch as well as affirmation that I am on the correct career path."

As a non-traditional student, Leonard is often balancing family and work commitments outside of NIU, and this has become more difficult during the pandemic. However, her first two interactions with alumni during the First Impressions Count networking event were so affirming, it helped her feel confident in her path.

"It was amazing to be matched with others who were successful in their field and had a background similar to mine. Their conversations and helpful feedback quelled my fears and really validated my decision to return to finish my education," she said. "The thought of working for wonderful people like them in the near future gives me hope for achieving my personal goals."

Volunteers are the heart of these events, and these poignant opportunities cannot happen without alumni sharing their expertise and stories. While the time investment is relatively small, the impact on alumni who volunteer is unanimously positive.

A professor at Northwest Florida State College, Victoria Bryant Stewart, Ph.D. '17, M.A. '18, enjoyed meeting current NIU students when she reengaged with NIU and volunteered for both the First Impressions and Meet the Alumni activities.
"It was so refreshing to hear of their goals, courses of study, and ambitions," she said. "I also liked the opportunity to meet the other alumni participants! The Huskie family is a vast and incredible resource with a wealth of experience to help our current students especially given the current time."

Bryant Stewart noted that she greatly enjoyed the Meet the Alumni event for the ability to record personal video responses to students' questions. Each morning, she was excited to log in to see their questions. During each of these events, she was able to connect with incredible students who needed a bit of encouragement.

"As a college professor, I understand how imprtant it is for students to have that source of reassurance and support," Bryant Stewart said. "It was nice to field questions and offer suggestions for students to work toward their goals. While I may not be in DeKalb following my own graduation, I was still able to connect with the community that I love so dearly."

Illinois State Representative Jeff Keicher is also a loyal alumni volunteer, serving in the program's "Meet the Public Service Leaders Week" with the University Honors Program.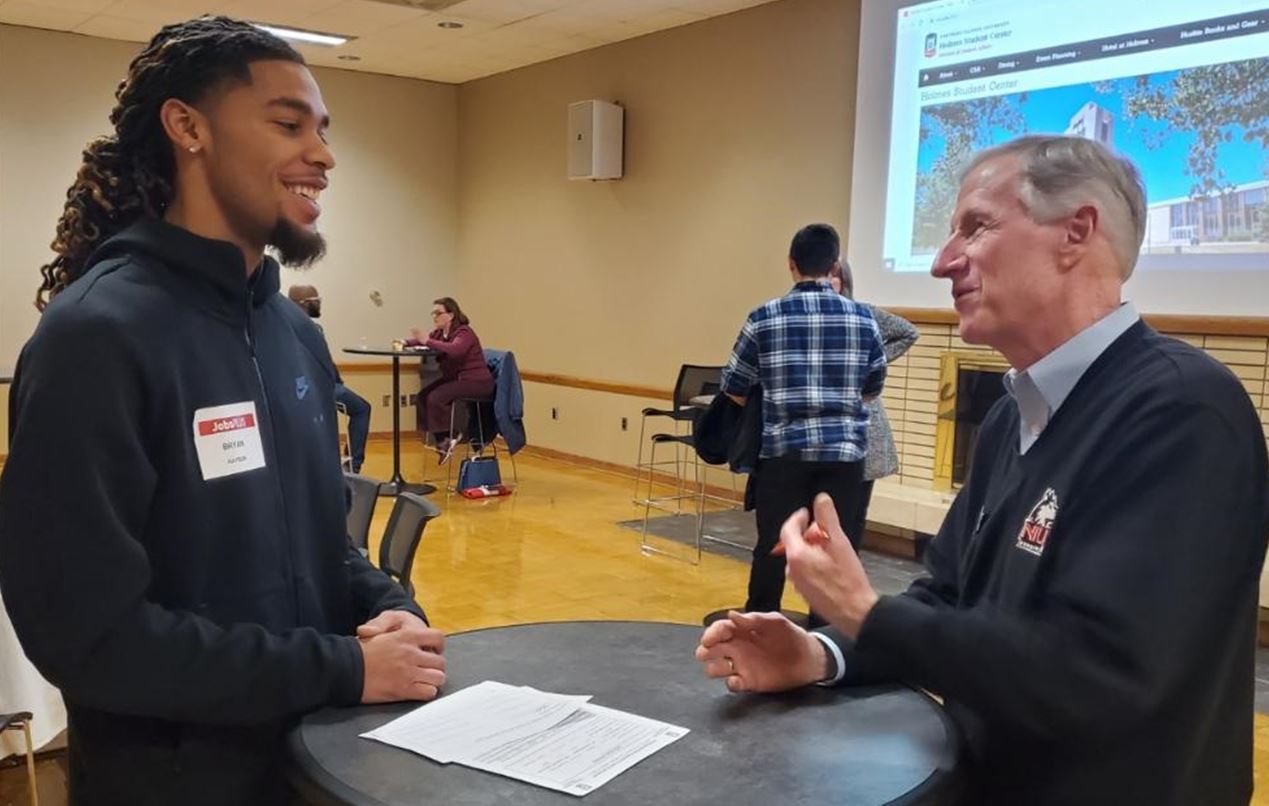 "I was a child of a single mother who waited tables who couldn't afford to pay for school for her kids," Keicher said. "If it were not for the opportunity NIU offered, the ability to live with family, receive MAP Grant funding, and work through my entire college career, I wouldn't be a college graduate today. I'll see in today's Huskies the same type of tenacity that I had to achieve success. I made plenty of mistakes during my college career… but if I can help today's students learn from the missteps I took and get them to a successful place sooner, I think that's my responsibility as a member of the Northern family."

NIU faculty and staff also see the enormous benefits that JobsPLUS has to offer. NIU Head Softball Coach Christina Sutcliffe partnered with the program to do a Meet the Alumni cohort with close to 30 alumnae who connected individually with current softball players.

"Partnering with Director Chad Glover and the JobsPLUS program at NIU has always been a priority for our program," she said. "The softball team participated in a similar event with NIU alumni over the summer. After seeing how valuable this week was, we decided to take it a step further with our own softball alumnae. Connecting our past with our present players is always a special event. Seeing their relationships grow throughout the week was phenomenal and better than I could have ever imagined."

Sutcliffe noted that her players talked about the event in the dugout before and after practice all week long, which was special for her to hear, and the players even recorded heartfelt videos of thanks for their mentors at the end of the program.

There is no denying the mutual benefits and meaningful connections the JobsPLUS program has created across campus and beyond. If you are interested in supporting opportunities like these in the future, you can register here.

Spinoffs of the model are also in the works, including an offering where students and alumni will communicate back and forth in writing, a version where students will engage with local community members, and a program connecting NIU students with students at other universities.

"I would never have pictured myself participating in an event like this, but after my class and the virtual event, I feel much more prepared to seek further career development!" Leonard concluded about her experience. "Students not taking advantage of this opportunity are missing out on professional development and improvement that could help them stand out in their fields."