Five Questions with Wilbur You, '13, of Youtech
You has been named to Forbes' list of "30 Under 30"
By Eva Richards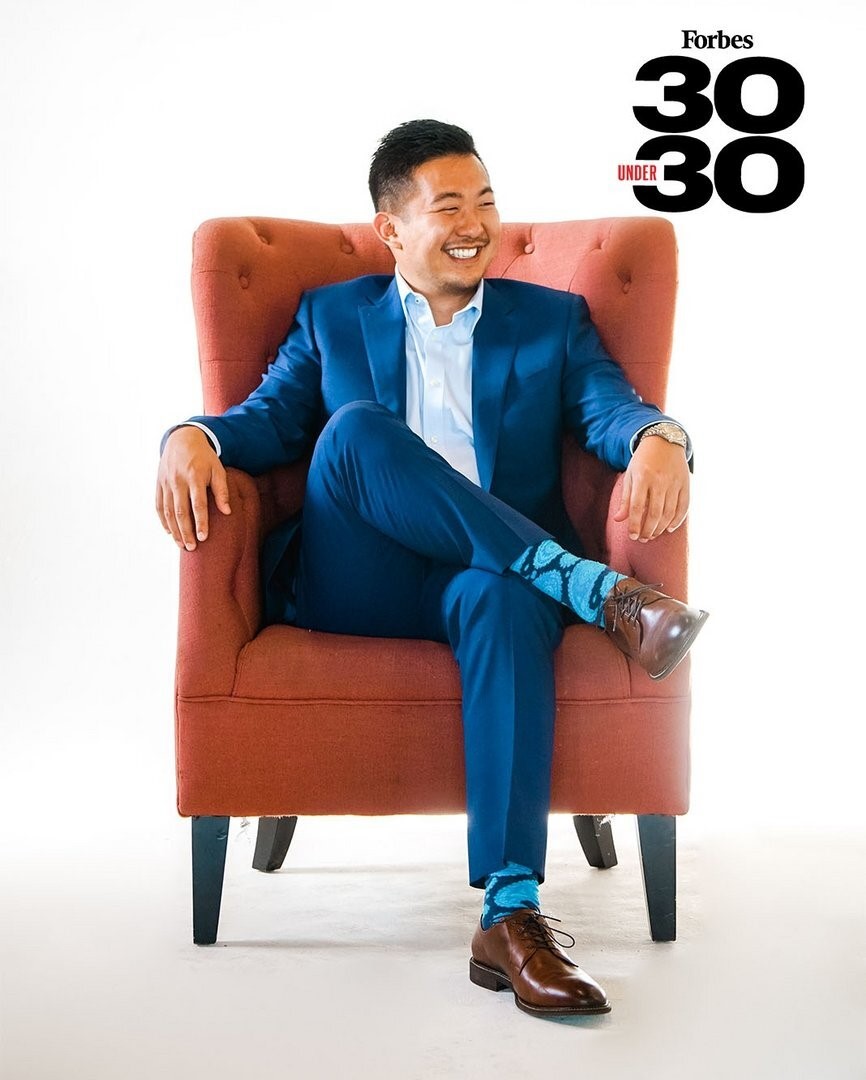 Wilbur You, '13, views this recognition at the age of 29 as a "family win," having been raised by hard-working immigrants who built their own successes.
If you haven't heard the name Wilbur You yet, it's not because he isn't making waves as the CEO of Youtech, a modern, full-service marketing agency, based in Naperville, Illinois, and Scottsdale, Arizona. Founded in 2012, while You was still completing his B.S. in general computer science at NIU, Youtech combines the best qualities of both digital and traditional marketing and advertising to effectively achieve the client's goals. The company has grown from an initial investment of $600 to be valued at a whopping $25 million.

The NIUAA caught up with You to discuss how he made his big dreams a reality, to find out what comes next for the growing company, and to congratulate him on his recent recognition as one of Forbes' "30 Under 30."

Q: You started Youtech when you were a senior in college at NIU. How did you have entrepreneurial vision at such a young age?

A: When I was a junior at NIU, I got a job as a marketing coordinator in Chicago at American Invsco, one of the largest condominium developers in Chicago at that time. They were paying me pretty good money, and I would commute there two times a week. They had an outsourced company that was managing their website and didn't do marketing except for in their newspaper. When we wanted to make a couple changes on the website, we would have to contact this company to make a change. For instance, if we wanted to change out a photo, we would get an invoice for $500. I was like, "You're spending $500 for a change? What are you guys doing here? It takes three seconds to make that change!" So, my boss asked me to rebuild his website, and I put together a digital marketing strategy. We fired the vendor, and the new site and plan started generating a lot of leads. Like A LOT of leads. My boss was super, super happy. He offered me the marketing director position, but I didn't take it because it was full-time, and school was my number-one priority. Plus, I wanted to start my own company. When I started Youtech my senior year, I called him and told them about the business, and Invsco actually became my first client.

Q: With such success in the last 8 years, what's next?
A: After the Naperville office grew, we built the Scottsdale, Arizona, office about two years ago. We started with a few people in Scottsdale, but it wasn't growing as fast as I wanted it to, so I took a leap of faith and moved there to get it started. We have grown the office to 28 employees and hope to have more like 35-40 people by the end of the year. Now, I'm on the next one! We are opening in Dallas in the next few months. The Dallas market is growing, but it needs an agency like us to come in and help these older family businesses that have been around for generations to get them to the next level and into the 21st century.

At this point, my job has changed. It's more about "What's our plan for the next five years? What's our plan for the next 10 years?" I truly believe we can become one of the largest agencies in the country in the next three to five years. So, if that's our goal and plan, we could have six or seven offices in the U.S. before then.
I am 29 years old. We've had offers from private equity groups for buyouts, but I am playing with house money at this point. I invested $600, and the return has been great. What is there to lose? I feel like, at 29, I can kind of keep this thing going and see where I can take it. We have the resources now to try new things and we can get a little bit riskier as far as our investments and what we want to do and how we want to do it. And I mean, who knows, maybe we'll take the company public one day. Or we may be becoming one of the largest independent marketing agencies in the country. Those sights are not too far off now.

Q: What makes Youtech different than your larger competitors?
A: Companies like to work with companies that are local, and they like face-to face interaction. Large, global agencies, like Leo Burnett, work with companies like McDonald's and Toyota. They get a contract for $50 million, and that's what they do. We don't do it that way at Youtech. Our business is spread across everyday businesses and small businesses—some of which are considered "small," but they do $200 million a year. In a market like Dallas, for instance, there are a lot of businesses that have never done marketing. They don't know what Facebook is, and we help them get there. For a company to go with a Leo Burnett, they have to have $50 million to invest, and they don't. Youtech is able to cater the same services and the same results as these large agencies with a more personalized touch and lower cost.

Q: What about your work gets you out of bed in the morning?
A: Every day, I enjoy waking up and coming into work. What excites me? I get to see the growth of the people who started here at Youtech. I see their personal lives change, their careers change. For a lot of the people who believed in me at the beginning, who took this leap of faith with me, when I paid them $12 and hour or $20,000 a year, it has paid off for them because now they're VPs, and they're making great money. I get to see them get married and buy a house. Even new employees coming in today, I feel as the owner and CEO, I feel like it's my number-one job to provide all the resources I can to let everyone in the company be successful. That's what gets me going.

Secondly, I am happy to have the ability to help my family, my friends, and take care of the people that I care about and who have supported me along the way. I take care of a lot of people, but at the same time, they take care of me. I am motivated to keep it going.

Q: What does being named to Forbes' "30 Under 30" mean to you?
A: It meant a lot. For me, I saw the struggles of my mom coming here (from China), my grandpa coming here (from China), the struggles of being an immigrant, and not knowing the language. My mom worked at Baskin Robbins for 20 years. We did not have a lot money growing up. I think, oftentimes, immigrants very much appreciate the opportunities that are at hand, and so we keep our heads down, we work hard, we study hard, and we appreciate everything that we get and live this "American Dream." So, when I got selected for Forbes' "30 under 30," it was a family win, and it was a team win. We did what we were supposed to do.

My grandpa risked everything in his life to move here, and he did, and it paid off. He died two years ago, but he was my biggest fan. He is still, to this day, the smartest man I ever met. When Nixon was president, during the Cold War, he was a nuclear physicist in China. He taught at the "Harvard" of China. Nixon invited 13 nuclear physicists from around the world to come and help, and my grandpa was one of them. That's why we moved to the Naperville/Aurora area because it was close to Fermi Lab. My mom did really well for herself, too. While she worked at Baskin Robbins, she didn't know English, so she went to school at College of DuPage to get things going. Then she got her bachelor's degree in accounting. She got her CPA, then her MBA, and she now works at a publicly traded company. She gave me every opportunity to get here, and she taught be how to work hard.

To learn more about You and his inspiring story, read the full article from NIU's newsroom.