Brian Caputo, M.P.A. '99, Ph.D. '15, Leads at College of DuPage
By Eva Richards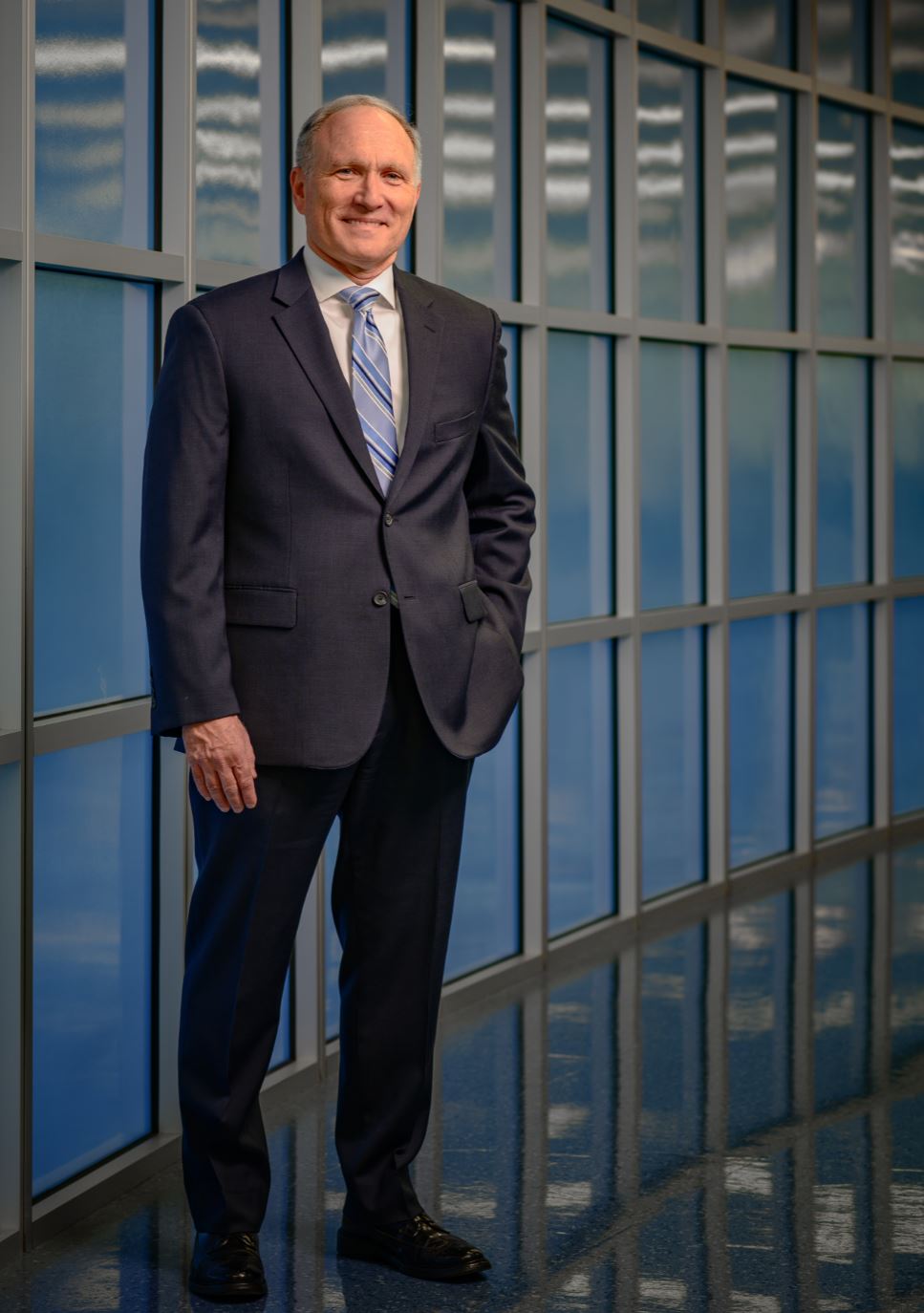 Dr. Brian Caputo has served as College of DuPage's president for two years.
Brian Caputo, M.P.A. '99, Ph.D. '15, is not one to hop from job to job.

He likes to settle in somewhere for the long haul and make a difference. In his second year as President of College of DuPage in Glen Ellyn, Illinois, he has big plans for the institution—plans that will take years to unfold.

But this is not anything new for Caputo. He started out in the U.S. Army, serving in active duty and the reserves for 22 years, retiring as a Lieutenant Colonel in 2004.

"I really enjoyed public service, but I wasn't as thrilled with all the moving around that's needed in the military," Caputo said. "I tend to attach myself with an organization for a long time, so when I saw this other field of comptrollership in the army, I thought it would be really interesting."

While Caputo was earning his bachelor's from the United States Military Academy, he tried accounting, and found that he really enjoyed it. From there, he went on to earn his M.S. in accountancy from DePaul University, and a string of governmental finance roles followed in the cities of LaGrange, Hoffman Estates and Mount Prospect, Illinois.

"I was drawn in by the intricacies of accounting. I liked the fact that it was an important part of business," he said. "If you understand accounting, you can understand many aspects of business."

His next role was one where he stayed for 19 years.

"As CFO for the City of Aurora, I had the opportunity to make a lot of advancements," he said. "It was a high-impact position, and I was able to really shape the direction that the city was going in, alongside the mayor. We got our first clean audit opinion when I got there. We started issuing more sophisticated financial reports, updating systems, and it was a really satisfying experience. I'm glad to have been there as long as I was."

While Caputo was working in Aurora, he noticed that "anyone in the Chicago area who was working in significant government positions had earned a master's in public administration from NIU." He researched the program and enrolled to earn his second master's degree, coming back to complete his Ph.D. at NIU, with a primary emphasis in public administration.

"The M.P.A. program helped me understand how organizations work and how to help them work better. All of my courses provided so much coverage in the various functional areas of government, and I have found that there are so many similarities in local government and higher education."

In 2017, when a VP of administrative affairs and CFO position opened at the College of DuPage (COD), Caputo decided to make a change.

"I always had been interested in higher education. It's different from government work because it's very aspirational. We are trying to help people get to where they want to go next. It is very exciting to advance that and support that process."

When the past president of the college left unexpectedly, Caputo stepped in as an interim president in 2019, and he found that he really enjoyed the work. He was inaugurated as full-time president of the college in Summer 2019.

His first priority upon entering office was creating a new strategic long-range plan.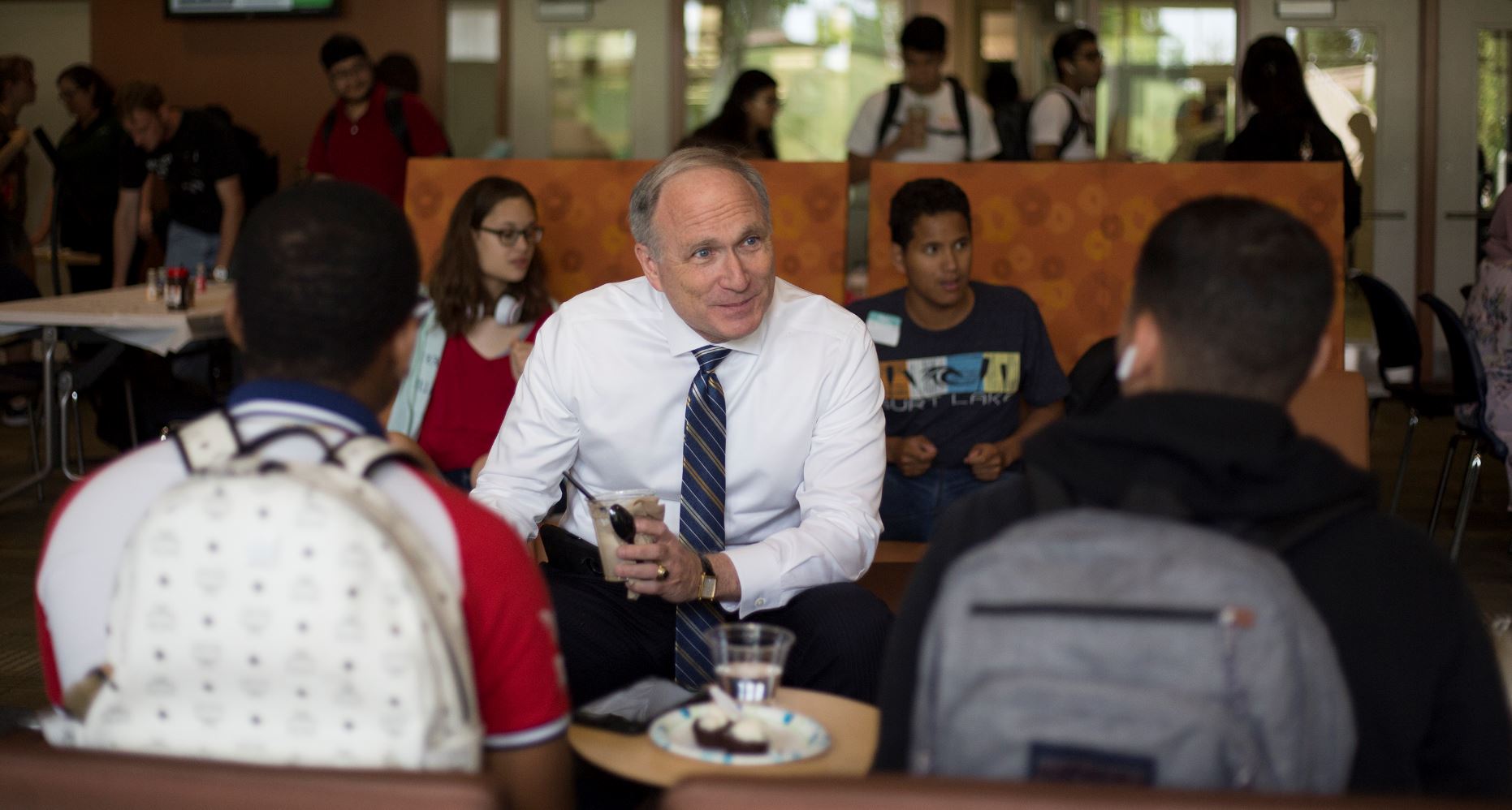 "We're trying to advance student success and to get students where they need to go. This is a very hands-on process, a very supportive process, so that students can get to their graduation, to the next educational institution, or to a job. We want to forge a clear path with the least number of obstructions and the most support."

This plan includes enhanced counseling and many new student supports as part of "Guided Pathways," which is a structured program to enhance student success; "Project Hire-Ed," a workforce development initiative and apprenticeship program, that is focused on manufacturing and will expand from there; and "Innovation DuPage," a business incubator, accelerator and training facility to help local businesses find the resources they need to excel.

"Our Guided Pathways initiative, for instance, enhances students' opportunities to get to graduation. It is, in part, an equity initiative because we see gaps between students of color and white students," he said. "We joined the Illinois Equity in Attainment initiative through the Partnership for College Completion. The group looks at achievement gaps and ways to close them, and we want everyone to improve, especially our students of color, because, on average, they are lagging."

Caputo has also prioritized a dual credit expansion program for high schools in DuPage, Cook and Will Counties in Illinois. This program offers the opportunity for high school students to enroll in college-level classes, taught by high school teachers approved as COD Dual Credit Instructors, and earn both high school and college credit.

"This gives students an advanced feel for college courses, a jumpstart on college, and it saves them money," Caputo noted.

Caputo is also working to make COD a center of arts and culture in DuPage County. They will be hosting a Frida Kahlo exhibit, tentatively scheduled for this summer, after the campus' art museum was expanded, climate-controlled and security-enhanced to be able to handle the exhibit, which is worth $110 million in value.

"This will be the first of many exhibits," Caputo said. "We want to have a presence in the visual arts and elevate our institution within that realm."

Coming into this role just before the global pandemic hit has been challenging for Caputo, but he believes it has taught his team valuable lessons.

"It has really shown that COD can adapt and adapt well to some pretty challenging circumstances," he said. "We were able to shift our courses online quickly, with some training, and reformat the classes so students could finish what they had started in the spring. From there, we have done additional prep for more comfort in online education. Last semester, 15% of classes were hybrid classes, where some in-person instruction was needed, like in welding or chemistry. The rest was all online."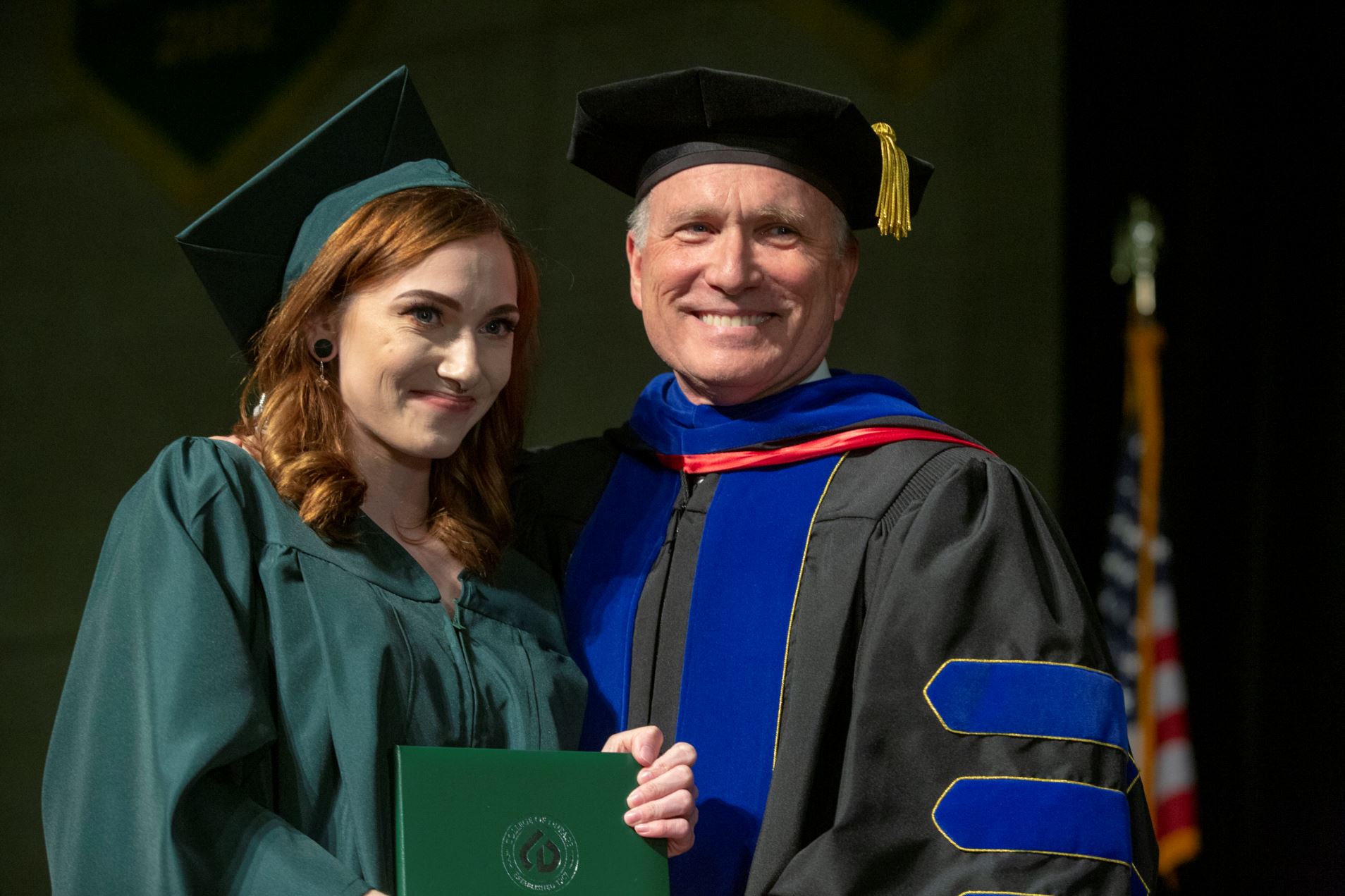 Still, among the challenges, Caputo finds deep meaning in being a part of an organization and serving others.

"My favorite part of my job is definitely interacting with the people," he said. "I do enjoy spending time talking with students, staff and faculty. That enriches my job and helps me do my job better. It's one thing to read a report or interact with leaders, but it's most important to know what is going on at the ground level."

As for this next chapter of his career, Caputo looks forward to what can be accomplished in the long-term.

"I have no ambitions of going anywhere else," he said. "We're looking at 10-15 years of work here, if all goes well, and I look forward to seeing the positive impact I can have here."