Jack Tierney, '75, M.S.Ed. '78, Invests in NIU's Future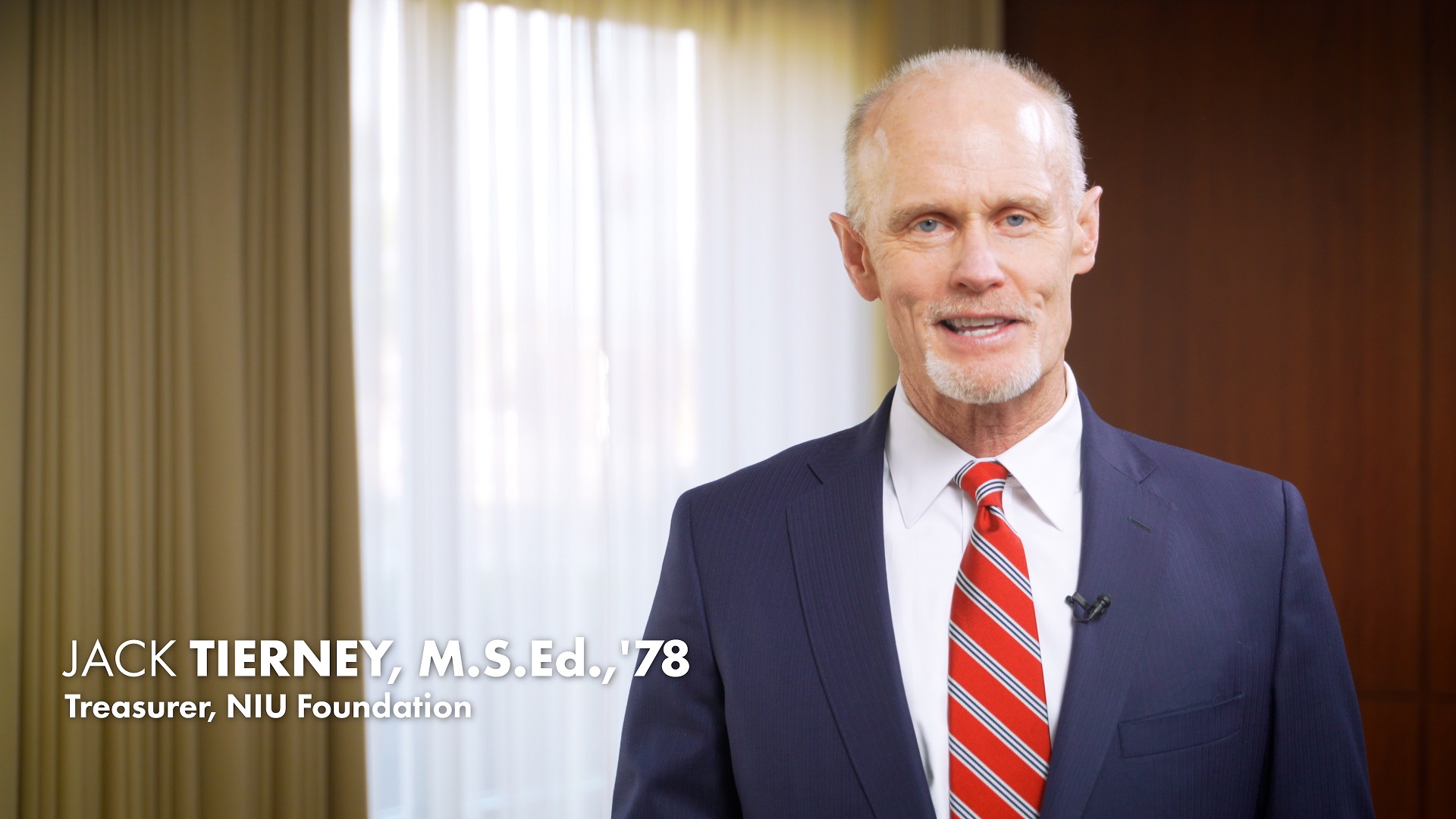 Jack Tierney, '75, M.S.Ed. '78, serves as the treasurer on the NIU Foundation Board of Directors.
Recently, Tierney volunteered to do a series of videos that explain how the NIU Endowment Fund
is managed.
From an early age, Jack Tierney, '75, M.S.Ed. '78, was keen on making good investments.

As a high school senior, he had to be practical about the cost of his education. The oldest of his family's five children in Oak Park, Illinois, Tierney was used to paying his own way. He had worked to afford his tuition at Fenwick High School, a private all-boys school, and he knew it would be no different with college.

For Tierney, it came down to getting the best bang for his buck.

"I decided to stay close to home and go to Northern," he said. "I didn't want to take out any loans, and I knew that Northern was always thought of being a pretty good value. Even as a teen, I knew NIU was a high-quality school, so that helped cement the deal for me."

Ever the numbers guy, Tierney decided to go into the College of Business as a marketing major by the end of his sophomore year. While taking classes, he was always busy with part-time jobs, working at a shoe store and a gas station while getting solid grades.

However, Tierney had an artistic side, too. In addition to being active in Sigma Alpha Epsilon fraternity in the early 1970s, with well-known alumni and dear friends Dennis Barsema and Tom Pomatto, Tierney was on the music scene as one half of the singer/songwriter duo Sklare & Tierney.

"I started playing guitar with a friend of mine—a doctoral psychology student named John Sklare," he said. "We began playing acoustic guitars and were both singing. In the summer of 1974, we tried to make a go of it. For four or five nights a week, we would play gigs in the DeKalb and Rockford areas, as well as the Chicago suburbs. We wrote songs and also performed covers. We were making pretty good money doing that, and it helped pay for my classes."

Keeping the music dream alive a little longer, Tierney remained on campus to earn his master's in business education before becoming a business teacher at McHenry High School in McHenry, Illinois, followed by Naperville Central High School in Naperville, Illinois, where he was also the assistant varsity basketball coach.

Deciding he felt drawn to the finance world, Tierney then made a move into a sales position with 3M before pursuing a career as a financial advisor for Merrill Lynch in downtown Chicago. In this role, he worked with individual investors and small businesses on their financial goals, earning his securities licenses on the job. He then moved to Van Kampen Merritt Investments, which later became Invesco Ltd., where he worked for 36 years. Tierney was executive director of the Unit Trust Division before his retirement last year.

Since 2000, Jack has been an active advocate and generous supporter of NIU, stepping up to different leadership positions where his specific skills could make the biggest positive impact.

He became involved with the NIU Alumni Association's Board of Directors in 2000 when, after donating some funds to the University and filling out an update about his career for the association, he was approached about being a part of the board.

"I got a call, and they wanted to know if I was interested in being on the board. I told them that I didn't know if I was or not," he said with a smile. "At that time, I worked full-time, I often travelled for work, and I had kids in high school, but the board and I decided to do some interviews to decide jointly if I was a good fit. Once I saw the potential of the association, I wanted to be a part of it."

Tierney became president of the board in 2007 and remained working with the board through 2012. During this time, the association grew tremendously in terms of offerings and communications to alumni.

"That experience was a really good one," he said, "and it was what originally got me involved with volunteering at Northern. My wife and I went to a lot of functions at the University, and we were a part of an international trip to France, making several great friends along the way."

Tierney then moved on to join the NIU Foundation Board in 2013—a volunteer role that has allowed him to play to his strengths.

Tierney, who is currently the chair of the NIU Foundation Investment Committee, is also the board's treasurer. He and his wife Cheri are generous NIU supporters, having founded the John F. and Cheryl L. Tierney Endowment in the College of Business. Now, Tierney's work on the Foundation Board expands further on their commitment.

"When you see how the endowment fund is managed through the NIU Foundation, and the long-term success we're trying to accomplish, it's remarkable," Tierney said. "The money for the endowment fund goes for scholarships, endowed professorships, building funds, and other things that can make NIU a better institution. With the work we are doing, we are helping students now, and 50 years from now, to pay the costs of college, which just continues to go up. It's a difficult proposition for students to get through without scholarships or some other form of assistance, so it's an important endeavor for the NIU Foundation to be there to provide for students."

There are plenty of reasons why Tierney believes in the work the foundation is doing. Besides the obvious financial assistance it provides to students, it also provides real-world learning experiences for finance students.

"The Student Managed Portfolio allows seniors and graduate students to work under the Finance Department Chair Gina Nicolosi to manage a small portion of the endowment fund. This is real money, and the students can buy and sell stocks and funds. It's a terrific internship for anyone who would want to go into investment management or other fields, and the students do a great job! It's a successful program from every aspect you can imagine. The students walk away with tons of experience, and the returns they come up with on the investment portfolio are fantastic."

Tierney also touts the values of the foundation and the board's desire to be good corporate citizens in the community.

"Over the last few years, we have included environmental, social and governance guidelines into the management of the endowment fund," he said. "We are not only trying to make a good competitive rate of return, but we want to step up to be leaders in the philanthropic world, investing in what matters most to all of us."

Tierney continues to work with the Foundation's gift officers to help educate alumni and friends of the University about how their gifts go on to change students' lives. Most recently, Tierney volunteered for a series of videos that explain how the NIU Endowment Fund is managed. These short messages help donors and those who are considering giving to the University understand how their gifts are invested to ensure long-term impact. (Click here to view the NIU Foundation's Endowment Fund videos.)

Jean Godlewski, director of finance and strategic initiatives for the NIU Foundation, has had the pleasure of working closely with Tierney in his board roles. She has seen Tierney's transparency and outgoing nature opens the door with potential donors.

"Jack is an exceptionally talented and accomplished investment professional with a grasp of a very broad knowledge in endowment," Godlewski said. "He is also really good at facilitating conversation and, because of his unique background in investments and teaching, he's great at getting ideas across and explaining how institutional fund management works. He's able to do this in a way that instills trust and faith in the process. We are so happy to have him working with us in this capacity."

Even as Tierney goes above and beyond to give back to the University, he sees it as a natural extension of the investment he made years ago, when he was working side jobs on campus to pay his tuition.

"When I look back on my life, I was involved with Northern as an undergraduate student, a grad student, an alumnus, and as a volunteer. My son Kevin went to NIU and met his wife Shelby there," he said. "Being a Huskie has been part of my life since I first was out of high school, and it feels good to have had that lifetime relationship. I have met so many people over the decades who 'bleed red and black,' and they are proud of what they have accomplished. They know a lot of it started with Northern."

For Tierney, supporting NIU has been a sound investment—one that fulfills him personally and is amplified again and again in the larger Huskie community.

"I couldn't have volunteered at NIU without the support of my wife of more than 38 years, as her support allowed me to put in the time and treasure that we have committed to the University," Tierney said. "I think that with any volunteer activity, you generally get more out of it than you put into it. It's been so satisfying to see the impact that the foundation is able to make on people's lives."