Chad Fitz
'02, Accountancy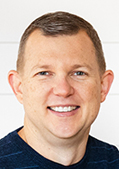 Chad Fitz is currently the Vice President of Finance and Analytics at Cherry Hill Programs. Prior to this position, he was the Chief Financial Officer for Photogenic for 2 years before Cherry Hill Programs acquired them in 2019.

Chad was a Director of Finance at Livingston International for 5 years and held various finance positions at Motorola Mobility for 11 years.

Chad currently serves as Treasurer for their townhome Homeowners Association in Chicago.