Indianapolis Relies on Meteorologist Randy Ollis, '78, in All Weather
By Eva Richards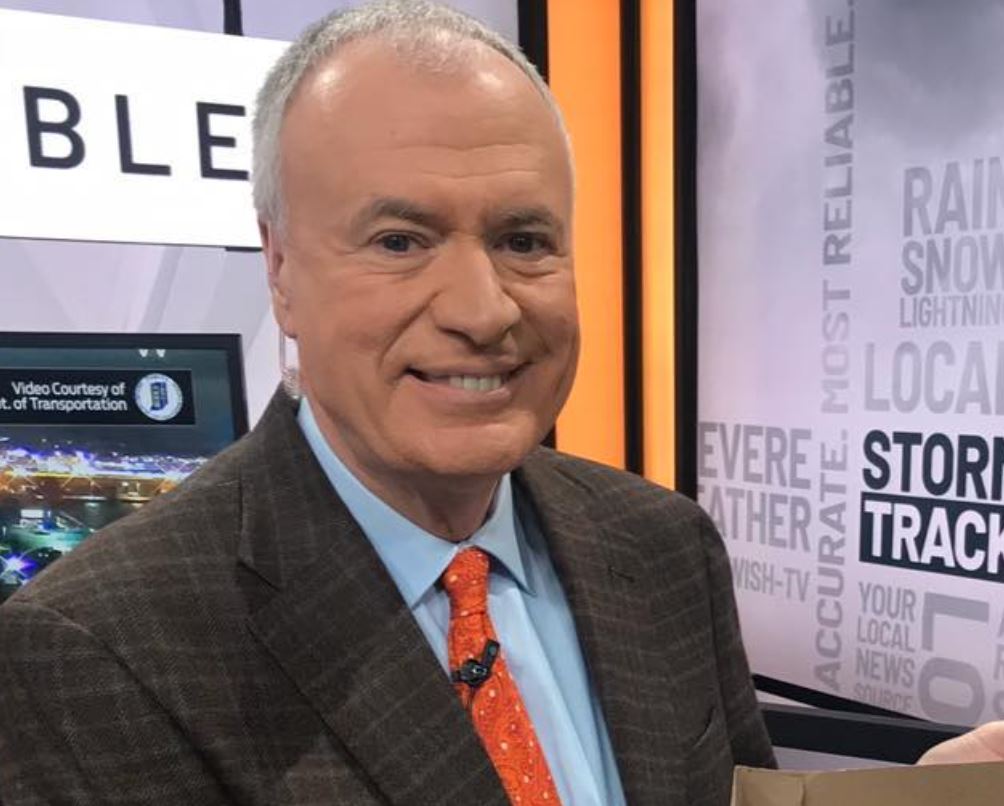 The son of a factory worker and a grocery store clerk, Ollis was the first person in his family to pursue a college degree. At NIU, he studied meteorology and gained important experience in front of the camera.
As WISH-TV Channel 8's beloved morning weather reporter for the past 36 years, NIU meteorology alumnus Randy Ollis, '78, is there for Indianapolis in rain or shine.

Now, as he voluntarily steps back from his role, eyeing an eventual retirement in 2023, the city is celebrating his decades of service and his passion for weather, which began when he was only a child.

"I grew up in Elgin, Illinois, just down the road from DeKalb," Ollis said. "I have always been interested in weather. I used to take my mother's pan outside during rain or snow, and I'd take a ruler and measure it for fun. When I was young, I would call Harry Volkman on WGN-TV in Chicago, who was really my weather inspiration, and I would report the local weather to him. He let me come into station a few times when I was in junior high and high school, and that really meant a lot to me."

The son of a factory worker and a grocery store clerk, Ollis was the first person in his family to pursue a college degree. Although he began his college career at Wheaton College, Ollis quickly transferred to NIU to be able to study meteorology.

"Not many schools offer meteorology, and I knew that I loved weather," he said. "But I never thought for one second that I'd end up broadcasting the weather."

During college, Ollis saw himself going on to work for a private meteorology company or the national weather service, but that all changed when he got involved with the student broadcasting station, reporting the weather on campus in 1977 and 1978.

"Nobody else wanted to do the weather, so I said, 'I'll do that,'" he said. "Student broadcasting station. That decision changed the direction of my whole life."

While reporting at the campus station, Ollis was able to report on the "Blizzard of 1978," and he realized that he had a unique interest in big winter storms and the challenge of correctly predicting the coming weather.

"I remember we were in Davis Hall, and we would be looking at weather maps coming in," he said. "That experience really whet our appetites."

After 36 years with WISH-TV in Indianapolis, Ollis will move to the station's "Indy Style" morning program and host one mid-day weather forecast a day before his full retirement in 2023.

After graduating from NIU, Ollis went on to be a weather reporter WSAW in Wausau, Wisconsin, WDTN in Dayton, Ohio, and KTVY in Oklahoma City, before coming to WISH-TV in 1984. While technology has changed—Ollis noted that he would draw weather routes with Magic Marker or use stick-on symbols on paper maps when he first began in television—the passion is still there.

But it has not always been sunny weather. Ollis has weathered a few of his own storms. In 1989, he was fired from Channel 8 when a new general manager came on board. When viewers were in an uproar and wrote loads of complaint letters, which were printed in the Indianapolis newspapers, the channel hired him back.

Then, in 2017, the forecast became cloudy. Ollis was diagnosed with cancer, but after three rounds of chemotherapy and three weeks of radiation, he has been in remission ever since.
When the pandemic began, because he was deemed high-risk, Ollis did his forecasts from home each morning. It was new territory but, ever the optimist, Ollis had fun with it.
"I believe the viewers were fine with most of us doing our job from home," Ollis said. "I had fun with it as each day I would put a picture of my good friend David Barras, who had recently retired from WISH-TV as an anchorman, in the background. I would move his picture to a different spot each day and the viewers got a chuckle as to where Dave would be each morning. It was like a "Where's Waldo?" picture. I think doing things like this kept my Facebook page growing. The viewers were entertained while still getting the information they needed."

A devout Christian, Ollis says he has had to have thick skin but tried to keep a tender heart in his role.

"I am a firm believer that God has a plan for everybody's life," he said. "I believe you should go after your passions in life. If you hate your job, you're going to hate your life. I always tell people to do what they would want to do if they didn't get paid for it. I've been doing my hobbies for 36 years plus, and I have been so blessed."

This summer, Ollis will begin co-hosting WISH-TV's much-loved "Indy Style" show on weekday mornings, and he will host the mid-day weather report.

"I have no idea why they want me!" he said with a laugh. "When I have guest-hosted before, we have had a lot of fun. I love people. I'm an extrovert, and I am looking forward to this new project."

He plans to fully retire in August of 2023, when he will do more volunteer and ministry work, as well as speaking engagements for schools and organizations. He looks forward to a time when he can travel more, and he hopes to be able to sleep in a little later the weekdays—something he has not done in over three decades.

"You know, before I became a weatherman, I was always a night person," he said with a laugh. "I have always preferred to stay up late and wake up late, but after all this time of not doing that, I am not sure if I will like it."

For now, this is one forecast Ollis cannot predict.