Meet a Huskie: Associate Professor Andy Bruno - Exploring Russia's Revolution of 1917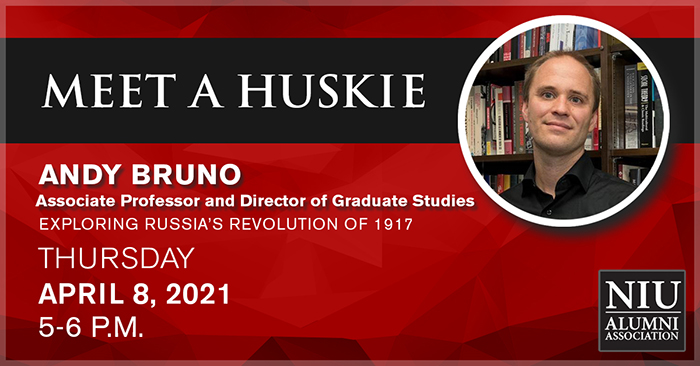 The son of two NIU alumni, Andy Bruno is an associate professor of history and environmental studies at the University. His research focuses on the environmental history of modern Russia. His first book, The Nature of Soviet Power: An Arctic Environmental History, examined the relationship between industrial development and the natural world under a communist political economy. He is currently completing a second book on the 1908 Tunguska explosion and editing a volume on Eurasian climate history.

In his presentation, he will go back a century to the overthrow of the Romanov dynasty and the improbable ascent of a radical political project in a former bastion of autocracy. He will discuss the social and political tensions that burst forth in 1917 and the meanings of the Soviet experiment for the longer sweep of history.

Questions? Please contact Dana King, '05, at dking1@niu.edu or 815-753-5421.
Event Details
Cost: Free
When:
5:00PM - 6:00PM Thu 8 Apr 2021, Central timezone

Virtual Event Instructions:
A link to the Zoom meeting will be sent with your registration confirmation.