Volunteer Spotlight: Patricia Gregolunas, '77
NIUAA Board member sees NIU's positive impact in family, friends, alumni stories
By Eva Richards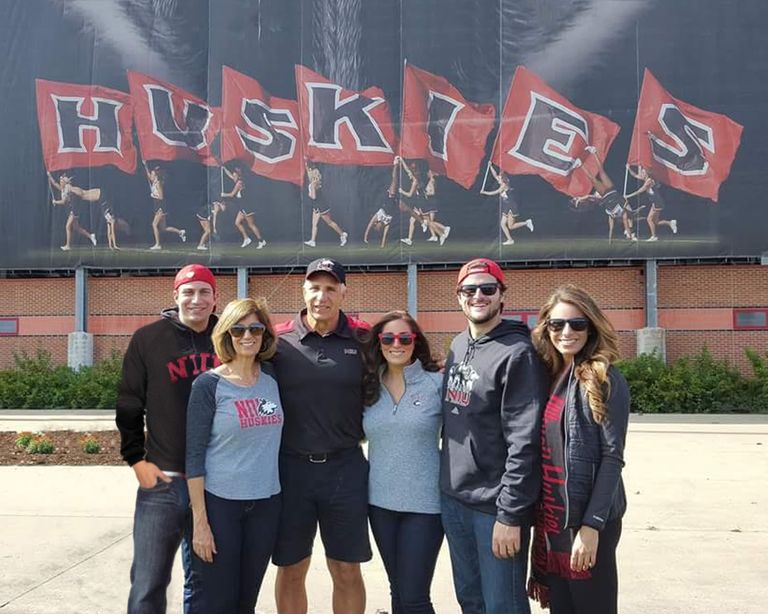 Patricia Gregolunas, '77, (second from left) appears with her family. Gregolunas generously gives back to NIU through her volunteer work.
For retired nurse and pharmaceutical manager Pat Gregolunas, '77, being a Huskie is a family affair.

"NIU is very near and dear to my heart because it's where I learned so many life lessons and where I met so many life-long friends, including my husband, who I met my first semester," she said. "In addition, all three of our children are NIU graduates as well as my son-in-law, sister, brother-in-law and nephew."

Huskie pride runs deep for Gregolunas and her family. Her husband Bob played football for NIU and was inducted into the Athletic Hall of Fame in 2015, so the pair has been loyal supporters of the football program for decades, attending all home games and many away games. They are still close friends with many of their friends from college, including Bob's teammates, who they tailgate and travel with to just about every home and away football game.

"As far as education, Northern provided my entire family with a top-notch education!" Gregolunas said. "All three of my kids had secured jobs before they graduated and continue to be gainfully employed. My husband enjoyed a long career in education and coaching at the high school level, and I was fortunate enough to transition from a clinical bedside nursing career to a 33-year sales and management career in the pharmaceutical industry."

Growing up in Chicago and South Holland, Illinois, Gregolunas always knew she wanted to one day become a nurse.

"My aunt was a nurse, and I always wanted to be a nurse for as long as I can remember. I even carried a nurse lunch box and thermos as a kid," she said with a laugh.

When it came time for her to go to college, she chose NIU because it was one of the first universities in the State of Illinois to offer a bachelor of science degree in Nursing in the 1970s.

"When my parents dropped me off my first semester, it was the first time I stepped foot on campus," she said. "There were no 'multiple college visits' in my day! But Northern prepared me well. I passed my boards on my first try and felt very well prepared as I started my nursing career."

After college, Gregolunas secured a job as a surgical nurse at St. Margaret Hospital in Hammond, Indiana. She then transitioned to the intensive care unit within less than a year and spent the next few years in critical care nursing, including the neonatal intensive care unit at Loyola Medical Center and St. John's Hospital in Springfield, Illinois. She also worked as a nurse educator at St. Joseph Hospital in Chicago before moving to Springfield.
"It was in Springfield that I applied for a position as a pharmaceutical representative, never thinking that I'd even get an interview as I had no business background," she said. "Lo and behold, I got the job! I covered the bottom half of the state and absolutely found my niche. I retired in 2015 from Wyeth/Pfizer after 33 years, including various account manager and district manager roles."

Gregolunas' favorite and most loved role at Pfizer was as the nurse educator for the State of Illinois—a position she piloted for the company.

"I know my experiences at NIU gave me the confidence to spread my wings and use my nursing knowledge beyond the bedside," she said.

Northern also offered Gregolunas opportunities to do something other than "just go to school."

"It's a big enough university where you don't see the same people over and over again, but small enough that you can get involved if you choose," she said. "I was involved with the Student Nurses' Association and worked part-time for the College of Business. My husband was on the football team and my son was also involved with the football program. My oldest daughter was the business manager of the Northern Star and my youngest daughter was the vice president of Student Association. Northern was a place not only to get a great education, but to learn work-life balance skills and on-the-job experience."

After such a successful career and, feeling indebted to the institution that opened up so many opportunities, Gregolunas looked for ways to volunteer her time and make a meaningful difference post-retirement.

"All of a sudden, I had the time to give back, and one of the first places I contacted besides my church was NIU," she said. "I've been involved in First Impression Workshops, a "virtual" Open House, speaking at the commencement ceremony to new graduates on behalf of the Alumni Association and doing some guest speaking for the College of Business and the School of Nursing. I became a member of the NIU Alumni Association Board of Directors in 2019."

Through volunteer work, Gregolunas is able to positively impact alumni and students on campus.

"Being a member of the NIU Alumni Association Board of Directors and the chair of the Volunteer Engagement Committee has been by far my most meaningful volunteer role," she said. "I have met so many wonderful alumni from all decades who have offered their time and talent through these activities. The board members are also an inspiration to me. It has been an honor to be able to interact with so many alumni who bring so much to the table. The one thing that holds true for everyone I've met is the love that all of the volunteers and staff have for NIU."

Gregolunas adds that she feels the need to give back to NIU because of how much the University gave to her.

"In the case of NIU, the education my family and I received was a launching pad for rewarding careers for all of us. Volunteering at NIU is a great way to stay connected to the University and continue to meet and interact with our great alumni. It's amazing how many extremely successful alumni we have who got their start at Northern."