Volunteer Spotlight: Dominick Archer, '80
As an athletics volunteer, Archer makes a difference for the sports he loves
By Eva Richards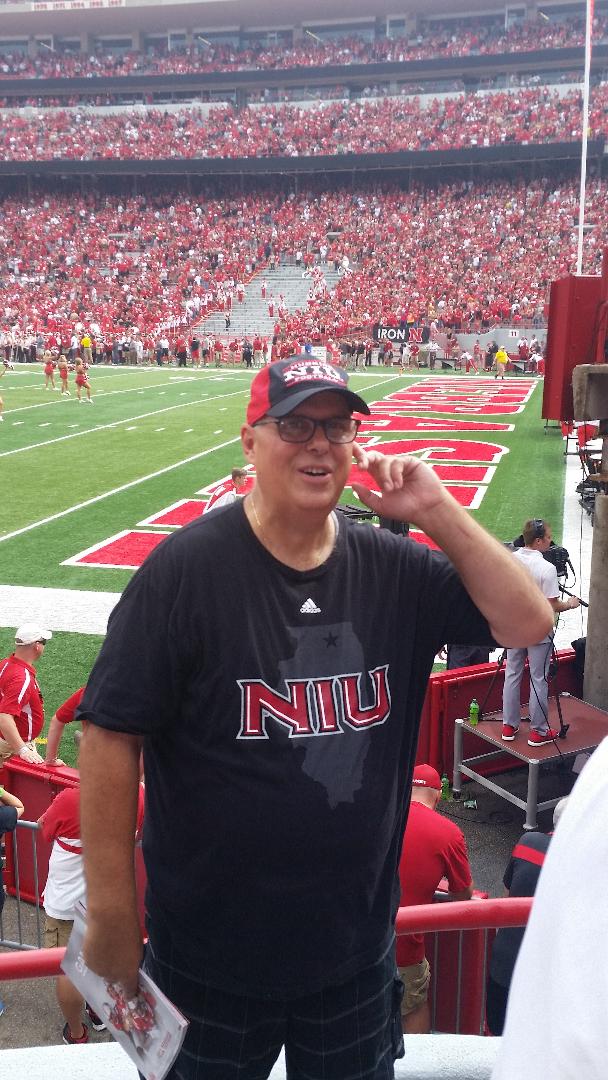 Dominick Archer, '80, celebrates at a Huskie football game.
When human resources alumnus Dominick Archer, '80, was growing up in Westchester, Illinois, it was clear he loved sports.

"Basketball is what I played almost every day from grade school through high school," he said. "I was cut from my high school team but still played park district basketball and in the driveway. I actually bought season tickets to the Chicago Bulls as a high school junior and kept them until I transferred to NIU as a junior from Triton College."

Archer continued his interest in sports while completing his B.S. on campus in 1978, 1979 and 1980. He worked as a volunteer head basketball coach at a private grade school and after starting a family, was president of a youth ice hockey club.

That investment continues today. He and his wife, NIU graduate Judy, '15, are both sports fans and follow NIU sports.

"I think (our dedication to Huskie sports) has something to do with the success NIU has had in athletics without having the financial resources that schools in bigger conferences might have," he said. "It kind of reminds us of where we came from."

These days, Archer volunteers at NIU with the Athletics Department, the College of Business' Department of Management and through the NIU Alumni Association.

"I spend time in different student-mentoring roles every semester and serve on advisory boards in the management and athletic departments. I also have just begun working as an NIU advocate with our state's legislature," he said.

Serving on the Athletics Strategic Planning Committee has been especially meaningful for Archer.

"First, I was proud to be selected to represent all of us who aren't currently students or employees of the University," he said. "It also gave me the opportunity to work directly with student-athletes who intelligently and thoughtfully shared their personal and team needs and desires for their continued growth. I had the chance to work with a number of head coaches who impressively confirmed for me their desire and efforts to win on the court or field but also their dedication to their student-athletes and the University as a whole."

Lending an extra hand to students and faculty means a lot to Archer, as the University helped lead to his career success.

"College was hard for me, academically and financially, but I stuck with it and enjoyed my time at NIU," he said. "I had a couple of professors that took the time to help and encourage me, which was so important to me."

For 36 years, Archer spent a successful career in loss prevention at two large retail companies—Osco Drug and Ulta Beauty.

"I left Osco Drug as a divisional loss prevention manager in 1997 to join a small, struggling, seven-year-old privately held retailer that later became Ulta Beauty, as their director of loss prevention," he said. "I put my trust in a number of executives that I had previously worked with at Osco that this company had a future. They were right, and I am very proud of our accomplishments from a growth, sales and earnings perspective, along with becoming a publicly held company. I retired in 2015, and NIU helped prepare me for dealing with all the challenges I would face in leading a staff of professionals and working towards common goals across the company."

Archer believes that giving back to the University makes retirement a more fulfilling experience for him, and he encourages other alumni to consider giving back in that way.

"If you believe NIU has contributed positively to your success and overall quality of life, why not give back to help others achieve the same or receive even better opportunities?" he said. "You may be in a position to hire recent graduates to help with your personal or company's success. In retirement, volunteering at NIU cannot only help the students and the University continue to get better, but it also provides you with a rewarding endeavor while you keep up-to-date on new and current ideas."