Volunteer Spotlight: Tim Pierce, '90, M.A. '92
A first-generation graduate, Pierce volunteers with NIU from thousands of miles away!
By Eva Richards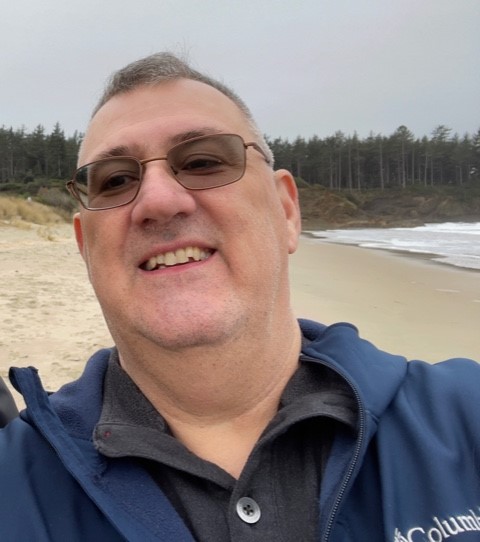 Communications alumnus Tim Pierce, '90, M.A. '92, has volunteered with the NIU Alumni Association in many ways from his home in Oregon.
When Tim Pierce, '90, M.A. '92, transferred to Northern Illinois University from University of Illinois during his junior year as a communications studies major with an emphasis in communication education, he immediately loved the DeKalb campus and all NIU had to offer.

This loyal dedication has stayed with Pierce through the years, as he moved on to be a college instructor. Today, as a curriculum coordinator for Chemeketa Community College in Salem, Oregon, he still stays active with the NIU Alumni Association, helping future generations of Huskies.

"I transferred at the suggestion of my advisor at UIUC who told me that it would be easier for my student teaching placement to be closer to home," Pierce said. "It was the best advice, as I loved NIU much more than the University of Illinois."

Pierce had pictured becoming a high school teacher after college, but after going through student teaching and finding a tight job market in 1990, he decided to stay at NIU to get a master's degree in communication studies, followed by doctoral coursework in educational technology research and assessment.

"I loved NIU for its smaller class sizes and easier access to professors," Pierce said. "My undergraduate advisor, Phil Gray, told me that his plan was to get me to graduate in two years, and he kept his word. I had a painful semester where I was taking seven classes, but he kept encouraging me to keep going. In my master's program, I got to work with a lot of wonderful instructors, such as communications professors Ferald Bryan and Martha Cooper, who guided me through the process of getting my M.A. degree."

While Pierce's mother took some college courses, Pierce is the only one in his immediate family to graduate from college.

"I had to work to put myself through college, so I came to appreciate the education I received from NIU," he said. "I have a wonderful mentor in Ferald Bryan, associate professor in rhetoric and public communication. He has given me a lot of great advice, and I know that I can call him anytime and talk to him about what is going on in my life."

Pierce's first job was as an adjunct professor at DePaul University, along with teaching some courses at Waubonsee Community College and Joliet Junior College in 1993. After doing that for three years, he realized that I needed something more permanent. Bryan and Lois Self reached out and asked him to come back to NIU, this time as an instructor for the communication department, which he did from 1996-2016. Next, he moved on to Chemeketa Community College as the college's curriculum coordinator, where he works with faculty and deans in getting courses approved to teach.

"Between my years in the classroom at NIU, along with being the COMS 100 coordinator and my coursework in instructional design and assessment, NIU has helped me a lot in my current position," he said. "I have a unique perspective at Chemeketa because I worked for a university for a good part of my career, and I bring that worldview to help faculty in navigating the university world especially when it comes to the transferability of general education courses."

Pierce says that it is amazing how many alumni he runs into in Oregon.

"I'll be at the Saturday Market wearing an NIU shirt, and on more than one occasion I have had someone approach me to tell me how they went to NIU," he said. "I know that there are so many people out there who have their stories to tell, and that is why I choose to give back. Most volunteer activities take so little time and yet make such a huge impact on students. It is so easy to do."

Pierce has been working with another alumnus, Shane Devins, '09, in trying to restart an alumni affinity group in the Willamette Valley in Oregon.

"We slowly built attendance for the football watch party and even had a NIU Cares Day event set up in Salem, when COVID-19 stopped us," Pierce said. "However, I have been working virtually in activities such as an open house, an elevator speech activity, an activity working with students to answer questions about careers, reviewing scholarship and funding applications, and I even did the virtual Research and Artistry Day last year. I have enjoyed all of those activities as they allow me to share the NIU story—even with prospective students at the virtual open house.

While he has found all of his volunteer experiences to be fulfilling, talking with students who are considering NIU has been especially meaningful for Pierce.

"What made it great was the opportunity to talk to prospective students," he said. "One of the people I talked to was a veteran who was interested in the communication program. He told me about his life story, about life in the military, and now wanting to go to school, so he could use his VA benefits. We must have chatted for almost 45 minutes, and I hope that he took the next step to apply for admission. Each of those prospective students who become Huskies will also have their stories to tell. I can't wait to hear them."

Pierce credits NIU for his involvement in several nonprofits while he was living in Illinois. His coursework in rhetorical theory and criticism, persuasion, have served him well when doing nonprofit work, he noted.

"I don't know what I would have done without my NIU education. I do know that I would not be working in higher education, but I would guess that my life would have been dramatically different," Pierce said.