NIU's Lavender Graduation to Honor Past, Current LGBTQ+ Students
By Eva Richards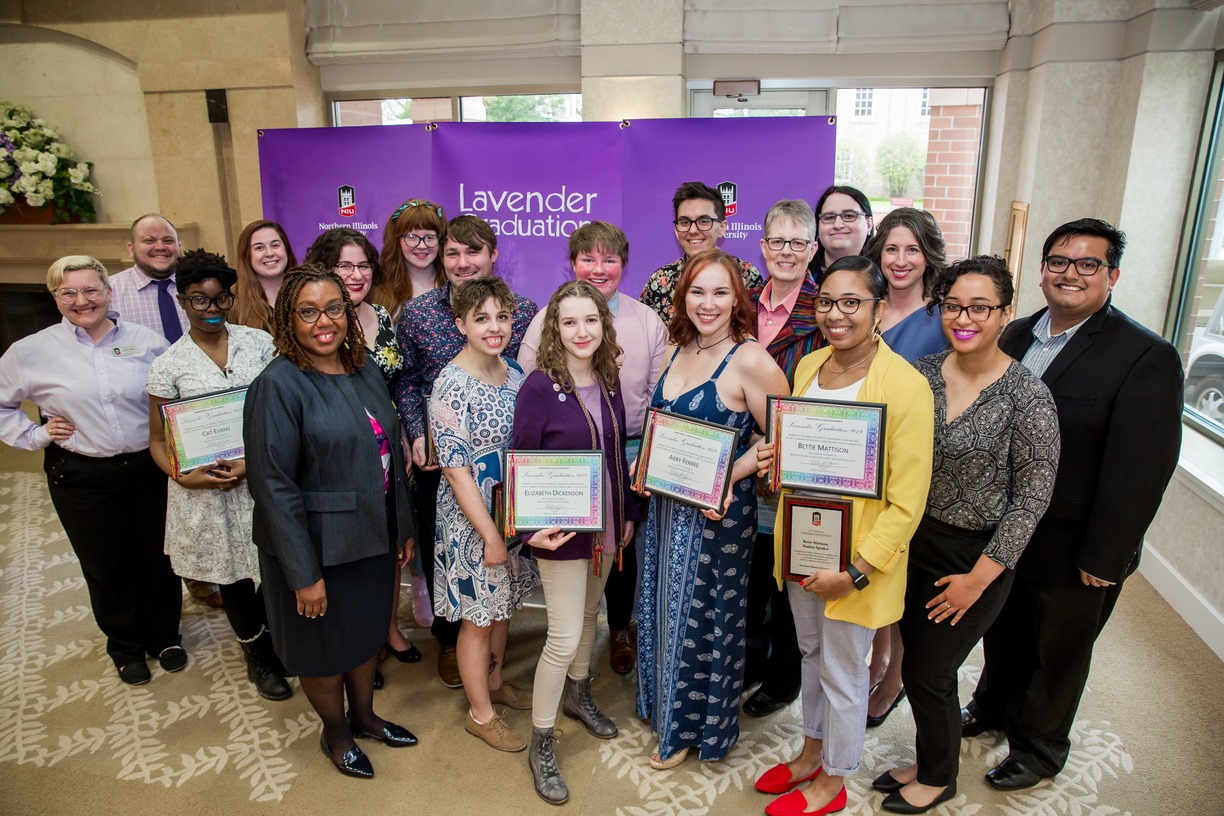 NIU's annual Lavender Graduation honors lesbian, gay, bisexual, transgender, asexual, agender, queer, non-heterosexual and non-binary/gender non-conforming identifying graduates.
Each year, as the Spring semester comes to a close on campus, graduating students reflect on all they have been able to accomplish.

This feeling of proud achievement is only amplified within our LGBTQ+ community, where educational milestones often go hand-in-hand with very personal journeys of acceptance and celebrations of authenticity.

"In addition to recognizing our graduates from 2020 and 2021, I'm excited this virtual format will allow us to reach more NIU LGBTQ+ graduates," said Molly Holmes, NIU's director of the Gender and Sexuality Resource Center. "We are thrilled to invite NIU LGBTQ+ alumni who graduated prior to the first ceremony in 2010 to join us as participants this year and be recognized."
This year, the ceremony will be virtual via Zoom, with pre-registration required, on Tuesday, May 4, 2021, 3-5 p.m.

Nowhere is this celebration more visible than at NIU's Lavender Graduation Celebration, which honors lesbian, gay, bisexual, transgender, asexual, agender, queer, non-heterosexual and non-binary/gender non-conforming identifying graduates. This annual event, which was founded in 2010, honors the achievements and persistence of graduates with underrepresented gender and sexual identities, centering LGBTQ+ students and alumni.

Sam Lanigan, '18, M.S.Ed. '20, had the honor of being the student speaker in 2018 when she graduated with her bachelor's degree, and she was involved in planning in 2019. Her connection with the event has been very powerful.

"In 2018, this event was something that helped me finish my degree," she said. "I wanted to go to Lavender graduation with my peers and celebrate all the work we did to get there. It was so meaningful to be surrounded by people who could respect me and celebrate me in an authentic way. I was able to see all my peers exactly how they wanted to be seen while we celebrated a huge accomplishment for all of us."

Lanigan says that it is difficult to put into words what this ceremony means to her, but simply put, she believes she was authentically recognized both for who she is and what was able to accomplish.

"Lavender Graduation is a space where you can let go of the mental gymnastics of trying to navigate typical hardships, like, 'Will I be safe?" 'Will I be referred to appropriately?' 'Can I dress how I feel comfortable?' 'Will people be genuinely proud of how I show up?' "Do I have to choose between being safe or being validated?'" she said. "These questions and situations can be so taxing on an individual, and Lavender Graduation is a space for student to just focus on the celebrating the graduates."

Ceci Fischer-Benitez, '20, will be the event's featured alumni speaker this year. She participated in one of the first Lavender Graduations during her years of study at NIU, and that experience made a lasting impression on her life.
"It was a very heartwarming experience," Fischer-Benitez said. "It felt very special to be able to walk a smaller stage with other LGBTQ+ folks, most of whom I knew and had friendships with."

Fischer-Benitez noted that NIU is a wonderful opportunity for NIU to help foster unity within the LGBTQ+ community.

"It's an affirming feeling for folks who are part of the LGBTQ+ community to feel seen and represented on campus," she said. "In my personal experience, while searching for schools to attend, my school of choice needed to have an organization that supports the LGBTQ+ community. At NIU, the Lavender Graduation was a huge bonus."

Fischer-Benitez added that events like the Lavender Graduation are important for all Huskies to support because it creates a sense of community and unity.
"It's incredibly important for the campus to be known as a champion of diversity, equity, and inclusion," she said.

The ceremony's goal is to celebrate the graduates and honor the ways sexual orientation and gender identity have shaped their NIU experiences. By focusing the event on self-identified LGBTQ graduates and their guests, the event organizers hope to empower LGBTQ students.

"This has meant so much to students and has been celebrated by the campus community and alumni as part of NIU's value of diversity and inclusion," continued Holmes. "I couldn't be more thrilled to conclude a year of uncertainty with an event that reminds our LGBTQ+ graduates and alumni how much they continue to matter to us at NIU."

In addition to Fischer-Benitez as the alumni speaker, the event will feature a student speaker and remarks from NIU's senior leadership, as well as faculty and staff. This continuing tradition is another way NIU remains among the best LGBTQ+-friendly colleges and universities, previously highlighted by the inclusion among the 100-Best LGBT-Friendly Colleges and Universities in the Advocate College Guide and the 4.5/5-star ranking in Campus Pride's climate index.

The ceremony is free to students and guests, semi-formal dress is requested in place of regalia, and graduates will receive rainbow tassels.

Graduates can RSVP to be recognized in the ceremony by clicking here. Individuals who want to support the graduates through participating as virtual audience members can email Molly Holmes at mbholmes@niu.edu.

For more information, please contact the Gender and Sexuality Resource Center at gsrc@niu.edu or 815-753-4772.